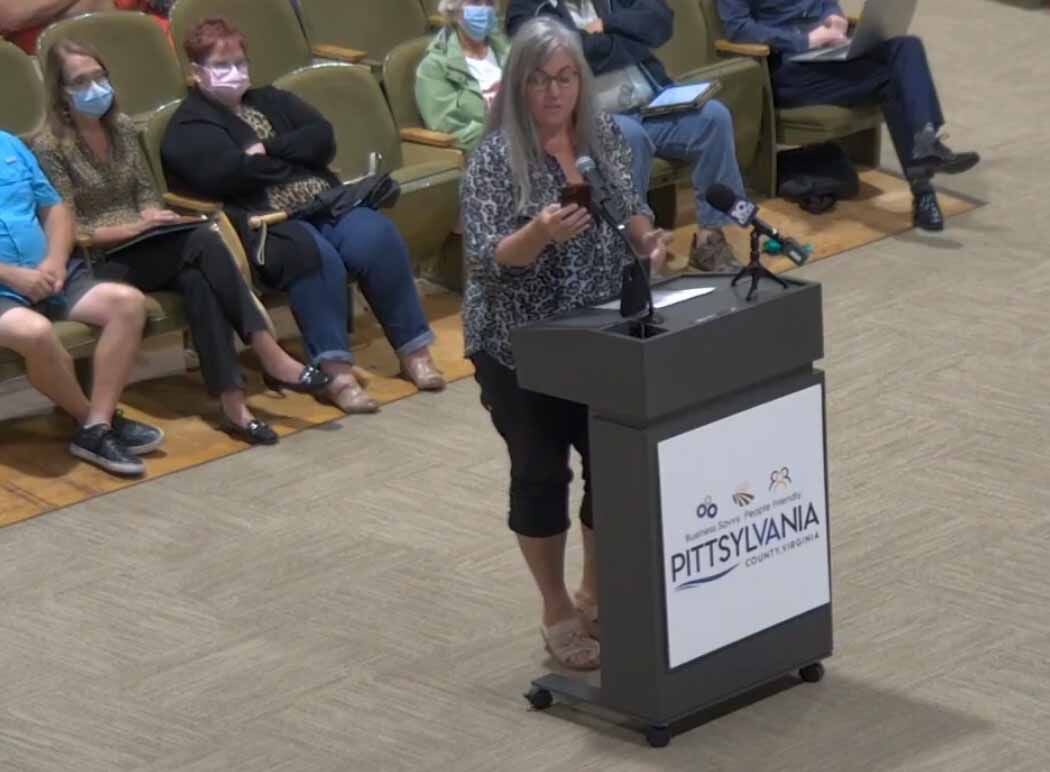 CHATHAM — A Pittsylvania County resident begged the county board of supervisors to do away with mask mandates during its meeting Tuesday night. The citizen, Barbara Hancock, had been kicked out of a recent county school board meeting for not wearing a mask properly.
"I implore each and every one of you, and you [County Administrator] David Smitherman, to stop this foolishness and make choice a priority immediately for everyone in this county," Hancock told the board during the hearing of the citizens. "If we don't stand against tyranny, no one will."
She called requirements for people to wear masks "Nazi-like tyranny," recalling stories of her German-born mother's abuse at the hands of the Nazis during her childhood.
Hancock told supervisors she had been removed from a Pittsylvania County School Board meeting on Sept. 14 for not wearing a mask correctly. She said she was being interviewed by a reporter at the time.
At the school board meeting last week, another resident with a Donald Trump flag sitting beside Hancock was asked by a reporter if he would be willing to have his picture taken. That is when Hancock held up a sign of her own to be photographed.
By the time the reporter started asking questions, a Chatham police officer approached and told Hancock and the man with the Trump flag to leave the building, Hancock said.
"At that point, I was dumbfounded," she said.
Hancock said Pittsylvania County School Board Chair Sam Burton pointed at her and the man and said, "you were warned." Hancock pointed out to Burton that he wasn't wearing a mask during the meeting either and told supervisors he had been walking around during the school board meeting recess talking to people maskless.
She also accused the county of hypocrisy for allowing a rock festival with about 40,000 people attending while masks are required in county schools.
"Stop the hypocrisy and stand for truth," she said.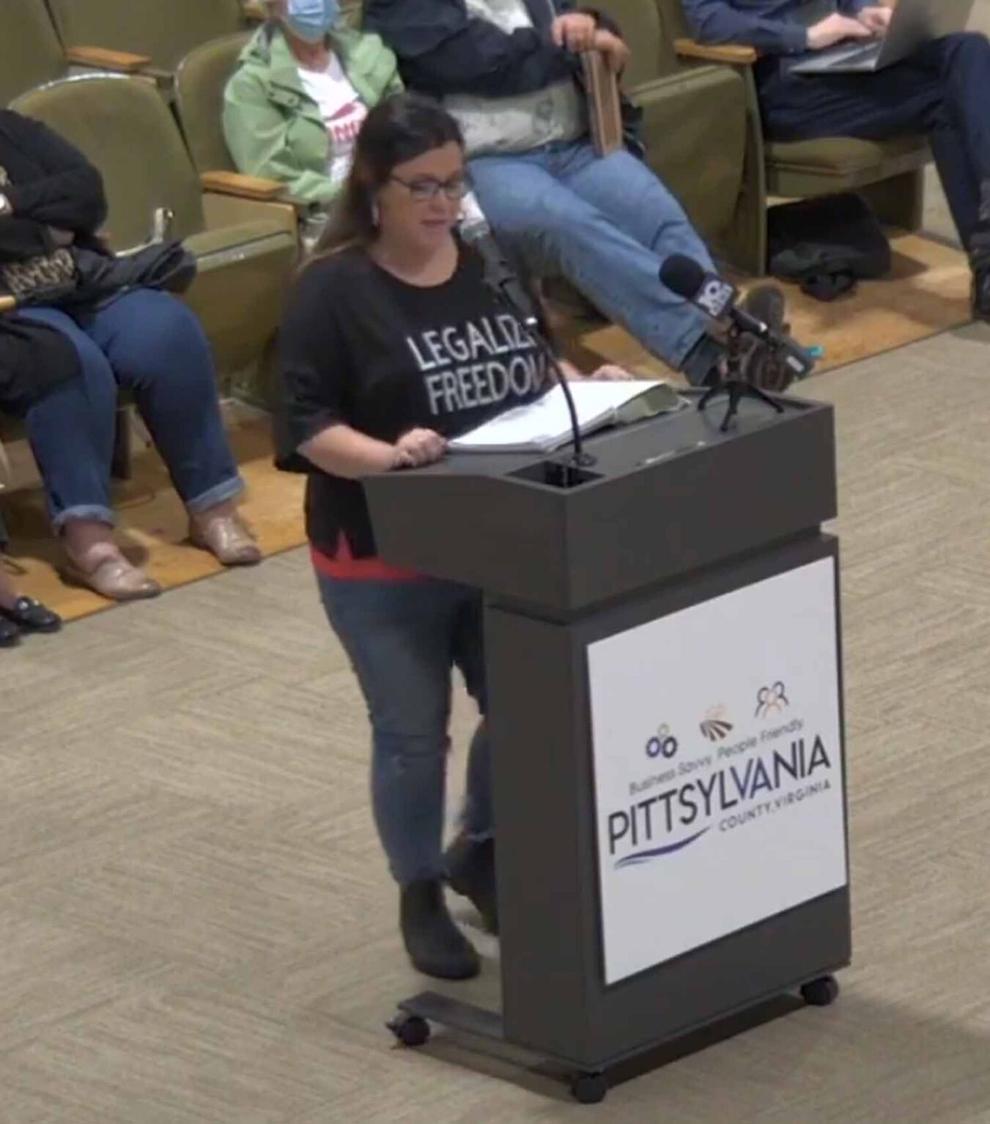 Quoting the Bible
Another resident, Melissa Powell, cited scripture from the Bible to criticize county officials and mask and vaccine requirements.
"For we wrestle not against flesh and blood, but against principalities, against the rulers of the world, against wickedness in high places," Powell said. "I feel like that's what we're seeing unfold every single day of our lives since March of 2020."
Pointing out Burton's removal of citizens from the school board meeting while he wasn't wearing a mask, Powell said, "We see the most irrefutable example of rules for thee but not for me."
Powell went on to claim that masks were ineffective and cause harm such as increased carbon dioxide levels and infections and lowered oxygen.
Numerous experts, health organizations and media outlets have debunked disinformation about masks.
"Mask use has been found to be safe and is not associated with clinically significant impacts on respiration or gas exchange," according to the U.S. Centers for Disease Control and Prevention website. "Adopting universal masking policies can help avert future lockdowns, especially if combined with other non-pharmaceutical interventions such as social distancing, hand hygiene, and adequate ventilation."
Multi-layer cloth masks block most large respiratory droplets and can also block finer droplets and particles, referred to as aerosols, according to the CDC.
"Multi-layer cloth masks block release of exhaled respiratory particles into the environment, along with the microorganisms these particles carry," according to the CDC. "Upwards of 80% blockage has been achieved in human experiments that have measured blocking of all respiratory droplets, with cloth masks in some studies performing on par with surgical masks as barriers for source control."
Also, carbon dioxide poisoning from masks is a myth.
"Carbon dioxide is a gas made up of small molecules. These molecules are so small that they can pass through many materials, including the materials used to make masks," according to the Johns Hopkins All Children's Hospital website. "If you are using a medical-grade or cloth mask, carbon dioxide will pass through safely. It will not accumulate inside the mask or make you sick."
Wearing masks does not cause lung infections, experts said.
"There's no evidence of masks leading to fungal or bacterial infections of the upper airway or the lower airway as in pneumonia," Davidson Hamer, infectious disease specialist and professor of global health and medicine at Boston University, told the Associated Press in June 2020.
Also, contracting a staph infection from masks is incredibly rare, Dr. Ivy Lee, a board certified dermatologist with a private practice in California, told the AP in August 2020.
"If we have poor mask hygiene and we are not worried about regularly cleaning those masks, then we can introduce that possibility of the risk of getting a secondary infection if our skin barrier is broken," she said.
The American Academy of Pediatrics issued a universal school masking recommendation on July 18.
"Face masks can be safely worn by all children 2 years of age and older, including the vast majority of children with underlying health conditions, with rare exception," according to the academy's website. "Children 2 years of age and older have demonstrated their ability to wear a face mask. In addition to protecting the child, the use of face masks significantly reduces the spread of SARS-CoV-2 and other respiratory infections within schools and other community settings."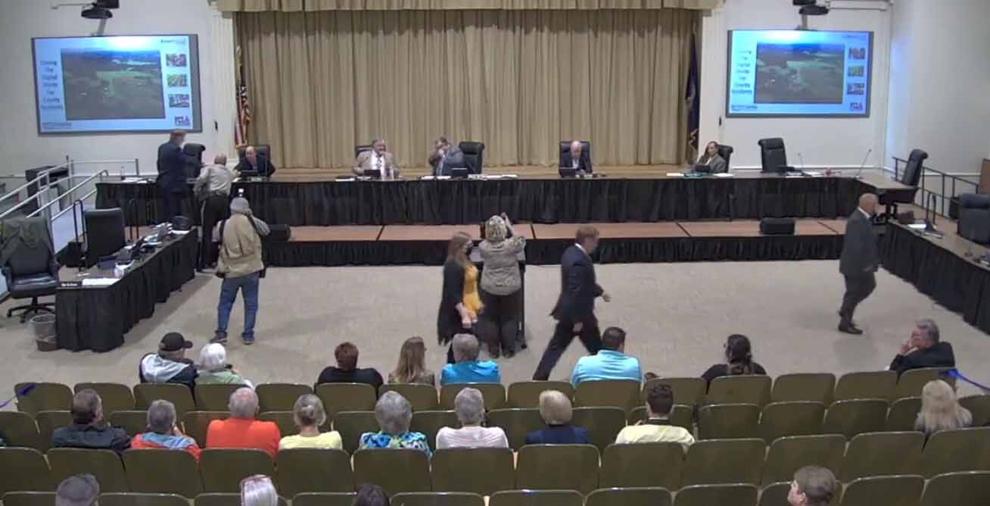 'Toxic injection'
As for the COVID-19 vaccine, Hancock, a nurse, asked county officials to stop encouraging people to get the shots. She said she knew people who had health problems after receiving the vaccine, which she called a "toxic injection."
The CDC has deemed the vaccine safe and effective and notes that severe reactions and complications are rare.
"Millions of people in the United States have received COVID-19 vaccines under the most intense safety monitoring in U.S. history," the CDC's website states.