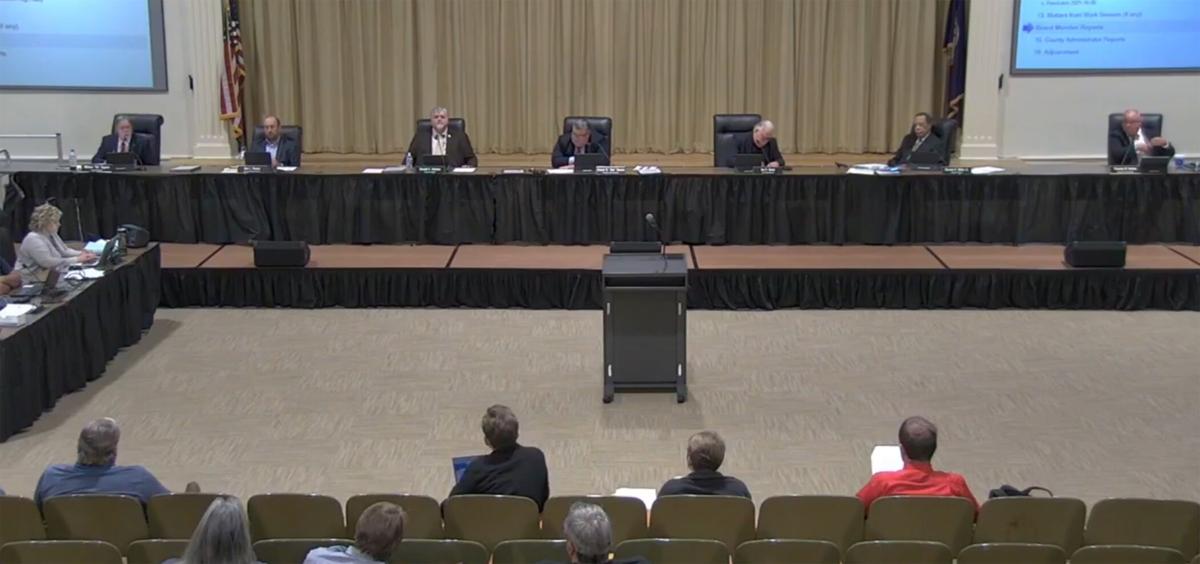 Tunstall District Supervisor Vic Ingram was censured Tuesday night by fellow Pittsylvania County supervisors after text messages surfaced and were "construed as racist" against another board member.
Those messages — sent during a June board meeting — targeted Dr. Charles H. Miller Jr., the representative of the Banister District.
Miller said he was referred to as Ray Charles and "Blind Tom," an expression he wasn't familiar with, but said "it doesn't sound complimentary." This was during a meeting where Miller wore dark shades because of a procedure to his eyes, followed by dialysis rendering it nearly impossible for him to see.
A resolution to censure Ingram was added to Tuesday night's agenda and then passed by five board members. Only Ingram and Ben Farmer, who represents the Callands-Gretna District, voted against the measure.
In general, a censure is a way of expressing a strong disapproval of someone in a governmental position.
"On behalf of the Pittsylvania County Board of Supervisors, I extend my deepest apologies to our colleague Dr. Charles H. Miller Jr., Banister District representative," Warren said as he read his prepared statement Tuesday night.
"I do not know what was in supervisor Ingram's heart or mind as he ridiculed me for medical conditions beyond my control," Miller, who signed up to speak during the citizen comment session, said.
"It took me back to an earlier time in this county," he continued. "Back to a time when ignorant people made great sport of ridiculing men graced by all mighty God with skin of a different color."
Miller, who also said he holds no grudges, told the board other supervisors and county staff members have showed nothing but respect to him since he was elected.
"Vic Ingram and his comments are but a sad throwback to an earlier time and place," he said.
And the end of Miller's comments, applause erupted from those in the audience. Ingram then wanted a chance to speak, but Warren explained during this particular session of comments from the citizens, board members do not interact or respond.
But at the end of the night's session, Ingram lashed out saying it was "nasty politics" behind the actions by the board.
"It's not very often I'm speechless, but y'all pulled off a pretty slick one here," he said. "Very effected hit job I may say."
The resolution to censure Ingram — for "conduct unbecoming a supervisor that has been detrimental to the board" — went beyond the text message episode. The resolution approved Tuesday night also states Ingram breached the confidentially of closed sessions and "meddled in personnel issues with county employees that are not direct reports to the board."
The censure resolution further states Ingram "conducted unilateral, unauthorized negations with county economic development prospects."
"What you've done is nothing short of despicable," Ingram said. "I will say this. I'm 65 years old. I've never been called a racist. So I guess this is what you'd call a first."
The censure also accused Ingram of requesting county employees search emails of fellow supervisors.
"You buckle up buddy, it's coming," Ingram said motioning to the board.
Farmer, who will step down from his seat at the end of the year, said he wasn't proud of the actions taken Tuesday night.
"I voted no tonight, nothing against Dr. Miller," he said. "Quite frankly Dec. 31 can't get here quick enough for me."