Completion of upgrades to electrical substations in the Kentuck and Whitmell communities is just weeks away.
Work at the Kentuck substation across from Dan River High School on Kentuck Church Road will end next month.
"We're probably about two or three weeks from finishing that one and fully completing it," said Danville Utilities Director Jason Grey. "We're very close on that one."
The Whitmell project is 80% complete and will be up and running by the end of November, Grey said.
Additional projects at the Westover, Southside and White Oak substations are on track to be finished next year.
The Kentuck and Whitmell substations — which serve about 4,600 and 4,500 customers, respectively — will have new transformers, as well as new transmission breakers that protect transformers from surges, Grey said.
A 1972 transformer will be replaced at Whitmell, while the Kentuck substation will replace its 1969 transformer.
Each project is about $2.5 million, he said.
The Kentuck substation serves communities in Pittsylvania County including Ringgold, Kentuck, Keeling and Blairs. Whitmell's substation distributes electricity to customers in Callands, Dry Fork and the Whitmell and Tunstall areas in the county.
Work on the Kentuck and Whitmell projects has been done concurrently, but Kentuck moved a little bit quicker, Grey said. Danville Utilities paused the Whitmell endeavor for about a month.
"As soon as we're done with Kentuck, crews will move directly to Whitmell," he said.
As for the Westover and Southside substation projects, complete upgrades will take place and a second transformer will be added at each station and be in service by June 2022, Grey said.
Those projects are roughly $3.1 million each.
Westover and Southside serve about 5,600 and 3,400 customers, respectively.
The Westover substation serves a vast area including Dry Fork, the Berry Hill Road area and parts of Danville.
Southside covers the area from West Main Street and at Averett University in Danville, heading south in the Grove Park area, Southwyck, Druid Hills and Stratford Place to the North Carolina line.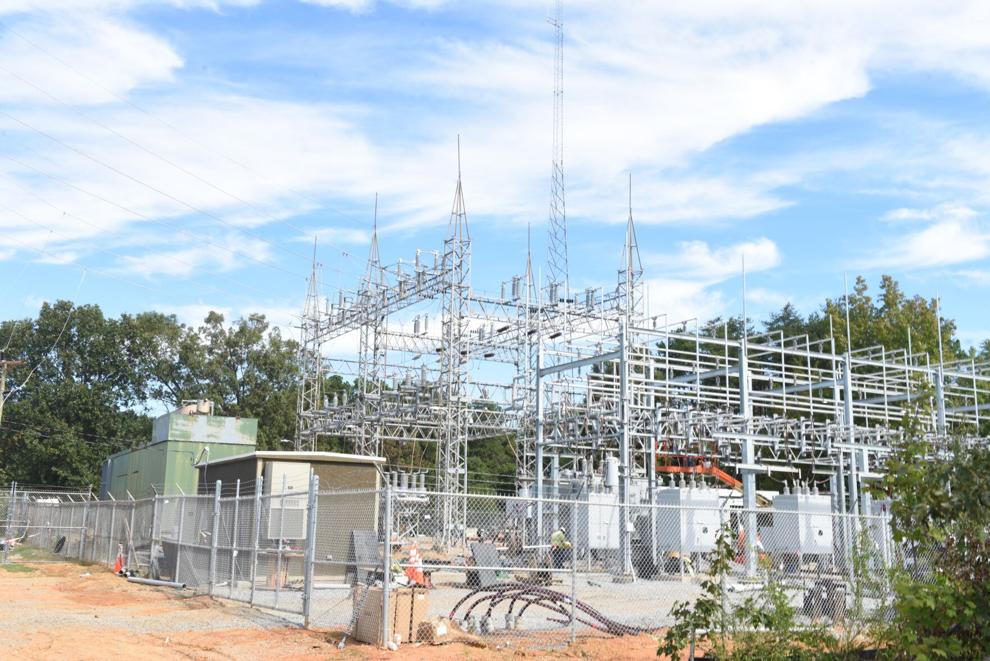 The Westover substation was built in 1975 and Southside's substation was built in 1972.
The White Oak project is about $500,000 and will include new breakers, relay panels, switches and insulators, Grey said.
Relay panels monitor the power system and provide protection in case of a lightning strike or a bird making contact, Grey said. Insulators also provide protection to substation infrastructure.
Money from Danville Utilities' sale of the Patrick County hydroelectric complex will be used to build the new electrical substation for the casino project at the former Dan River Inc. site in Schoolfield and upgrade the substations at Westover and Southside.
The city sold the Pinnacles hydroelectric complex for $8.2 million. The property transfer took place on Feb. 10.
Danville Utilities will dedicate about $1 million from the sale to start the Ballou substation project at Schoolfield, Grey said. The money will cover engineering, transformers and steel, and the project would be complete in the summer or fall of 2022. Additional money money will be requested later to complete the project.
The Ballou substation would provide power for the $400 million Caesars Virginia casino resort expected to open in 2023.
Preliminary work is expected to begin this fiscal year (2021-22), with the project planned for completion in 2022-23, Grey said.
In addition, $1 million from the sale of the Pinnacles complex will go toward a fourth Appalachian Power delivery point in Brosville. That project will be complete in 2023, Grey said.
Preliminary work, including engineering, property acquisition, surveying, zoning and grading, is expected to begin this fiscal year.
Danville Utilities sold the Pinnacles hydroelectric complex in Patrick County to Northbrook Energy and will buy the energy, capacity and renewable energy credits from the facility.
Northbrook Energy is a privately held power producer and has been in the hydroelectric energy industry for more than 30 years. The company operates hydro assets in 12 states and bought five hydroelectric facilities from Duke Energy in North Carolina and South Carolina.