Friends and family crowded the church pews and seats for the wedding of wedding Samantha Purgason and Landon Stanfield.
Clad in wide-brimmed hats and ornate dresses, suit jackets and shiny shoes, the crowd watched and applauded when the two tied the knot. But it was not an ordinary ceremony.
The two were married on the 600 block of Bridge Street on Saturday — the first marriage of its kind in Danville.
Purgason — who took the name Stanfield — said she got the idea for a wedding on the street while running by the area one day. The two betrothed were in a bind. They had planned to have their wedding where Stanfield proposed, Mexico Beach, Florida. But Hurricane Michael demolished that prospect, along with most of the beach.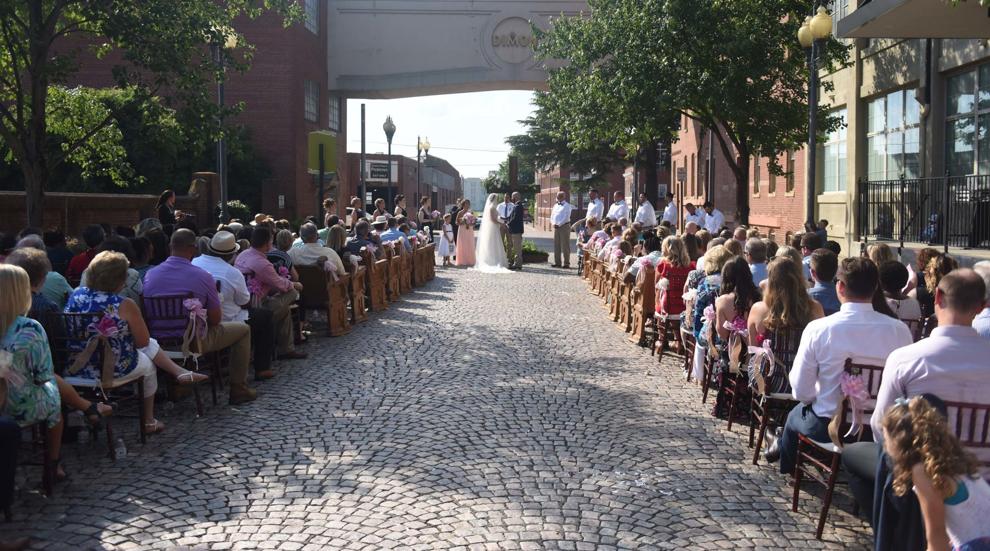 Instead, Purgason was entranced by the cobblestone street in the River District. When she brought up the idea of a wedding there to Stanfield, he liked the idea too.
"He thought it was a great idea," Purgason said. "We did not want to pick a place just to pick a place."
But Bridge Street is more typically occupied by cars than wedding ceremonies, so the two had to get permission to close down the street. Purgason reached out to Vice Mayor Lee Vogler to explain her situation.
"I messaged him to see if this could happen — to see if this was possible," she said. "He got back with me within three days and he had talked with the city manager and they were totally on-board with it."
So the city drew up a contract for the two — and any others who may wish to close a city street for their nuptials. The only stipulation, Purgason said, was that they had to have their reception in the River District, which they had planned to anyway.
"I just think it would be really nice when we take our kids down the street to say 'hey, we got married there,'" Purgason said with a laugh.
The two were married by the Rev. Scott Randlett of Dan River Church. He said he has married people many places before — farms, houses and the like — but never on a public street.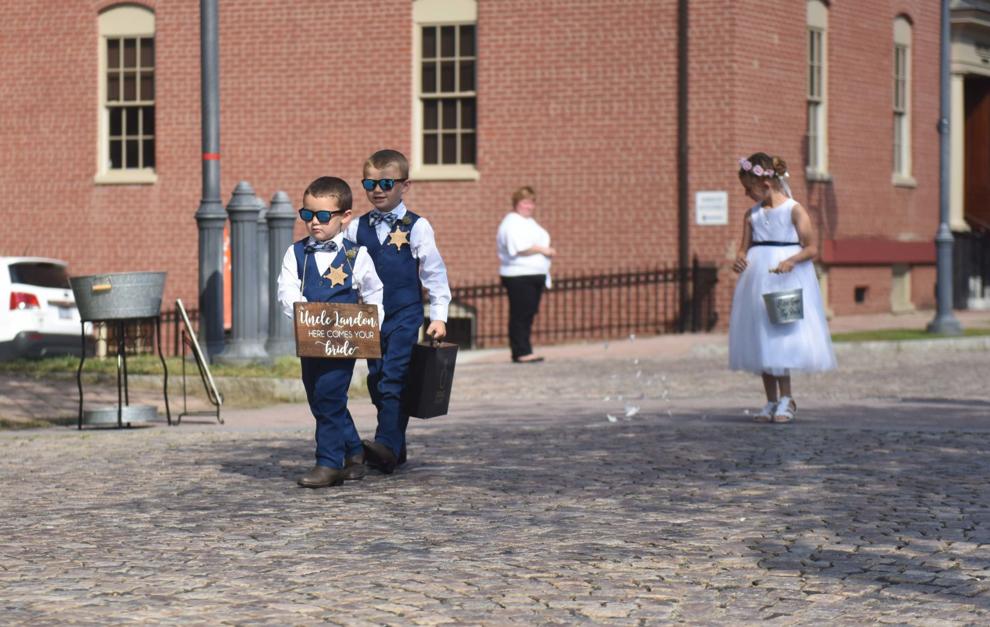 "It's something different and unique, but that also makes it memorable," he said before the ceremony. "I'll tell people I married someone on the street… this is a great couple."
The street was blocked for four hours, and church pews had been hauled in from Pittsylvania County for the ceremony. The two also had to consult with Danville's fire and police departments in addition to getting insurance for the event.
Minutes before he was married, Stanfield stood away from the throng with his groomsmen. He said he wanted the ceremony to be memorable and unique, so when his girlfriend of more than three years had the idea to host it on the street, he was on-board.
"We wanted to do something unique," he said. "I'm ready to start a new chapter of my life with Samantha."