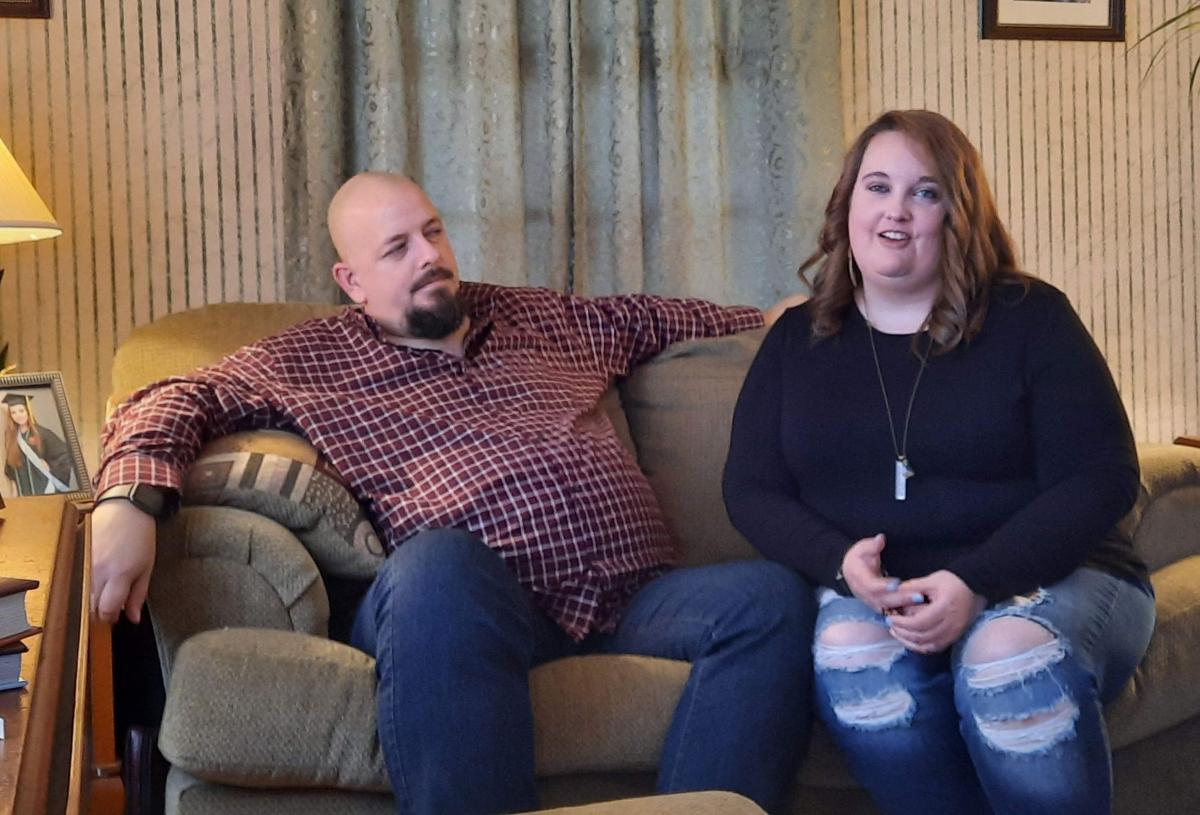 Wayne Lewis sits quietly on the couch in his parents' Danville home and listens as his wife, Heather, explains how badly her husband needs a kidney.
"I don't talk much," he said.
So Heather tells his story, like she's told it many times before.
They both grew up in Danville and now live outside Greenville, South Carolina, with their two teenage daughters. He graduated from George Washington High School and she from Chatham High School. Her grandparents still live in Pittsylvania County.
"Wayne is still working full time, but only because he has an office job," explained Heather. "Otherwise he would have to be on disability already. He is often hospitalized due to his kidney disease and spends days to [a] week in the hospital. He is in desperate need of a kidney transplant at this point to allow him to lead a normal life."
Wayne, 40, suffers from polycystic kidney disease, or PKD, a disease that runs in his family, especially among the men. His dad, Steve, had a kidney transplant in 2009.
They want to get the word out about Wayne's condition, so people will see if they are a match as a living donor for Wayne. He is on a kidney transplant list at the Medical University of South Carolina for a kidney from a deceased donor, but the wait time is approximately four years.
In a lot of pain
Wayne's abdomen stays swollen because both of his kidneys weigh about 30 pounds. In PKD, non-cancerous cysts grow inside the kidneys and fill with fluid, causing multiple side effects, and destroying kidney function.
"The cysts burst and cause a lot of pain and a lot of blood," Wayne said.
He quickly went from Stage 1 renal failure to Stage 5, which is the highest, in the last few months.
On Valentine's Day this year he had a fistula placed in his wrist. That's a connection made between an artery and vein for dialysis access, according to yalemedicine.org.
When they laid Wayne back for the surgery, however, his enlarged kidneys were so heavy they caused pressure on his heart and lungs and he went into cardiac arrest twice and had to be put on a ventilator.
"He can't lie flat at all and has to sleep at a 45 degree angle," Heather said. "And when he's sitting up, there is so much pressure he's uncomfortable."
Needs a transplant
Wayne needs volunteers to agree to be tested and see if they are a match for him.
Heather said several relatives have been tested, although because of HIPAA regulations they can't be told how many or who, but so far no one has been a match.
"You have to be at least 18, but there is no age limit on being too old. To be tested, you have blood work done and have your blood pressure monitored for 24 hours," Heather said. "They can be either male or female."
Blood types and the health of a donor's kidneys are the most important criteria, she said.
Wayne said a glomerular filtration rate (GFR) blood test will test a donor's kidney function to make sure the donor will not be harmed with a transplant, leaving two sick people.
"The majority of my family who could donate a kidney has this disease and has been able to receive a transplant or be on dialysis," he said. Relatives with the inherited disease include an uncle, an aunt, a grandfather, his dad and several cousins.
If Wayne receives a transplant, surgeons will replace his right kidney since it is the larger of the two, then wait six months to remove the left kidney.
Heather said the recovery time for a living donor is one to two days in the hospital and four to six weeks to recover.
"Living donors provide a better chance of a successful transplant than a deceased donor and there is less chance of organ rejection, plus the organs last longer," she said.
"Our insurance pays for everything, and there is financial aid available for the cost of the trips. There is also a facility in Greenville, South Carolina, for follow-up visits."
Benefits for Wayne
Heather said the benefits of a kidney transplant for her husband are many.
"He will no longer be in constant pain and will be able to return to his normal lifestyle, plus he will have 60 pounds of kidneys removed," she said.
She also wants him to be able to see their daughters graduate from college, walk them down the aisle at their weddings and become a grandpa one day.
Elzey is a freelance writer for the Register & Bee and can be reached at susanelzey@yahoo.com or (434) 791-7991.
Elzey is a freelance writer for the Register & Bee and can be reached at susanelzey@yahoo.com or 434-791-7991.