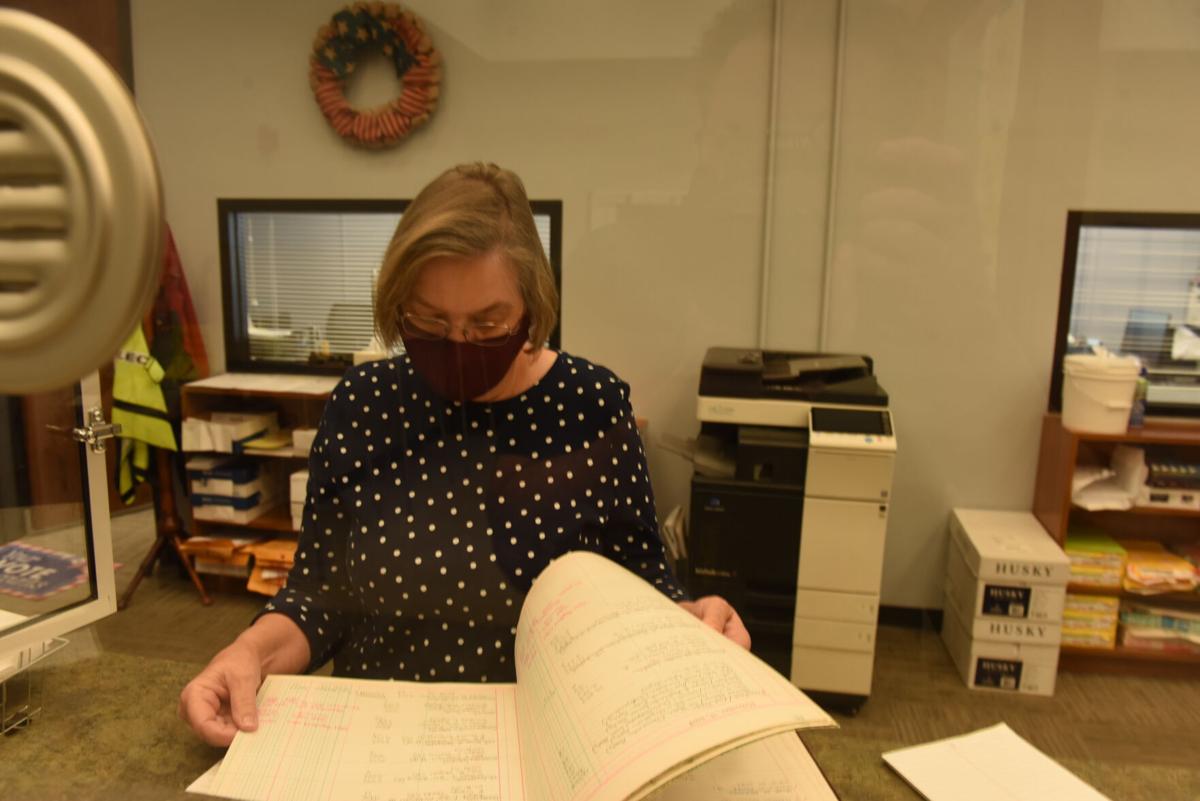 Hundreds of people have voted in-person so far in Danville and Pittsylvania County since early voting began last week.
2021 is the first Virginia gubernatorial race to include early voting, and it's difficult to say whether that added convenience will increase turnout compared to previous governor races, said Danville Registrar Peggy Petty.
"It's hard to predict," Petty said.
With no-excuse early mail-in voting, 776 ballots have been mailed out so far and 201 people have voted early in-person, she said. Danville has about 28,500 registered voters.
For the 2017 governor's race, 40.2% of the city's registered voters cast ballots, Petty said.
"As expected, it's way less than the presidential election," Petty said. "We're just not going to have that presidential turnout in a governor's race."
This year, Democratic candidate and former Gov. Terry McAuliffe and Republican Glenn Youngkin are contending for the governor's seat. Gov. Ralph Northam cannot run this year because Virginia's governors cannot serve two or more consecutive terms.
Voters will also choose who will serve in the House of Delegates. In Danville and Pittsylvania County, voters will choose whether to increase the local sales tax by 1% to fund school projects.
In addition, Danville Sheriff Mike Mondul faces a challenge from Ril S. Mattison.
The 2020 presidential election marked the first time Virginia residents could vote early. During early voting last year, 3,500 ballots for no-excuse mail-in voting were sent to voters the first day, Petty said. A total of 4,867 cast mail-in ballots that year.
A total of 189 people showed up to vote early in-person on the first day of early voting in 2020, compared to 56 on the first day this year, she said.
In 2020, a total of 7,718 people voted early in-person and 7,448 voted on Election Day, Petty said.
At this point in early voting last year, the first five days, 813 voters had cast their ballots in-person and roughly 3,800 ballots had been mailed out, Petty said.
Overall voter turnout was 68.8% in Danville in 2020, she said.
During the 2017 gubernatorial election, before no-excuse mail-in voting was allowed, there were 612 total absentee — 296 by mail and 316 in-person
Early voting in both Danville and Pittsylvania County is from 9 a.m. to 5 p.m. Monday through Friday — except on Columbus Day, which is Oct. 11, when the registrar's offices will be closed.
Early voting also will be allowed from 9 a.m. to 5 p.m. on Saturday, Oct. 23 and Saturday, Oct. 30.
In Pittsylvania County, Registrar Kelly Keesee said residents like the convenience offered by early voting. However, lack of parking at her Chatham office's new location at 18 Depot St. poses a problem, she said.
"The new location provides us a lot more facility space, but it does present an issue for lack of parking," Keesee said.
The office was previously located at 110 Old Chatham Elementary Lane. The location is now being used by Pittsylvania County Public Safety staff.
So far, 1,093 mail-in ballots have been sent out to county voters, and 153 have voted early in-person so far, Keesee said. At this point last year, 3,470 mail-in ballots had been sent out and 574 people had voted early in-person, she said.
A total of 914 voters in the county cast mail-in ballots in 2017, Keesee said.
Nearly 16,000 people voted on Election Day in the county in 2020 and 4,500 voted by mail, she said.
Keesee expects a much higher turnout before Election Day compared to previous gubernatorial elections.
Early is not only convenient for voters, but it keeps lines shorter on Election Day, she said.
"They do like the convenience and opportunity to come any time we're open," she said. "It does help with waiting times and not having to be here long."
Last year, a grant allowed the county registrar's office to use the Olde Dominion Agricultural Complex for early voting. The grant, plus the fact that events were canceled at the complex due to the pandemic, enabled the office to use the space for early voting, Keesee said.
"We don't have those grant funds this year," she said.
Keesee's goal is to add more early-voting locations in the future, she said.
"Ideally, I'd like to have one each in the Mount Hermon and Gretna areas," she said. "That would make it more accessible in the north and south ends."