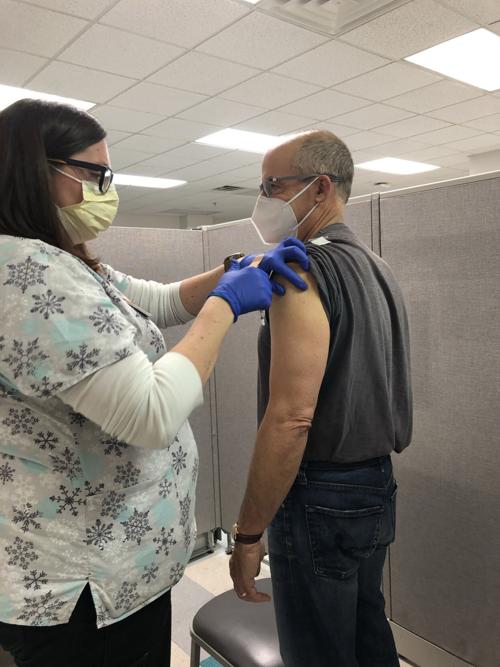 Shots to fight COVID-19 will begin flowing into the arms of teachers and residents 65 and older Monday when the Pittsylvania-Danville Health District moves into the next level of a vaccination plan.
Since the vaccine still isn't available to the general public, those doses will be administered in what's known as closed point of dispensing clinics, officials stressed in a Friday news release announcing the move to the next phase. Appointments are required.
Known as "Phase 1b," the next round of vaccines will be available to essential employees like police and fire personnel, food and agriculture workers, manufacturers, grocery store workers, public transit workers and mail carriers, among others, according to the release.
The Southside Health District — an area that includes Halifax, Mecklenburg and Brunswick counties — also will move into the second phase Monday.
Residents 65 and older and anyone ages 16 to 64 with high-risk medical conditions who live in Danville or Pittsylvania County should call 434-766-9828 to schedule an appointment for the closed clinics.
With expected high call volume, health district officials ask callers to be patient in trying to get through.
"We are pleased to move to the next phase and to be able to provide a safe and effective vaccine to more people," Scott Spillmann, director of the Pittsylvania-Danville and Southside health districts, said in a statement.
Residents must bring a personal form of identification such as a driver's license to the closed clinics, according to the release. They also may be asked to show proof of qualification, like a work ID, in order to verify eligibility.
The health department is recruiting contract staff and volunteers to help with vaccination efforts which are continuing in the first phase. Those in phase 1a — mainly health professionals who come in contact with COVID-19 patients and those in long-term care facilities — are still receiving a second dose of the vaccine.
Essential employees will be scheduled through their employers, the health department reported.
As of late Thursday, 204 residents of Danville and Pittsylvania County were considered fully vaccinated, meaning they have received two doses of the COVID-19 shot, according to the health department.
Sovah Health has administered more than 2,490 doses of the vaccine to health care workers, spokesperson Kelly Fitzgerald told the Register & Bee on Friday. Those shots went into the arms of staff members, doctors and first responders.
Although vaccines are not mandatory for Sovah Health, Fitzgerald said officials are "encouraged by participation levels thus far."
She also confirmed the hospital would play a role in community vaccinations, at the direction of the state health department and the local district.
When more vaccines area available, the state will move into other phases, but the process will take months. Shots aren't expected to be available to the general public until late spring or early summer.
With 87 new cases added Friday, COVID-19 continues to plague Danville and Pittsylvania County. Also on Friday, Danville crossed the 3,000 caseload threshold.
Sovah Health-Danville reported a record number of virus patients this week and announced Thursday announced it was scaling back elective and non-urgent surgeries. Officials made the decision to accommodate the beds needed for those will the illness caused by the coronavirus.
Friday's data
| Location | Cases | Deaths | Hospitalized |
| --- | --- | --- | --- |
| Danville | 3,013 | 63 | 186 |
| Pittsylvania County | 3,428 | 41 | 137 |
| Halifax County | 1,557 | 46 | 38 |
| Mecklenburg County | 1,501 | 42 | 69 |
| Henry County | 3,235 | 63 | 239 |
| Martinsville | 1,185 | 63 | 239 |
| Virginia | 422,634 | 5,656 | 19,741 |