Pittsylvania County added another COVID-19 death over the weekend as the positivity rate soared to more than 32% for the rural area, according to the Centers for Disease Control and Prevention.
Simply put, that means nearly 1-in-3 residents of Pittsylvania County who undergo a COVID-19 test yield a positive result. The CDC determines any figure about 5% to mean the virus is spreading uncontrolled in a community.
The high rate came at a time when thousands of people descended on a Blairs amphitheater for a 4-day Blue Ridge Rock Festival.
Danville's rate was 17.89% as of Monday morning, a slight drop in recent days. Positivity is calculated based on the previous seven days of full data available.
Testing volume has dropped in both localities recently. Officials with the department of health declined to answer if the area is experiencing a local shortage of testing supplies. Instead, they referred the Register & Bee to online source — www.vdh.virginia.gov/pittsylvania-danville — for anyone who wants to get tested.
The latest fatality — a county woman in her 60s — was recorded Saturday but not revealed to the public until Monday morning's update from the Virginia Department of Health. The department no longer refreshes data on the weekend. It marks the fourth consecutive day a death was recorded in the Pittsylvania-Danville Health District. So far, 247 residents of the local health district have died from the illness caused by the novel coronavirus.
While it was officially recorded Saturday, the latest death likely occurred weeks earlier. Health officials must wait for an official death certificate before labeling a fatality related to COVID-19. Also, beyond basic demographic details, very few details are known to the public when someone dies of the virus.
The entire state of Virginia was under the CDC's high-risk zone for COVID-19 transmission on Monday morning. With that definition, the federal agency says everyone should wear a mask in public indoor settings.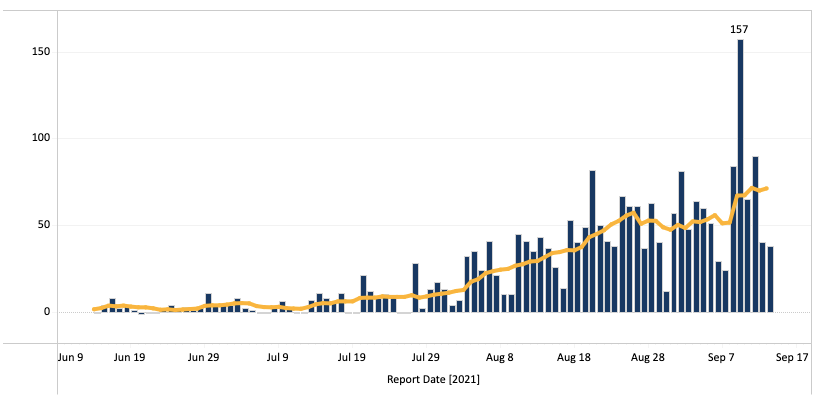 In Danville and Pittsylvania County, there were 168 cases added Saturday to Monday, raising the rolling 7-day average to 71.
However, the current figures of COVID-19 infections — the highest since February — are likely lower than reality, the Virginia Health Department reported Friday.
"Not everyone with COVID-19 develops illness; as a result they may not seek medical treatment and then are not tested," health officials wrote in a blog post. "For persons who do get sick, not everyone has access to or will seek medical treatment."
That could mean people are spreading the virus without even knowing they are sick.
Also, there are those who have COVID-19 symptoms but won't get tested to confirm their illness.
"VDH may never know about these cases," officials wrote in the blog.
The health department gets data from a variety of sources and sometimes that information changes.
"For example, we may get a lab report that does not include the patient's address," officials explained. "To count this case, we use the address of the patient's doctor, but later when the local health department performs a COVID-19 case investigation, we may learn of the patient's home address and update their COVID-19 case record."
When that happens, the case may move to another address during a routine review process.