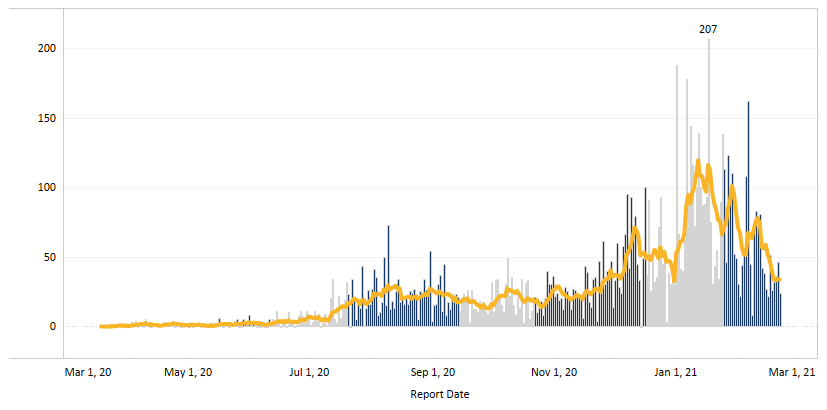 The Pittsylvania-Danville Health District COVID-19 death toll increased by three on Monday morning, a day the nation was on track to surpass half-a-million fatalities from the pandemic.
Even though data appeared in an update from the Virginia Department of Health, it's not clear when the deaths occurred. Oftentimes it can take weeks from when a person succumbs to COVID-19 until that death is officially recorded.
It's a painstaking process by health officials to comb death certificates to verify COVID-19 was a factor. So far this month, 44 deaths went down in the record books in the local health district. However, half of those came in one day after health department employees spent a weekend reconciling death certificates.
The latest deaths are all men. One lived in Danville, and two others resided in Pittsylvania County. Fatalities, just like cases, are assigned to a person's official place of residence.
Ages of the deceased ranged from 60s, 70s and 80 and older. In the local district, 46% of COVID-19 deaths occur in residents 80 or older.
Beyond those scant demographic details, nothing more is known when someone dies of the illness caused by the novel coronavirus. Health officials do not comment on individual deaths.
The three deaths were among 155 added throughout Virginia on Monday, a record for the commonwealth.
Virginia added 1,155 new cases Monday, its lowest figure since October. Danville and Pittsylvania County's COVID-19 count increased by two dozen to 8,991. The local district's 7-day average has remained steady at about 33 new cases per day. That's the lowest average since late November.
Monday's data
| Location | Cases | Deaths | Hospitalized |
| --- | --- | --- | --- |
| Danville | 4,233 | 98 | 226 |
| Pittsylvania County | 4,678 | 58 | 157 |
| Halifax County | 2,358 | 57 | 58 |
| Mecklenburg County | 1,941 | 50 | 79 |
| Henry County | 4,118 | 99 | 274 |
| Martinsville | 1,485 | 46 | 125 |
| Virginia | 565,270 | 7,486 | 23,530 |
Vaccines
In both Danville and Pittsylvania County, 4,076 residents are fully vaccinated, meaning they have received both shots. About a quarter of those individuals rolled up their sleeves at a Saturday clinic at Averett University.
In all, more than 17,000 doses of the COVID-19 vaccine have been administered in Danville and Pittsylvania County, based on data entered Sunday evening.
Anyone eligible for a vaccine under Phase 1a and 1b may register online at www.vaccinate.virginia.gov or call 1-877-VAX-IN-VA. The phases included anyone who comes in contact with a COVID-19 patients, select essential employees, teachers and residents 65 and older.
If a resident pre-registered under a previous website or via another number, there's no need to register again. All of that information is being merged under the new state website.