Three more residents of the Pittsylvania-Danville Health District have died of COVID-19, and more people 19 years old and younger are testing positive for the virus.
The fatalities were reported Saturday but not revealed to the public until Monday morning, because the Virginia Department of Health no longer updates its COVID-19 dashboard of information on weekends.
Very little is known to the public when someone dies of the illness caused by the novel coronavirus. Only by charting day-to-day shifts in demographics can some details be extracted.
The recent deaths — two women and one man — occurred in two city residents and one person who resided in Pittsylvania County. One was 80 or older, one was in his or her 60s, and the other was in his or her 70s.
When the date of the deaths isn't clear, they likely happened at least weeks earlier. Health workers must wait for a death certificate before verifying a death is linked to COVID-19, a process that can take two or more weeks.
So far, 242 Danville and Pittsylvania County residents have lost their lives to the virus since the first fatality was logged on March 25, 2020. Thirteen of the deaths have been added this month.
The health department stresses all data are preliminary and could change in a routine review process. That has happened when cases — and deaths — may be assigned to the wrong locality because of a ZIP code or clerical error.
Fueled by the highly transmissible delta variant, more younger residents are testing positive for COVID-19, health department data show. In the last seven days, 28% of cases — 96 — were in those 19 and younger. In the previous 7-day period only 19% — 69 cases — were reported in that age group.
The rise correlates with the increase in cases in schools. Since Friday, eight new COVID-19 were added in Danville Public Schools where 73 have been infected with the virus since doors opened Aug. 9. The majority are centered in George Washington High School. Another 47 students and staff members have been exposed to a positive case, the system's dashboard indicates.
In Pittsylvania County, the school system is reporting a drop to 47 active cases from 53 listed Friday. The county system does not list cumulative caseloads like the city, instead only reporting infections currently considered to be active. The county also does not display exposures in its online dashboard.
No new cases have surfaced at either Averett or DCC over the weekend.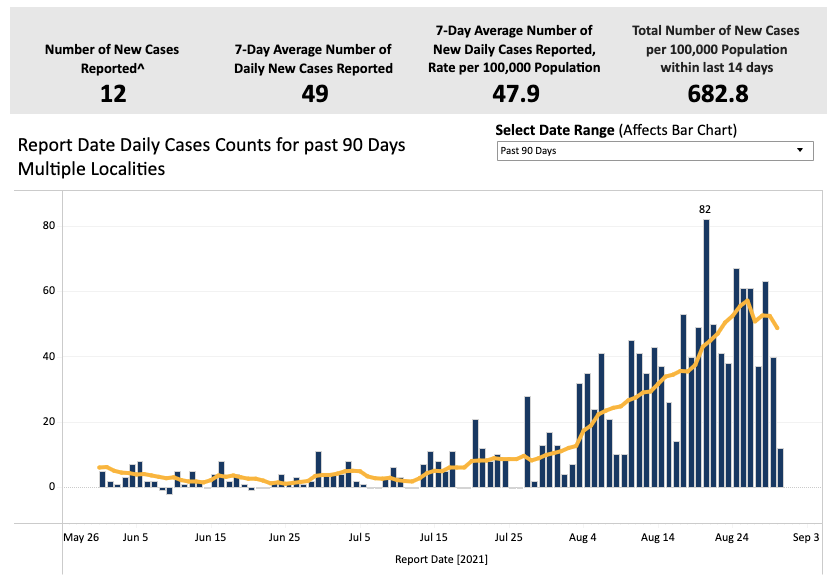 Danville and Pittsylvania County combined are adding 49 new cases per day, a drop in the 7-day average from last week. Only a dozen new infections were reported in Monday morning's update. Weekends typically have lower cases.
The positivity rate also has dropped for both localities, according to figures from the Centers for Disease Control and Prevention. About 22% of county residents who receive a COVID-19 test yield a positive result, compared to about 9% of people living in the city. Even with a decrease, both numbers are higher than the 5% threshold the CDC sets to determine if the virus is controlled in a community.
All areas of Virginia are in the CDC's high-risk zone for community transmission, leaving the entire state painted a blaring red color. For areas with high risks, the CDC recommends everyone wear masks indoors regardless of vaccination status.