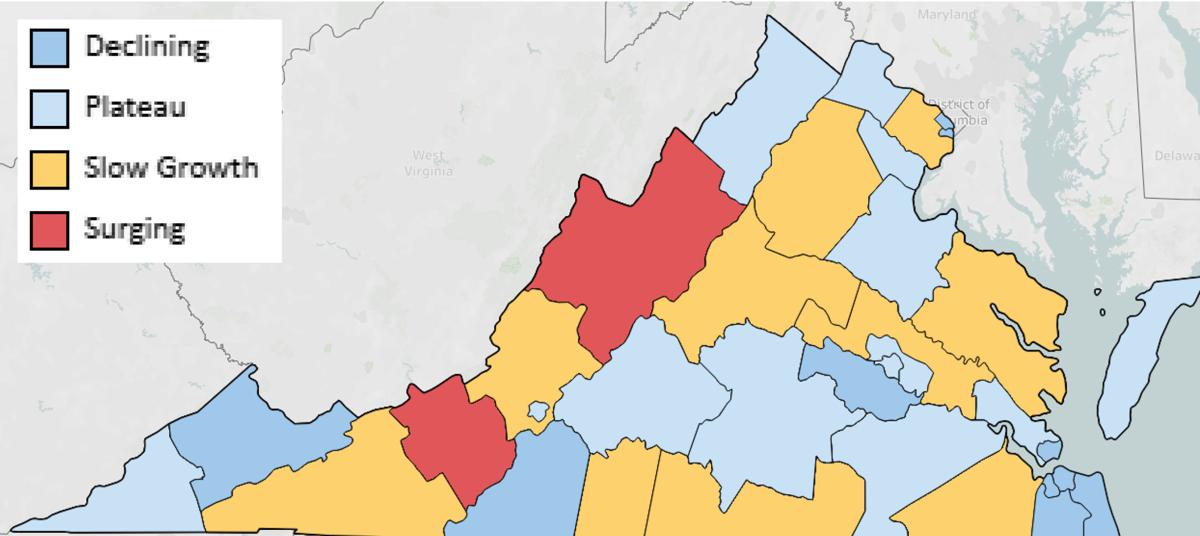 Two more COVID-19 outbreaks — one at an assisted living facility — were reported Saturday by the Virginia Department of Health as the Pittsylvania-Danville Health District is now classified as a slow growth area.
A new outbreak at Brookdale Danville Piedmont was listed in Saturday morning's update on the Virginia Long-Term Care website. Brookdale reported the latest outbreak Sunday following a previous outbreak in April. In both outbreaks, data is not listed for the number of infections or deaths.
Two other facilities — Riverside Health and Rehabilitation and Roman Eagle Memorial Home — are still considered to have outbreaks in progress. At Riverside, 46 cases of the illness caused by the coronavirus and five deaths are associated with that outbreak. Roman Eagle has 34 cases, and no data is available for deaths.
Only four of the five outbreaks at long-term care facilities are listed on the task force's page.
Other outbreaks include eight in congregate settings, which can be anything including businesses, churches and day care centers. 
Green Rock Correctional Center in Chatham had 96 cases associated with an outbreak there, but no active cases are listed on the Virginia Department of Correction's website. The two remaining outbreaks are at health care centers, one being Southern Virginia Mental Health Institute where a nurse died last week from COVID-19.
A total of 244 cases are associated with 16 outbreaks, and 81 health care workers have tested positive for COVID-19 as well.
As of Saturday, there were 1,630 cases in the local health district: 729 in Danville and 901 in Pittsylvania County. In all, 23 people from Danville and Pittsylvania County have died from COVID-19, the health department reports. The local district added 100 new cases in a seven-day period.
Friday's update from the University of Virginia's COVID-19 model placed the Pittsylvania-Danville Health District in the slow growth category for COVID-19 cases. The new designation means there's sustained growth in cases, but it's not rapid enough to be considered a surge.
The model, updated weekly, recently redefined surge areas into four categories: 
Declining: Sustained decreases following a recent peak,
Plateau: Steady rate increase with little trends up or down,
Slow growth: Sustained growth not rapid enough to be considered a surge, and
Surge: Experiencing a rapid growth of cases.
The local health district reached a plateau in last week's report before moving into the slow growth section this week. This comes after the Pittsylvania-Danville Health District remained as a surge area for multiple weeks in July and August. The model uses a formula that detects a rapid rise in cases in a week, specifically an increase of at least 2.5 per 100,000 population, to classify a surge area.
In Virginia on Saturday, there were 132,940 cases of COVID-19, an increase of 1,300 since Friday. There were 2,722 COVID-19 deaths reported.
Gov. Ralph Northam is scheduled to deliver an update on Virginia's response to the COVID-19 crisis on Tuesday afternoon.
Concerned about COVID-19?
Sign up now to get the most recent coronavirus headlines and other important local and national news sent to your email inbox daily.