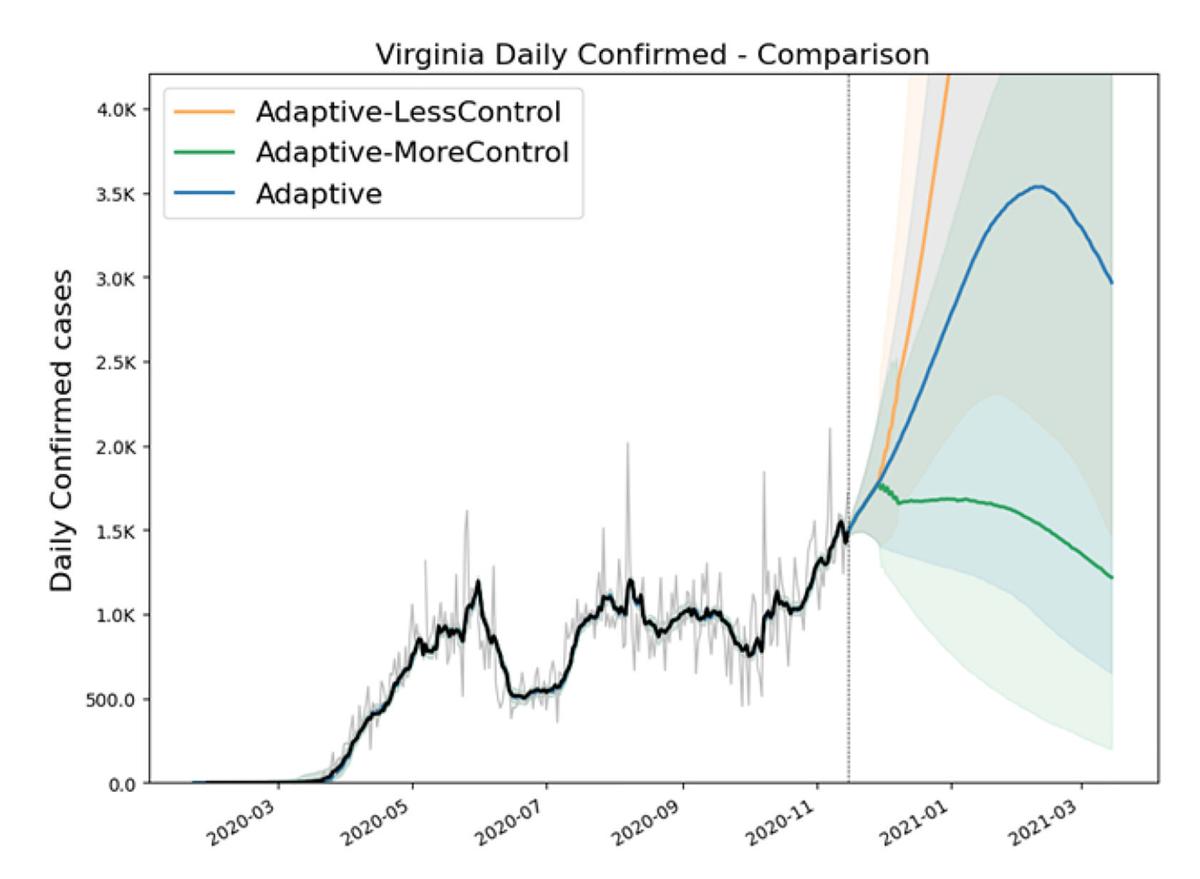 The Pittsylvania-Danville Health District's death toll from COVID-19 reached 70 on Saturday morning.
Two more fatalities — both women, one in her 70s and the other 80 or older — were revealed by the Virginia Department of Health, although the deaths could have happened weeks ago. One woman was a Danville resident, the other resided in Pittsylvania County.
With the exception of basic demographic data, little is known to the public when someone dies of COVID-19, the illness caused by the novel coronavirus. Even the date of the death is a mystery. Officials have to wait to receive the official death certificate before they can enter the information into a database that's updated each morning. That process can sometimes take weeks, health department officials have said.
The new deaths come as cases rise dramatically across the state but have stayed relatively steady in Danville and Pittsylvania County. On Saturday, both localities added 35 new reports of COVID-19, bringing the average to about 25 new cases a day.
By contrast, the commonwealth is averaging about 2,000 new cases a day, compared to about 1,400 a week ago.
Three new outbreaks popped up this week at two facilities in Danville and one in Chatham.
As of Thursday, there were 29 cases at Danville's Stratford Rehabilitation Center, said Robert Parker, a spokesperson for the health department.
Riverside Health & Rehabilitation Center is experiencing its second outbreak with 31 new cases. In July 80 people were infected and 14 died during an outbreak there.
Another new report shows 11 cases have emerged at Chatham Health and Rehab.
Peak cases
A report — the last available this month because Thanksgiving is next week — from the University of Virginia indicates infections in the Pittsylvania-Danville Health District are expected to continue rising.
"Virginians should take extra precautions over Thanksgiving, including avoiding travel, indoor gatherings, and visiting persons at high risk, and isolating before or after any risky holiday activities," researchers warn in the report issued Friday.
Based on current trends, the UVa COVID-19 Model suggests cases will continue accelerating in Virginia and peak around mid-February at 25,000 per week. By comparison, the state added about 14,800 over the last seven days.
However, if a surge happens, the state may see up to 45,000 cases. That surge potential highlights a mix of variables, including colder weather setting in and a Christmas holiday season well known for social activities.
Locally, cases may peak at the end of January at more than 500 a week. That would be nearly three times what the Pittsylvania-Danville Health District recorded last week.
A surge would bring the weekly caseload to more than 1,500, according to UVa.
Holiday worries
"It is very concerning that national surges are occurring before winter solstice (Dec. 21) and before the holiday season is in full swing," researched wrote in the UVa report.
The holidays bring a multitude of risks. For instance, Virginia students will be returning from out-of-state colleges and may join an estimated 50 million holiday travelers nationally.
With more people traveling, gatherings become a point of extreme worry for health officials. It's estimated, by UVa, that 1 in 3 gatherings with 20 people are expected to have at least one person with COVID-19.
When those get-togethers grow in numbers and include travelers from other regions experiencing surging cases "the risk increases quickly," researchers said.
In addition, those social affairs often include high-risk family members, yet another flash point of fear for health experts.
To that end, sacrifices are urged to become the norm for the holiday season.
"It is painful to miss our holiday traditions and visits with family, especially after months of social distancing," the UVa report says. "However, it is more painful to lose a loved one, or to see them battle the potential long-term effects of COVID-19."
Concerned about COVID-19?
Sign up now to get the most recent coronavirus headlines and other important local and national news sent to your email inbox daily.