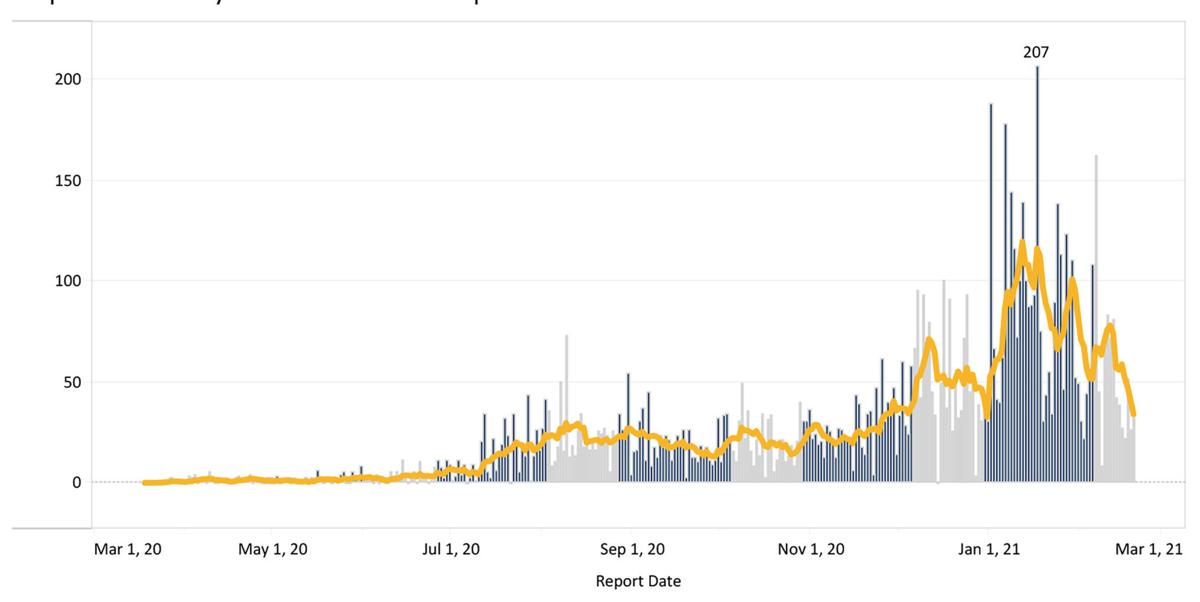 Even as daily COVID-19 cases continue on a descent and vaccine efforts steadily grow, outbreaks continue to plague the Dan River Region's long-term-care facilities.
As of Friday, Danville and Pittsylvania County combined were averaging about 34 new cases of the illness caused by the novel coronavirus. That's the lowest 7-day average since late November, before infections exploded in several post-holiday waves.
The Pittsylvania-Danville Health District also hasn't recorded a COVID-19 death since Sunday. Deaths often are a lagging statistic, experts have noted. In addition, when a death is recorded it likely occurred at least weeks earlier. That's because the Virginia Department of Health waits for death certificates before officially logging the information into a statewide database.
With the optimism of lower cases loads and fewer deaths, the virus is still infiltrating area long-term care facilities.
A new outbreak at Bright Leaf Place in Danville — one of three active ones in the local district — surfaced Friday in a weekly database refresh from the health department. The health department was notified on Jan. 28 of that outbreak.
There are 46 individuals — 30 residents and 16 employees — who have tested positive for COVID-19, Enlivant spokesperson Louis Kievit wrote in an email to the Register & Bee on Friday. Enlivant is the parent company of Bright Leaf Place.
The most recent positive test was received Friday for the 63-unit facility.
"We are coordinating with the Centers for Disease Control as well as all applicable local and state health organizations, to include reporting to the state and the VA health Department upon confirmation of any new case," Kievit said.
Bright Leaf Place conducted its first vaccine clinic on Feb. 2. It plans the second session Tuesday.
"The safety and health of our employees and residents is our top priority," Kievit said. 
The local health department didn't respond to questions surrounding the new outbreak, including the delay in the online disclosure. Previously officials have pointed to a data lag and a delayed updating cycle for outbreak information.
Friday's data
| Location | Cases | Deaths | Hospitalized |
| --- | --- | --- | --- |
| Danville | 4,168 | 92 | 224 |
| Pittsylvania County | 4,638 | 56 | 157 |
| Halifax County | 2,319 | 56 | 58 |
| Mecklenburg County | 1,936 | 47 | 79 |
| Henry County | 4,099 | 83 | 272 |
| Martinsville | 1,479 | 44 | 125 |
| Virginia | 559,930 | 7,098 | 23,369 |
Other outbreaks
The two other active outbreaks are at Piney Forest Health and Rehabilitation and Chatham Health and Rehabilitation.
At the Piney Forest facility, 95 cases are associated with that outbreak, first reported Jan. 18, and there's at least one death linked to it. The state health department doesn't disclose the number of fatalities when it's fewer than five in an effort to to protect anonymity of cases.
However, federal data show as of Feb. 7 there was one suspected death of a resident from COVID-19. Most long-term care facilities are required to submit weekly details to the Centers for Disease Control and Prevention. In turn, that data is available to public view about two weeks later.
As of a Feb. 7 report, there were six new COVID-19 cases. In all, 75 residents have tested positive, along with 35 staff members. However, those figures are cumulative since the pandemic began and may include previous cases not linked to this outbreak.
An outbreak first discovered in November is still classified in progress at Chatham Health and Rehab. That's because 28 days must pass without a new documented case of COVID-19 before the health department removes the facility from the active list.
The state reports 84 cases and 16 deaths linked to that outbreak. As of the Feb. 7 report, four new infections among residents were reported.
Decrease in hospitalizations
The situation is starting to ease at Sovah Health-Danville and hospitals in general across the state and nation. On Wednesday, the health system reported two dozen COVID-19 patients at its Danville facility, a decrease of 25% from 32 patients on Feb. 3. Adding 17 in Martinsville, there were 41 COVID-19 patients hospitalized this week across both campuses.
By comparison, on Jan. 20 Sovah Health was caring for 75 patients, including a record 46 in Danville.
"At this time, our hospitals have adequate capacity to meet patient needs, including in critical care and intensive care," Kelly Fitzgerald, spokesperson for Sovah Health-Danville, said in a news release this week.