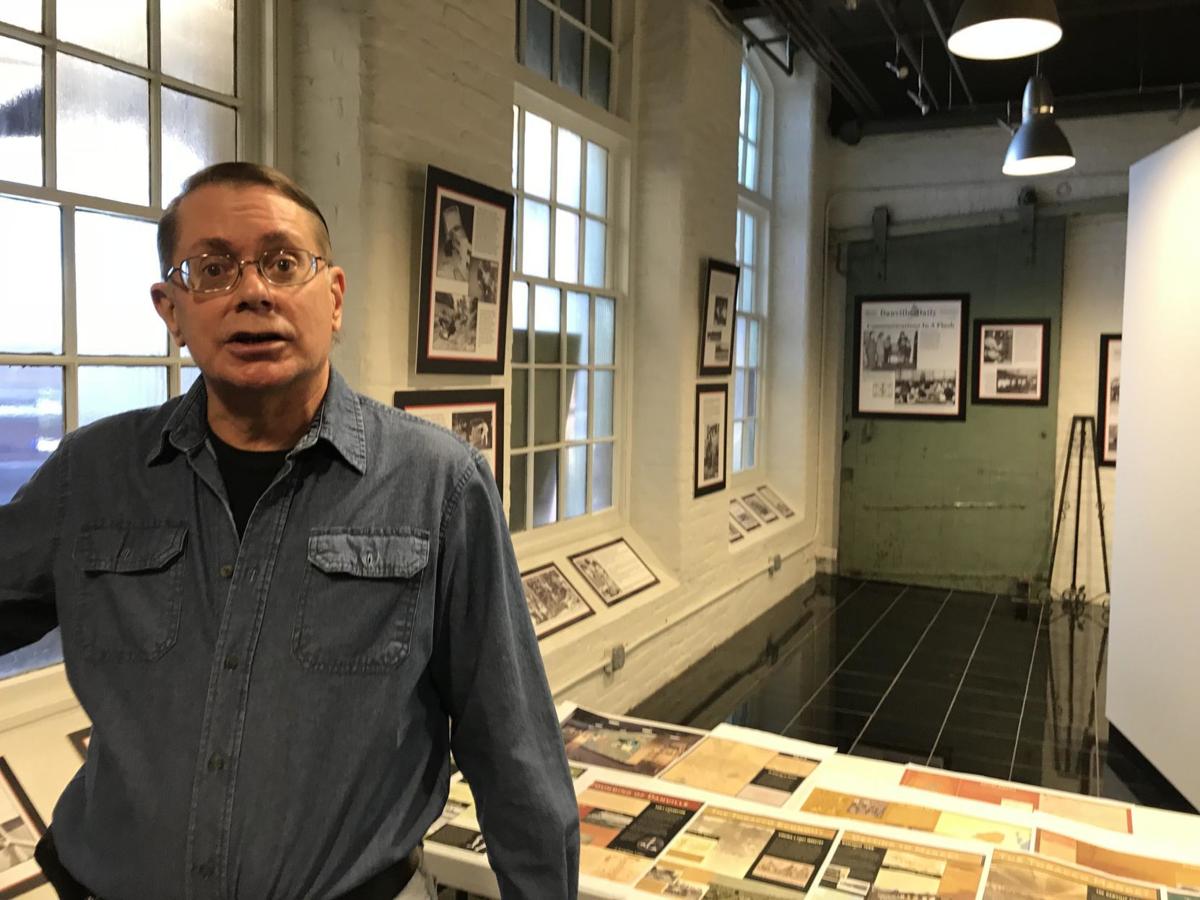 Facing scrutiny over a racist social media post that calls the Rumors of War statue in Richmond a "coon on a horse," the president of the Danville Historical Society resigned Monday.
The resignation came during an emergency meeting by the society Monday evening — closed to the public — to address the matter.
Steve Mand, vice president of the group, called the comment "repugnant."
Historical society president Mark Joyner said the post was made on Facebook on Friday night by a friend who was visiting from Tennessee and had borrowed his phone and had accessed Joyner's Facebook account without his permission.
"Somebody else was using my phone," Joyner said when contacted by the Danville Register & Bee on Sunday.
Joyner would not identify his friend on the record and said he did not have contact information for him.
He said his friend asked to use his phone twice that day and that he didn't find out about the statements posted under his name until Saturday.
The racist post was made Friday night.
"He needed to call home," Joyner said when asked why he let his friend use his cellphone. "He doesn't have a cellphone."
The Danville Historical Society posted the following statement on its Facebook page Saturday, "It has been brought to the Danville Historical Society's attention that racist remarks have been attributed to the DHS. We are investigating this thoroughly. We are a community organization and we believe in being accountable to you, our community. Thank you for holding us accountable. Please stay tuned."
Responding to public questions, the historical society posted another statement on its Facebook page Monday: "We hear you. We are meeting this evening to make determinations around this very serious matter and we will post updates following."
In a statement sent to the Register & Bee after Monday's meeting, the society said: "After discussion with the DHS Board about the posts and their probable effect on the DHS moving forward, Mark offered his resignation. It has been accepted, and now we hope we can continue with our mission."
Tommy Bennett, president of the Danville branch of the NAACP, said the statements are a reminder why everyone must stand together and fight racism.
"That's why we have to stay organized," Bennett said Monday. "Our organization is for equality of all people and his statement is totally against what we stand for."
The Rumors of War statue — sculpted by Kehinde Wiley — in Richmond was unveiled Dec. 10, 2019, and depicts a young Black man on a horse dressed in urban street clothes.
The post from Joyner's account — an incoherent statement riddled with misspellings and grammatical errors — in response to a friend's Facebook post states, "It's time yo gey rid off the rumors of war statie put up of an urban black on dreadlocks riding a horse. A piece of "" art that represents NO history other than coon on a horse which we know don't ride horsrs."
Joyner's friend, William H. Hairston, responded, "this is a very ugly and despicable statement."
Alluding to the tearing down of Confederate statues in Virginia and other states, Joyner's account responds, "will i know it's outrageous but to destroy othe works of art from 100 plus years ago just to rewrite history is a down fall in socially to attempt to be complacent to a race that none of our generation had any control over."
But that is not the first post from Joyner's account. Another Facebook comment he made from a post on June 15, 2019, states, "Start shooting that race on sight."
But Joyner said that was taken out of context and that he was referring to rioters, gang members and members of Antifa, not Black people.
"It wasn't the Black race, it was the race of thugs," Joyner said. "Most of them [Antifa] are white anyway."
In his defense, Joyner pointed out historical society projects under his leadership as president over the last two years. The group has been trying to get James Street Holiness Church, a historic Black church, refurbished.
Also, he said the society has worked with the Rosenwald schools survey and spoke during the opening of the Williams Community Resource Center last year. The Rosenwald schools were built in the early 20th century for the education of Black children.
The Danville Historical Society is a nonprofit whose purpose is to collect historical objects relevant to the history of Danville and to maintain them for their history, Mand said.
The group gets its money from contributions, grants from organizations and an annual Christmas ornament fundraiser.
Its board members, including the president, are unpaid volunteers.
Karice Luck-Brimmer, program coordinator with History United, pointed out that historical societies have a vital role in educating the public about all aspects of history, especially during tumultuous times.
"The Rumors of War is a work of art created as a response to the oppression of the Confederate Monuments lining Monument Avenue [in Richmond]," she said. "I am appalled at the comments allegedly made by DHS president Mark Joyner. He should be using his knowledge of history to bring us together and not divide. We all owe it to humanity to dismantle the systemic racism practices that have been deeply ingrained in every facet of society for so long."
Crane reports for the Register & Bee. He can be reached at (434) 791-7987.
Get local news delivered to your inbox!
Subscribe to our Daily Headlines newsletter.