When a hurricane churns an ocean and sends waves crashing onto the shore, chaos ensues but eventually calm is restored.
At least until the next storm.
It's much the same way with the coronavirus pandemic. Multiple waves bring about sickness and death until eventually waning.
The latest wave — created by the highly transmissible delta variant — only caused about 40% of cases compared to last winter's surge, the University of Virginia's Biocomplexity Institute reported Friday. At least so far.
By most indications the overall peak has passed for Virginia, but there are some areas — like Southside — that may see elevated cases at least for a few more weeks. In Danville and Pittsylvania County, UVa projects cases will crest Oct. 10 and begin to retreat. In the neighboring West Piedmont Health District — an area that includes Martinsville, Henry, Franklin and Patrick counties — that peak may not be reached until later this month.
"The big question right now is whether Virginia will experience a repeat of last winter's surge, with this new variant, in this new environment," researchers wrote in Friday's report.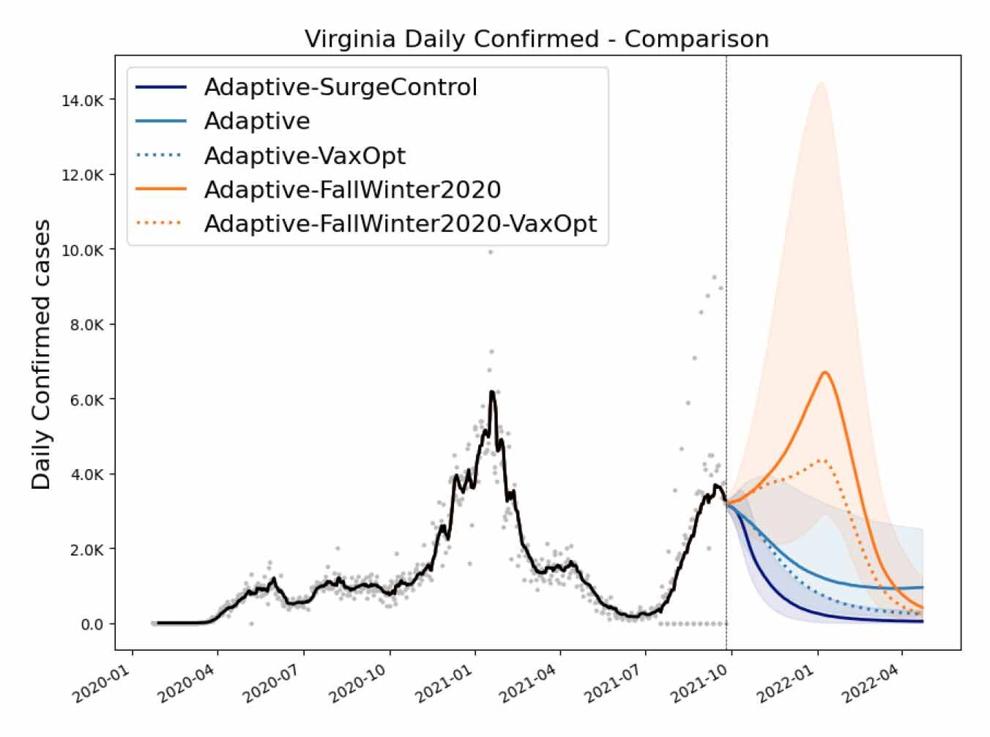 Three of five current projection models indicate a continued decline in COVID-19 cases. There's one that suggests there's at least a chance infections could rival or exceed last winter's record.
The ultimate path depends on if vaccinations — and boosters — increase and how long the public practices prevention methods.
"Models are our best tools for understanding the potential course of the pandemic, but they struggle with new variants in new environments," researchers conceded in the report.
That struggle is even greater when the human element is factored into it. To help, the Virginia Department of Health has enlisted a forecasting platform — Metaculus — to see if another holiday surge is possible.
"Although no one has a crystal ball, Metaculus leverages cutting-edge methodologies to to aggregate the forecasts of a highly engaged network of thousands of forecasters," Friday's report said. "These methods provide us with another view of the future course of the pandemic."
The general consensus from Metaculus is that Virginia can likely avoid a repeat of last winter's record cases. One reason is because it appears cases have already peaked ahead of Thanksgiving, a time when holiday travel and gatherings can add fuel to the pandemic flames. That's when cases started a sharp growth last year.
A whole new environment also is factoring into the forecast equation. This year, 60% of Virginia residents are fully vaccinated, although Southside's figures severely lag the state's numbers. On the other hand, many mandates put in place to help stop the spread of COVID-19 — like wearing face masks — have been lifted.
Most of Virginia still remains at a high risk for COVID-19 transmission, according to the Centers for Disease Control and Prevention. For these areas — including Southern Virginia — CDC officials say residents should wear face masks while inside public spaces.
The delta wave was different from other high points in the pandemic, the UVa report pointed out.
"Delta is far more transmissible, and, though severe outcomes are still rare, poses a greater risk to young Virginians," researchers wrote.
In the long-run, vaccinations hold the key to taming the pandemic, experts agree.
"Please continue to practice good prevention, including masking, social distancing and self-isolating when sick, and get vaccinated as soon as possible," UVa researchers said.