After walk-ins were allowed at Danville's community vaccination center — amid a low demand for appointments — two Virginia agencies announced Wednesday evening that practice has been halted across the state.
Danville's center launched on March 15 at the former J.C. Penney department store in Danville Mall, and although calculations for Wednesday are not complete, an estimated 11,825 doses have been administered so far, Lauren Opett, a spokesperson with the Virginia Department of Emergency Management, told the Register & Bee.
That averages to about 1,478 shots given a day, less than half the 3,000 vaccinations the clinic is capable of providing.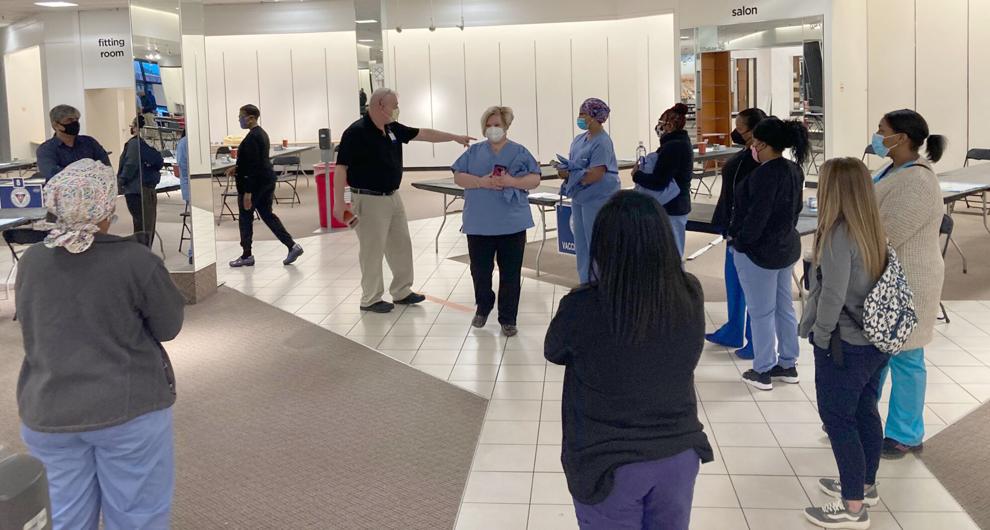 The slow start was to be expected, said Dena Potter, a spokesperson for the Department of General Services. The Danville site was designed to ramp up or down, as needed.
"There was a point when the clinic briefly accepted walk-ins, because appointments dropped below projected demand," Potter told the Register & Bee on Saturday.
But statements issued Wednesday by two state agencies — and distributed by the city of Danville — said the facility would return to serving only individuals who had scheduled appointments under the Virginia Department of Health's Phase 1 even though the centers were operating well below capacity.
The road to Danville
Although state officials would not confirm if residents from outside the Pittsylvania-Danville Health District had been coming to Danville to get shots, a post on the Blue Ridge Health District's page suggests some may have made hours-long treks to Southern Virginia.
"We have heard of many people who live in BRHD driving to Danville's Community Vaccination Center to get a COVID-19 vaccine," officials wrote Wednesday on Facebook. "We ask that everyone respects VA's guidelines for getting vaccinated as the phases are created to ensure individuals at the greatest risk of COVID-19 illness and death get a vaccine first."
The Blue Ridge district covers Albemarle, Charlottesville, Fluvanna, Greene, Louisa and Nelson.
Danville spokesperson Arnold Hendrix said word had spread to college campuses throughout Virginia during the last few days about the walk-ins.
"The Virginia Department of Emergency Management-run clinic has worked to accommodate individuals who have traveled to Danville without an appointment or invitation, but that will change starting tomorrow due to lack of vaccine," Hendrix wrote in an email late Wednesday night.
That said, anyone who may have ventured to Danville for the first dose must come back to the same site to receive the required second shot.
"BRHD will NOT provide your second dose if you get the first one at the Danville community site," the Facebook post said. "We have a limited supply of vaccines, despite requesting more supply, and simply cannot meet the current demand in our District."
By invitation
The news release on Wednesday evening — a joint message from the Virginia Department of Health and the Virginia Department of Emergency Management — said only those who receive an appointment or invitation will be allowed inside the centers, including the one in Danville.
Officials said in the release that each clinic in Virginia "has a plan for how to administer any unused doses at the end of the day, so that eligible individuals are prioritized."
Officials did not respond to a question sent via email on Wednesday about whether Danville's site had any wasted vaccine.
These state-operated vaccination sites are specifically for people in Phase 1 of Virginia's vaccination plan who are either at high risk of COVID-19 exposure or who may suffer severe illness if they were to contract the illness caused by the novel coronavirus, the release stated.
The phases include anyone 65 and older, and the Pittsylvania-Danville Health District recently expanded into Phase 1c, allowing a wider range of essential employees to be eligible.
"Fluctuating registration numbers in the initial stages of site operations have allowed for walk-ins in some isolated instances, but this is no longer the case," health officials wrote in the release.
Officials have focused on raising awareness with the community about the site at Danville Mall, along with the overall push to get eligible residents vaccinated.
Right now, there are teams contracted by the state in Danville traveling out in the community trying to get residents pre-registered for the vaccine. These teams are in places like churches and community centers, Opett said.
In addition, there are also door-to-door efforts involved tying to engage residents on facts surrounding the vaccine.
While these sites can provide about 3,000 shots a day that are "leveraged" by Federal Emergency Management Agency funding, it costs anywhere between $1.5 million to $2.1 million per week to operate, Opett said. There are about 150 people working at the Danville center.
Decisions on scaling back or closing a community vaccination center would be made based on data and would involve the two state agencies and the local government collaborating to plan the best course of action.
"If sites are scaled down, up, or closed, we will release details when plans are finalized," Opett said.