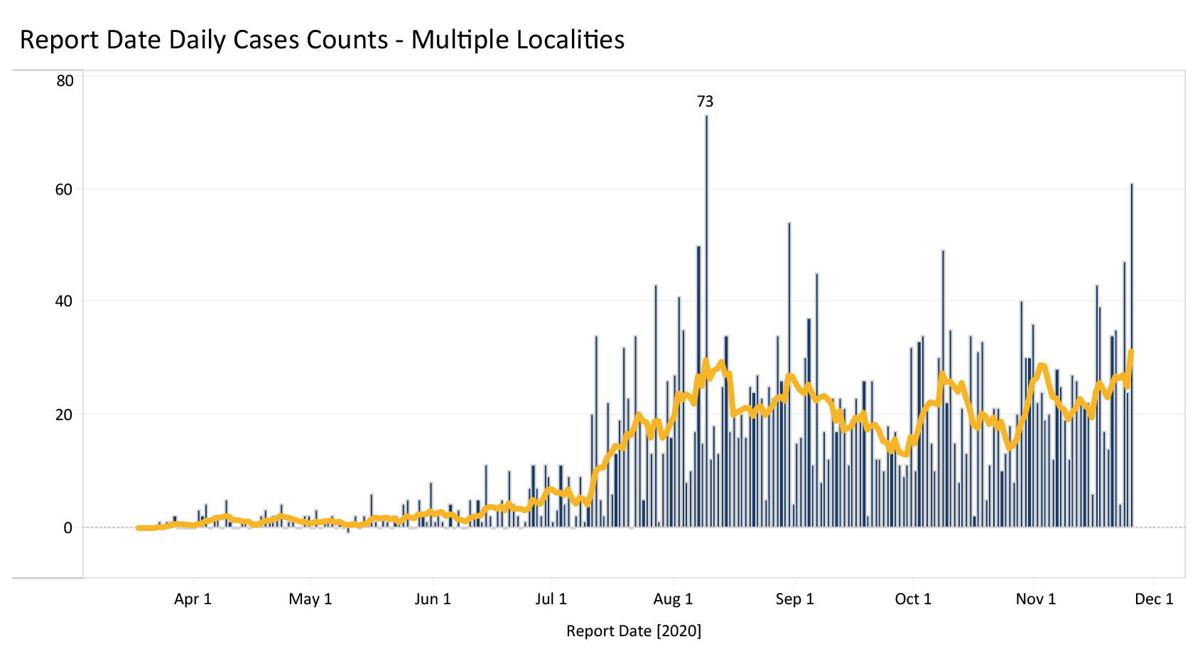 Danville recorded another COVID-19 death the same day statewide fatalities surpassed the 4,000 mark.
Virginia Department of Health's daily dashboard on Wednesday revealed a city woman in her 50s became the 71st resident in the Pittsylvania-Danville Health District to die of the illness caused by the novel coronavirus.
It's never clear when the death occurred. Health officials must wait for a death certificate before entering the information into a database. That process can take a few weeks.
With 61 new cases, Wednesday also marked the second highest daily caseload recorded. The record — at 73 — was set Aug. 9 when a backlog of cases were added to the health department's tally, essentially inflating the daily count. Thirty cases were added Thursday.
Combined, Danville and Pittsylvania County have seen 3,258 cases of COVID-19 over the last eight months. Virginia added another 2,718 cases in Wednesday's update, the second highest daily caseload. On Thursday, 2,600 cases were added.
As COVID-19 numbers continue to accelerate, more residents are being hospitalized for the illness. Sovah Health reported Wednesday that 25 patients who have tested positive are being treated at its Danville campus; another 20 positive patients are in its Martinsville facility.
This marks an increase from the number of hospitalizations reported two weeks ago. 
Earlier this week, Sovah Health leaders issued stark statement saying a surge of COVID-19 cases has the potential to overwhelm local facilities.
"We strongly urge our community members to be even more diligent in their efforts to slow the spread of COVID-19 in the months ahead," Sovah leaders wrote.
In a week, 76 cases were added to the local district's outbreak report. Three long-term care facilities are currently experiencing outbreaks: Stratford Rehabilitation Center and Riverside Health & Rehabilitation Center in Danville and Chatham Health and Rehab in Pittsylvania County.
It's not clear of those cases are linked to the local nursing home outbreaks. Also, 23 more health care worked are listed as testing positive to COVID-19 since last week.