Another Danville resident has died from COVID-19, bringing the total to 31 fatalities listed in March.
The latest — a woman 80 or older — appeared in a Tuesday morning update from the Virginia Department of Health. However, the death likely occurred weeks earlier because of a meticulous process health officials use to verify a death was caused by COVID-19.
There have been 198 lives lost in the Pittsylvania-Danville Health District to the illness caused by the novel coronavirus. The first was reported March 25, 2020, a few weeks after life started drastically changing, and the impacts are still being felt daily.
The health district is averaging about 13 new COVID-19 cases per day, a vast drop from the triple-digit caseloads in January. The current 7-day rolling average compares to late September. After declining for several weeks, Virginia is seeing more than 1,400 new infections per day, an elevation compared to 1,300 per day in mid-March.
One model from the University of Virginia's Biocomplexity Institute suggests another surge could happen in Virginia as more virus variants take hold residents relax pandemic prevention protocols.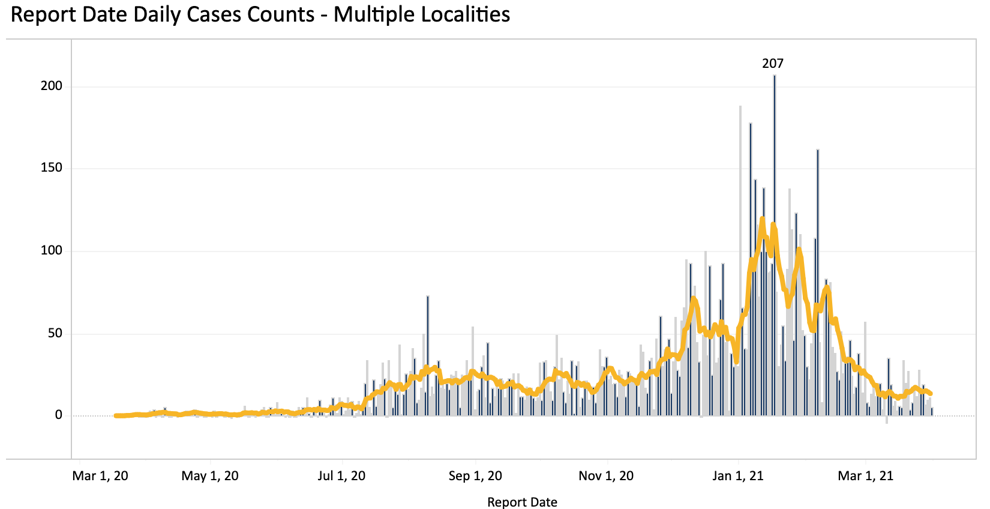 The B.1.1.7 variant — from the United Kingdom — looks like it's on its predicted path to become the dominant strain of the virus, UVa officials said last week. That altered version can spread about 50% more than the ordinary strain. In the worst-case scenario, the local health district could experience more than 1,000 new infections per week by April 25. An even higher surge could bring more than 2,100 weekly cases by May 2.
Also in the Pittsylvania-Danville district, the positivity rate has increased to 8.6% after dropping to 5.1% on March 15. That percentage is a calculation of the number of positive results against the overall number of tests administered. It's used to gauge community spread of the illness. Anything above 5% indicates the virus is spreading uncontrolled, the Centers for Disease Control and Prevention reports.
As of Wednesday, the CDC had Pittsylvania County listed in the highest category for community spread. Danville was designated as having substantial spread, the second highest rating on the CDC scale.
Wednesday's data
| Location | Cases | Deaths | Hospitalized |
| --- | --- | --- | --- |
| Danville | 4,179 | 123 | 260 |
| Pittsylvania County | 5,304 | 75 | 215 |
| Halifax County | 2,672 | 73 | 71 |
| Mecklenburg County | 2,150 | 62 | 90 |
| Henry County | 4,387 | 120 | 313 |
| Martinsville | 1,553 | 73 | 138 |
| Virginia | 618,976 | 10,252 | 26,455 |
Vaccines
Based on data from the Virginia Department of Health, 28% of residents in Danville and Pittsylvania County have received at least one dose of the COVID-19 vaccine. That's slightly under the state's rate of 29.5%.
A total of 13,776 residents — 13.5% — are fully vaccinated, meaning they have rolled up their sleeves to get two doses of the Moderna or Pfizer vaccines or one dose of the Johnson & Johnson version.
The push to get more people vaccinated is growing, especially in the rural part of northern Pittsylvania County. There, officials have converted an old Foodland building into what they are calling the Gretna Community Vaccination Clinic.
About 800 doses of the Johnson & Johnson vaccine will be administered there Friday for those with appointments. Those wanting to make an appointment may call 434-432-3582.
A state-run community vaccination center is continuing in Danville at the former J.C. Penney department store. That clinic is by appointment only for those registered through the state health department's portal at vaccinate.virginia.gov or (877) VAX-IN-VA.
Hospitalizations
Because hospitalizations have been declining, Sovah Health has discontinued its biweekly updates. In the last report on March 17, there were 14 COVID-19 positive patients in the Danville campus of Sovah Health. As of Wednesday, the hospital was only treating eight patients.
"COVID-19 is something we'll continue to treat in our hospitals, and we look forward to continuing to see this number decline as more people are vaccinated in the community," hospital spokesperson Kelly Fitzgerald said. "If we start experiencing a spike in COVID-19 hospitalizations, then we will share at that time."
In the past two weeks, 33 residents of Danville and Pittsylvania County have been admitted to the hospital to be treated for the virus, health department data show. Those numbers could be higher, because the health department only counts people who tested positive in a hospital setting.
Statewide there were 1,048 patients hospitalized with COVID-19 as of Wednesday, the Virginia Hospital and Healthcare Association reported. That's two-thirds fewer compared to the high-level of 3,148 hospitalized on Jan. 16.