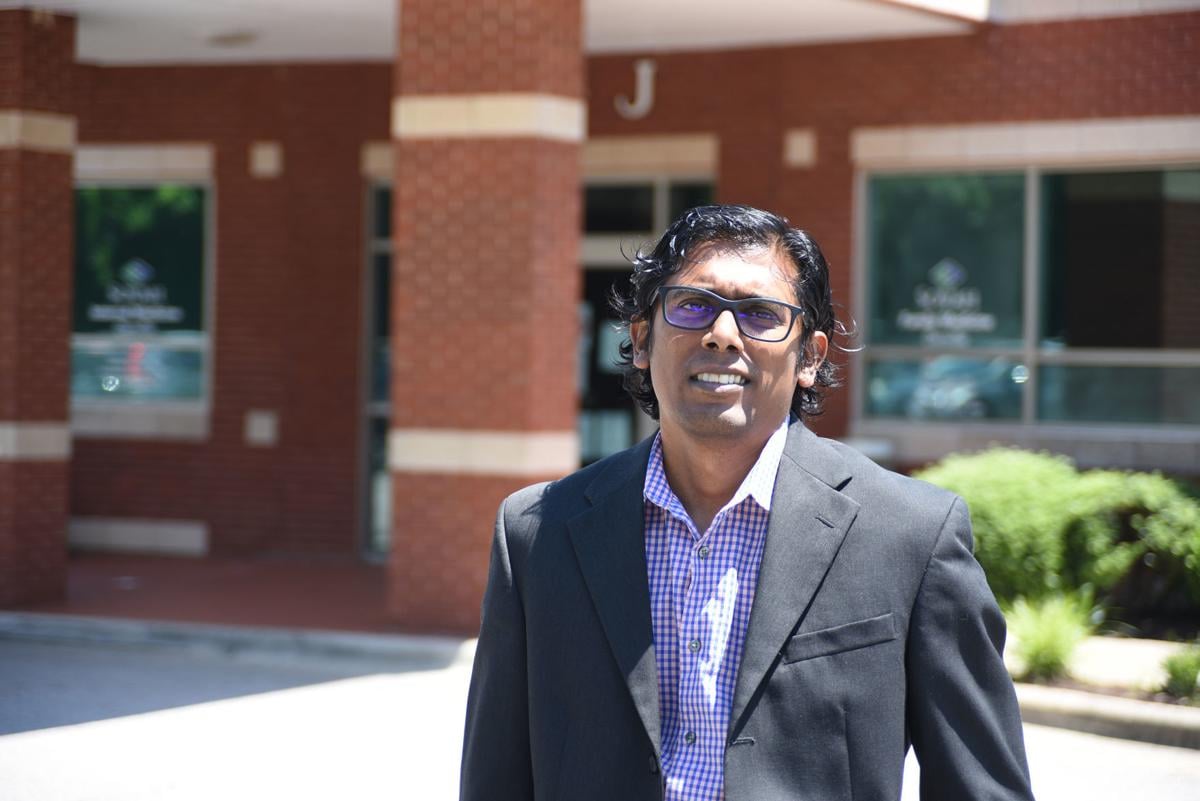 Balaji Desai grew up in India, where infections of all kinds were common, he said. If he didn't have a certain type of infection, he at least knew somebody who did.
"Infections have always been something that interested me," he said.
After school on many afternoons, Desai would help his mother, who worked as a nurse at a tuberculosis hospital. India has been one of the countries hardest hit by tuberculosis for decades.
"In India, in my hospital, anybody who came into the hospital, even if you had a road traffic accident, you were considered to have tuberculosis unless and until proven otherwise," Desai said.
Growing up in that environment and spending so much time helping his mother is what inspired Desai to study infectious diseases. Since 2011, has worked as the infectious disease physician at Sovah Health-Danville, and he is one of the region's leaders in attempting to curb the spread of COVID-19, the highly contagious respiratory virus brought the world to a staggering halt over the past few months.
"Never in my life did I expect to encounter a pandemic of this nature," he told the Register & Bee during a virtual video interview.​ "You read about it, you study it in medical history… it's not something that you want to go through."
After growing up in India, Desai made his way to the United States, where he completed his residency at the University of Pittsburgh and his fellowship at the University of Syracuse. Looking for "somewhere warm with cozy people," he came to Danville for a three-year program at Sovah Health in 2011. He said his colleagues are the main reason he has stuck around this long.
As an infectious disease physician, Desai's workflow changes with the seasons. For instance, he often sees a flurry of flu patients in the winter months. And there is usually at least a few patients that don't deal with seasonal trends — like post-surgical infections, he said.
"Sometimes you see one kind of an infection more, and at different times of the year you see a different type of infection…. It keeps you occupied all the time," he said.
Since the outbreak of COVID-19 began, Desai spent much of his time researching and keeping up with articles from every major publication about COVID-19. Some of the most unique things about COVID-19, Desai said, is how little is known about it, it doesn't seem to be affected by seasonal trends like other respiratory viruses, and it is more intense and so variant in the way it attacks the human body.
"You have to keep yourself up-to-date because there is so much information coming out literally on a weekly basis," he said.
As Virginia began closing things down in mid-March, Desai said most of the hospital administrators and physicians turned to him to ask about how to handle situations, including if someone tests positive or is exposed to someone who tested positive.
"The number of phone calls exponentially increased. I don't think I've ever been so important in my lifetime," he said. "It was just not about handling patients, it was also about handling situations, which became very critical to ensure that we don't have a sudden increase in the virus."
​Sovah Health spokesperson Kelly Fitzgerald confirmed to the Register & Bee that "a few" hospital staff have tested positive, at which point the hospital worked closely with the Virginia Department of Health and followed Centers for Disease Control guidance "to ensure the safety of our patients and staff members."
Compared to other areas of the nation, in Danville and Pittsylvania County, the number of cases of COVID-19 has not been exceptionally high, with Virginia Department of Health data showing 186 as of Saturday.
Sovah Health-Danville has cared for COVID patients, but has never been overwhelmed with patients like many other hospitals across the country.
"Now that we have a better sense of what the volume will be, and we have a lot of experience… I feel like we're better prepared as a hospital," said Alan Larson, CEO of Sovah Health-Danville.
Between Danville and Pittsylvania County, only 38 patients have been hospitalized as of Saturday.
That's partially because the number of cases has been relatively low, but it's also because the virus doesn't affect everyone equally. Many of the COVID patients haven't needed much medical attention, while others have been able to get out of the hospital within a few days. Yet others haven't been so lucky. For instance, Al Smith, a retired 77-year-old Danville police captain, spent 71 days in the hospital fighting the virus.
"This has a wide spectrum," Desai said. There's one end of the spectrum where they're completely asymptomatic, and on the other end of the spectrum you have these patients who require medical care for a very long period of time."
Larson said Desai has provided valuable leadership and guidance, especially in his role on a COVID-19 advisory council, which includes several area physicians.
"Not many communities our size have a physician with as much training and as much passion," Larson said.
Having an infectious disease physician in the region has not only helped both Sovah prepare for and handle the patients coming in, but it has also aided the Virginia Department of Health.
"Knowledge, competence and integrity are key attributes a physician must possess and demonstrate in crucial times such as these," said Pittsylvania-Danville Health Director Scott Spillmann. "Dr. Desai is that person, and he brings all those attributes to the table. He has the academic knowledge about the virus as well as the various testing methods."
Even as the state enters Phase 3 of reopening on Wednesday, Desai said it will be even more critical that people continue to follow the guidelines, especially since the groups are getting larger and more places are reopening.
"It's completely in [the community's] hands," he said. "If they can wash their hands, wear a mask, keep a distance, we can keep the numbers in Danville as low as they have been, and probably even better."
Ayers reports for the Register & Bee. Reach him at (434) 791-7981.
Concerned about COVID-19?
Sign up now to get the most recent coronavirus headlines and other important local and national news sent to your email inbox daily.