MARTINSVILLE — One of the area's largest churches continues in its search for a new worship director, three weeks after the previous one left after he admitted during a service to having had extramarital affairs.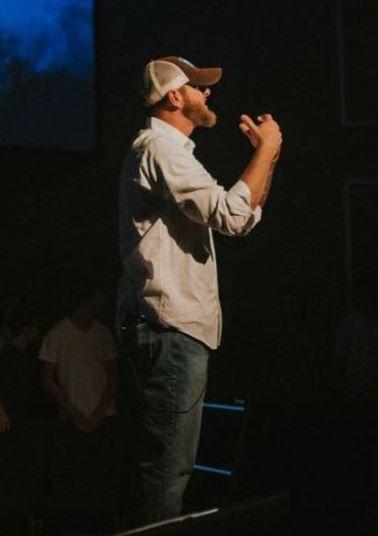 Seth Robertson, who with his wife, Donna Robertson, are listed as "lead pastors" of Compassion Church in Axton, said that he had stepped down and will spend time in counseling.
Compassion in Axton, which operates out of the old Irisburg Elementary, had a congregation of 950 to 1,000 in 2019, Robertson told the Martinsville Bulletin while discussing the church's expanding into the former Bassett United Methodist Church property across the county.
His admission was made during a worship service on Jan. 24. A video of that service was posted by the church online but removed after the video had garnered more than 1,000 views, Most videos on its YouTube page range from about 80 to 120 views.
The church falls under the umbrella of Compassion Network, a Tennessee-based organization run by Josh Hannah, who on Jan. 24 appeared on stage and led the service in Axton.
Hannah told the congregation he is from Tennessee and now lives in Oklahoma, "and I know how it goes in small towns, being I'm from one. News travels fast. … It's our heart as a church that when something like this happens, we want to be authentic, we want to be transparent. We don't want to cover anything up. We want to be accountable."
Then "Pastor Seth" took the stage, and people in the congregation cheered, clapped and proclaimed, "Love you, Seth!"
Robertson spoke for about five minutes.
"You never imagine a day or a moment when you're going to have to stand in front of people you love, that have become more than a church, that have become family, and own your greatest failures. That's exactly what I'm here to do today," Robertson said.
"This is my fault. I did this. I made these decisions and put me in this spot and put you in this spot."
He told that that for more than 2 1/2 years he had been living "a double life."
"On multiple occasions, with two different women, I've had an affair," he said. "I'm an adulterer, I'm a coward, and I'm a liar. Thank God, not only did I do it, I lied and tried to cover it up. I was terrified of the fallout, the hurt it would cause, and I was making excuses.
"I pray that somewhere in your heart you can forgive me as we go through this journey. I'm not running. I'm from Axton. Axton is home. I don't have any plans or intentions of going anywhere else."
He didn't identify the women by name but did say that one of them "was a volunteer here. She was engaged in a lot of different activities. The other was a staff member. In that process I broke everything that was dear to me."
He told the congregation that he had stepped down as pastor because, "I can't lead others until I first learn how to lead myself again. I'm going to spend some time in counseling to figure out what broke in me and what led me to these horrific decisions to try to start putting my life back together and become the man God called me to be."
"Please don't let my personal failures deter our collective mission."
His final words were, "Thank you for your support, and I am so sorry for what I have done."
He walked off the stage as applause thundered loudly.
Hannah announced that Adam Touchstone, Compassion's executive pastor, would become Compassion's interim lead pastor.
Neither Hannah, Robertson nor local Compassion staff members responded to requests for comment. Touchstone responded by email on Jan. 27: "We are in a place where we are trusting God and moving forward and would not like to pursue any interviews or further promotion of the recent events."
Growth of a religious empire
At Compassion Church in Axton, Sunday morning worship services are conducted in the dark, with special lighting effects such as color and spotlights on the stage. The singers and speakers tend to dress in jeans and buttoned plaid or solid-colored shirts. 
Robertson, 43, is the son of Gary Robertson, a longtime pastor of Mount Calvary Church Pentecostal Holiness Church in Axton.
Seth Robertson earned a bachelor's degree in engineering from Virginia Tech and is an HVAC contractor and owner of A-Co Heating & Cooling LLC.
Neither the church's website nor a public records search shows Robertson to have any form education or training in the ministry.
He told the Bulletin in 2019 that he started the Axton Compassion around 2014 with 14 people in his living room in Laurel Park. Then the church moved to a location outside Danville before it moved to the old Irisburg School, with a congregation of 50 at the time.
In 2019, Compassion Church in Axton announced plans to buy the former Bassett United Methodist Church's property in Bassett. Henry County property records show that Friendship Holdings LLC acquired it in November 2019, with no price listed.
The address of Friendship Holdings LLC is 1510 Clydeton Road, Waverly, Tenn., which is the location of the Compassion Network's headquarters. Property records also show that Friendship Holdings purchased the former Irisburg School in February 2017 for $173,000.
The latest available tax records for Friendship Holdings LLC, from 2018, shows total property holdings valued at $4,163,666. Friendship Holdings LLC was founded in 2015 and had $84,553 in revenue and $4.5 million in assets in 2019, according to Cause IQ, which lists Friendship Holding's parent organization as Friendship World Outreach.
The roots of Compassion
Grisham came to Compassion Church in 2007 and now is "a regional director for Compassion Church and oversees 12 of the 28 churches within the Compassion Network," church literature says.
Compassion Churches has 17 church sites that fall under the umbrella of Compassion Network. On its website, Compassion Network describes "Who We Are" as "Here's the deal, Compassion cares about one thing more than anything else, Jesus Christ. Compassion is a family of individuals that have found hope in Jesus, and simply want as many people as possible to experience that exact same freedom."
Hannah also is the leader of Nuts & Bolts Leadership, which provides promotional materials, sermons and other services for churches.
The Nuts & Bolts website says that Hannah in 2001 became the pastor of a 60-person rural church, which grew to have five locations and a congregation of more than 2,000. He established the drug-and-alcohol treatment center Hope Center Ministries in 2007. He left his role as lead pastor in 2016 to establish Compassion Network. He also is the National Consultant for Revitalization and Multiplication for Evangelism USA of International Pentecostal Holiness Church.,
On a video on the Nuts & Bolts website, Hannah talks about the business model of Compassion Churches.
The network offers pastors coaching, leadership planning, sermon planning and "a creative marketing department. … Not just relationships, but results. At the end of the day, I'm a results guy," he says on the video.
Jesus calls people to bear fruit, he says, "and the fruit we're talking about is the unchurched, finding a relationship with Jesus Christ through his church.
"If you're looking to get results – if you refuse to pastor a declining or plateaued church – then you ought to check out Compassion," he says.
The local structure
The Compassion Churches websites list 18 churches. Three are in Virginia: in Axton, Danville and Radford (the Radford Compassion's legal name is Radford First Pentecostal Holiness Church, according to its website). Four are in Tennessee. The Compassion Churches' headquarters is in Waverly, Tenn., on a property next door to the church facility.
The Danville Compassion site has been recognized as one of the major providers of content for Compassion churches. Its website lists on its staff directory a lead pastor, executive pastor, online campus pastor, worship director, kids director, students director, connections director, outreach director, discipleship director, safety & facilities director, chief accountability officer and online production coordinator.
The Axton Compassion had seven job titles listed in its staff directory on Jan. 27. Two weeks later, it had only five, missing the lead pastor position Robertson had held, plus a church online director.
Job responsibilities of worship director, which Robertson vacated, are described as to "ensure that the department you are leading is healthy and growing"; overseeing the "flow and order of the weekend service(s)"; managing the worship department and its employees and volunteers; facilitating rehearsals; attend monthly coaching sessions with a worship regional champion and to attend the lead pastor's staff meetings.
There is no job opening listed for church online director.