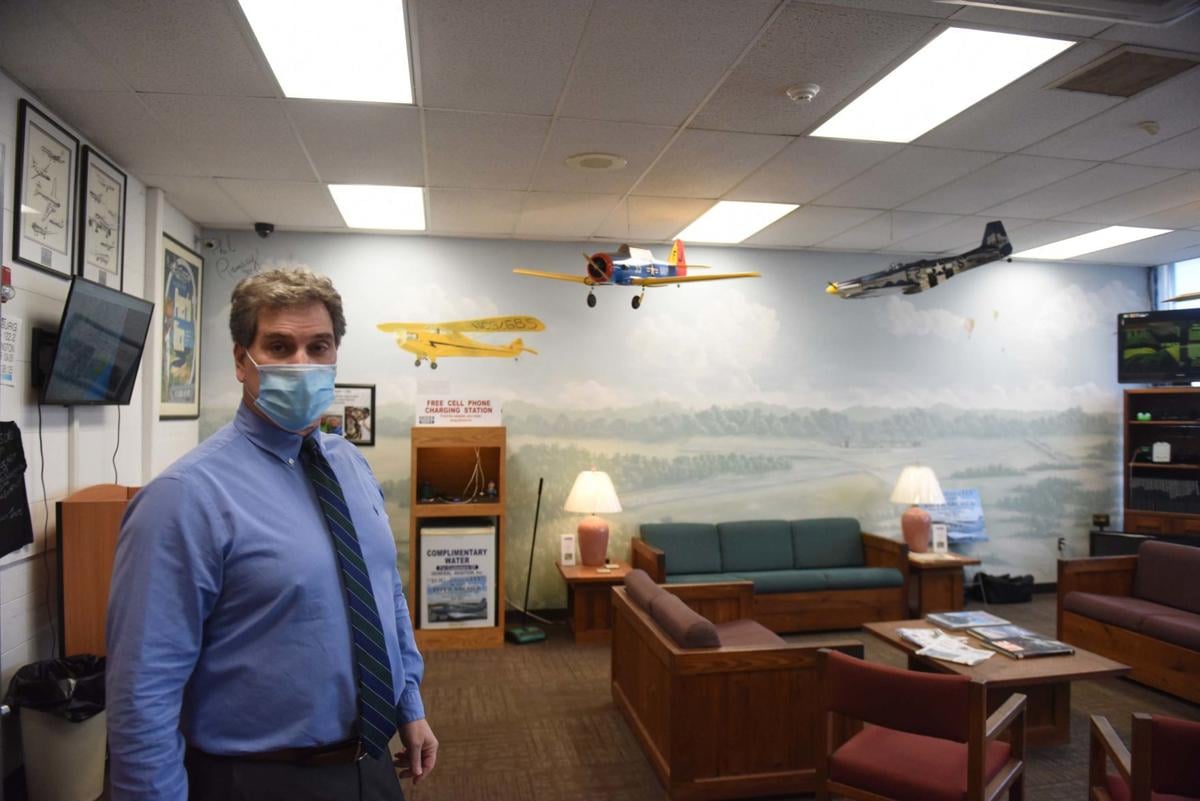 Officials hope to expand Danville Regional Airport to accommodate an expected increase in traffic if a casino opens in the city. 
The city has applied for about $220,000 from the Virginia Department of Aviation to pay for architectural services for a possible expansion. If the application is approved by the Virginia Aviation Board in September, Dewberry would be the firm, said Danville director of transportation Marc Adelman. 
The architectural work would take about seven months to complete, he said. 
Officials hope to expand the 13,000-square-foot building by about 3,000 square feet — an almost 25% increase in size. 
"Our primary goal is to support additional pilot amenities and increased passenger traffic that could occur due to the possibility of a casino development," Adelman said. 
An expansion would alleviate problems at the airport including an undersized pilot's lounge. Also, parties arriving at the airport must go through a conference room — and sometimes interrupt meetings — to access the kitchen if they want to store food to be eaten later, Adelman said.
"Our current pilot lounge is extremely small," Adelman said. 
The pilot area is about the size of a small bedroom, with a couch, two reclining seats and a small, round table.
"If you've got two pilots taking a nap and two that want to chitchat, they can't be in there together," said Elizabeth Rembold, an owner at General Aviation, the airport's fixed-base operator.   
In addition, the airport needs more bathroom space, Adelman said. Restrooms across from the fixed-base operator's office can only accommodate two people at a time. 
The project could also call for demolishing the 10-foot-high canopy and building a taller one to accommodate buses that would likely travel carrying customers to and from the casino, Adelman said.
Michael Duncan, a member of the Danville Regional Airport Commission, said, "Anything we can do to improve the airport is a good idea." 
The architectural study will provide an opportunity to look at the airport and the project idea critically, he said. 
"One of the things we have to understand is what the expansion is going to require," Duncan added.
Adelman expects higher traffic volume at the airport if Casaers Entertainment opens a casino at Schoolfield in the area of the former finishing building. 
The airport — before the COVID-19 pandemic — averaged about 25-30 customers per week purchasing fuel and other services, said General Aviation co-owner Mike Rembold. 
Adelman pointed out that Laughlin-Bullhead international Airport in Arizona, located across the Colorado River from Laughlin, Nevada, has about 10,000 customers (passengers) a month. That's with two casinos in Laughlin, which is about a half-hour from Las Vegas, Adelman said. 
"Casino air traffic can be very significant and that is why the airport to trying to plan accordingly, given the strong possibility of increased traffic," Adelman said. 
Crane reports for the Register & Bee. He can be reached at (434) 791-7987.
Get local news delivered to your inbox!
Subscribe to our Daily Headlines newsletter.