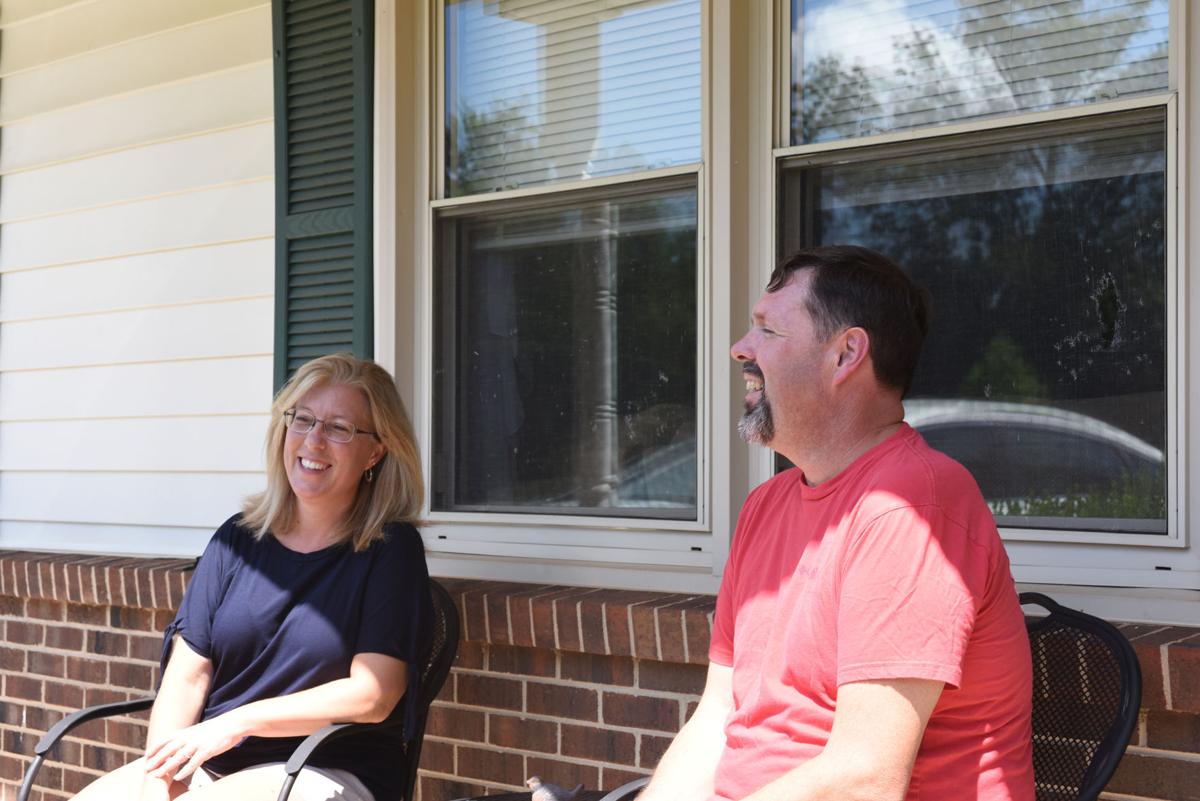 DRY FORK — Alan Buckner hadn't gone to the hospital or emergency room for himself since his own birth 50 years ago.
Overall in good health and having been consistently exercising and dieting for the past year, Buckner was not in any of the high-risk categories for COVID-19.
Yet, his bought with the respiratory illness put him in the hospital for 31 days and on a ventilator for 12. His wife, Nell, who also tested positive but showed very limited symptoms, was forced to isolate at home for much of that time, terrified that she might lose her husband and frightened of leaving the house even after her quarantine period ended for fear that she could infect someone else.
"I had several breakdowns… it brought me to my knees in prayer," Nell said.
The couple had attended a cookout with 11 other family members on May 30. Of those who attended, six ended up testing positive for the virus, with three — Alan, along with Nell's parents, Betty and Garrett Hughes — beginning to show mild symptoms just three days later. One was completely asymptomatic, four showed mild but short-lived symptoms and Alan ended up hospitalized for a month.
The family doesn't know who contracted the virus first or brought it in, but their story serves as an example of the wide range of possible impacts COVID-19 can have on a person: no symptoms to mild symptoms that last a few days to long-lasting severe effects that lead to a near-death experience.
"Worst case scenario, that was me," Alan said.
Danville added four deaths from COVID-19 this week and maintains the designation as a surge …
The cookout
When news of the virus first began spreading in the region and even when the state began shutting down, Alan and Nell said they took it seriously and heeded precautions, but they were skeptical if it was as serious as it was made out to be.
"I had my doubts about this virus... is the news inflating this? We weren't sure, but we were still being cautious about it," Alan said.
From the beginning of the shutdowns, the couple had refrained from meeting up with too many people. When they did spend time with their parents, it was usually outside and with social distancing, they said. The Hughes', Nell's parents, rarely ventured out, and when they did go to the store or drugstore, they wore masks. Their church hosted drive-in services, allowing them to remain distanced in their car.
"That was the first time that we had been together with all of our family," Betty Hughes said of the cookout on May 30.
Even at that event which was to celebrate Betty Hughes' 74th birthday, the family stayed outside as much possible and nobody hugged anybody, Nell said. Some of the family did play a competitive game of cards called spoons, where players attempt to grab spoons in the middle once a player gets a set of four cards, left them with scratches on their hands.
Up until that time, the growth of cases has been relatively slow in the Danville area, especially when compared with other sections of the state and country. None of the family know who first contracted the virus or brought it to the cookout, but within two weeks six of the 13 people who attended had tested positive.
"We'll never know who had it first or where they got it," Nell said.
With Alan Buckner and the Hughes sporadically showing symptoms like fever and uncontrollable coughs from the Tuesday through Friday after the cookout, all three went to Chatham Middle School for a free COVID-19 testing on Saturday.
All three received their positive diagnosis from the Virginia Department of Health two days later, with Nell, along with her brother and sister-in-law testing positive later that week. In the early morning hours of Tuesday, Alan Buckner woke up his wife, told her his breathing was shallow and that he needed help. She packed some bags and dropped him off at the Sovah Health-Danville, unsure of when the next time she could see him would be.
The hospital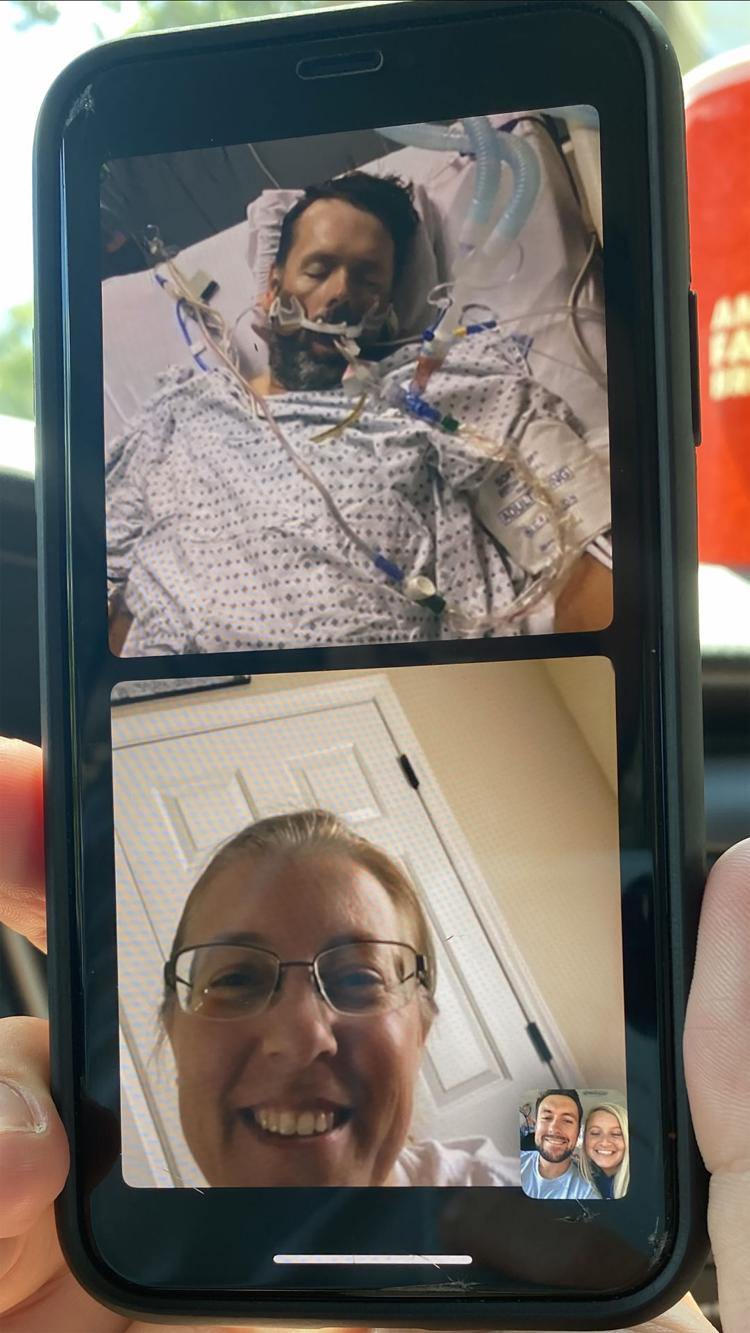 Many people who contract COVID-19 show no symptoms, some show mild symptoms but recover quickly at home and others require hospitalization because the effects are so severe. Between the Danville and Martinsville campuses of Sovah Health, less than 100 COVID-19 patients have been cumulatively treated, Sheranda Gunn-Nolan, chief medical officer, told the Register & Bee.
Some have been in for just a few days, while others, like Alan and retired police captain Al Smith, have remained in the hospital for long periods of time.
"The length of stay for patients varies greatly by the acuity of the patient. Some of our patients have been here for a total of two to three days while others have been hospitalized for 30 days or more," Gunn-Nolan said.
After arriving at the hospital, Alan was put on oxygen and able to talk on the phone with Nell. He sounded better even as doctors were saying how sick he was. On Wednesday afternoon, after collapsing while attempting to eat, the doctors decided that the best course of action was the ventilator.
For the next 12 days, Alan remained sedated as a machine breathed for him, while Nell Buckner and her parents recovered from their symptoms — which included fever, cough and lack of appetite — within a matter of days.
"You would have thought it would have been us that would have been so ill," said Betty Hughes, who noted that she and her husband, in addition to being in their mid-70s, have some health conditions.
Nell would talk to the doctors and nurses on the phone about Alan's condition at least once a day. She also got to FaceTime him few minutes daily while he was on the ventilator. The first time she saw him while he was sedated, Alan wiggled his toes every time Nell spoke, the nurse told her.
"It was a comfort to see him for those few moments," she said.
While he remained dependent on a ventilator, the family all realized it was possible that Alan may not make it out, but they didn't dare say it out loud.
"We can say that now, but nobody breathed it when he was in the hospital," Betty Hughes said.
Added Nell: "It was just known."
Nell did let herself ask the doctor once if her husband was going to be OK, but he couldn't provide a yes or no answer. While Alan was on a ventilator, Nell rarely communicated with people outside of her immediate family because her emotions were so high.
"I had to stay in control to absorb this information that I did not understand and relay it to my family," she said.
Alan came off the ventilator on Father's Day. When the spontaneous breathing trial worked and his body successfully began breathing on its own, several family members were able to see him through FaceTime.
"The day he came off the ventilator I felt like I was sitting on cloud nine because the worst was behind us," Nell Buckner said. "I just felt wonderful because I knew he was going to be OK."
Alan remained in the hospital for multiple weeks after coming off the ventilator, first to make sure that the virus had run its course and then to complete some physical therapy. When he left the hospital on July 9, the hospital staff inside cheered on as his son, Christopher, who works in the emergency department, rolled him out in a wheelchair. Friends and family waiting outside with signs cheered and waved pompoms.
The Buckners praised the staff at the hospital and the Virginia Department of Health for their kindness and excellent work.
"We credit them with saving his life," Nell said.
But the family also believes that prayers from people and churches across the country played a vital role in his recovery.
"What I think saved Alan is prayers," said Garrett Hughes, Alan's father-in-law.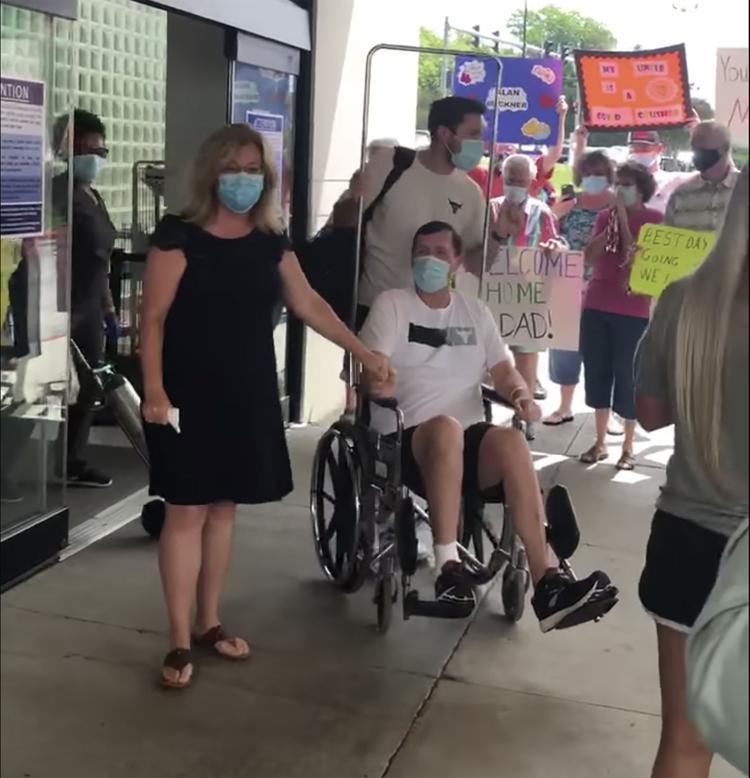 The recovery
Alan was released from the hospital nearly a month ago, but he is still working on recovering and building up his strength. Before his bout with COVID-19, he would often ride on the elliptical for as long as an hour. When he tried again for the first time earlier this week, he lasted for two minutes.
"I still shake some when I get up or I exert myself too much," he said, noting that he has lost as much of 50% of his muscle mass.
Nell said she followed him around the house for the first week Alan was home, both because she missed him and because she wanted to make sure that he was fine. Alan is recovering more and more of his strength each day, but the long-term effects on his body are still unknown, doctors have told them. One known effect is the blood clots in his lungs. He is on blood thinners for the next three months, at which point doctors will take a CT scan to assess if any additional actions need to be taken.
Alan said that he is a goal-oriented person. After he came off the ventilator and began recovering in the hospital, his goal was simple: get out in time so that he could attend his eldest son's wedding.
"It made me push harder just to be able to stand with him."
Originally slated for June 6 in North Carolina, the wedding of Christopher and Kristen Buckner was rescheduled for July 25 at Atkinson Farm in Danville. Though not back to 100%, Alan was able to walk the aisle and stand next to his son as he was married. He only needed help walking up the stairs.
"My emotions from the time I woke up [from the ventilator] to still now are up here," Buckner said, raising his hand high above his head.
Now Buckner's goal is to build up his stamina so that he return to his job doing maintenance on refrigerators for Food Lion by Labor Day.
Concerned about COVID-19?
Sign up now to get the most recent coronavirus headlines and other important local and national news sent to your email inbox daily.