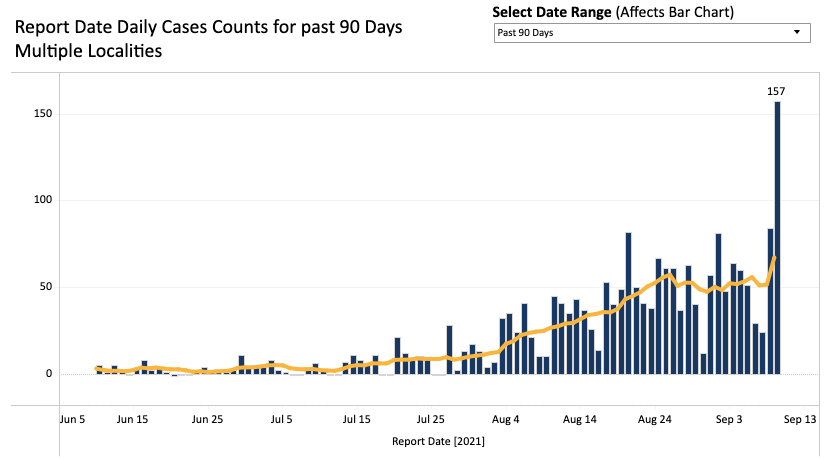 The Pittsylvania-Danville Health District added another COVID-19 death for the second consecutive day, and cases jumped by 157 in Thursday morning's update from the Virginia Department of Health.
The increase marks the fifth-largest single-day addition of infections from the illness caused by the novel coronavirus and elevates the 7-day rolling average to 67.
Chris Garrett, a health emergency coordinator with the Pittsylvania-Danville Health District, confirmed to the Register & Bee all of the cases are new. Sometimes data adjustments cause an area to lose or gain numbers.
In addition, the positivity rate for both Danville and Pittsylvania County continues to climb. The figure measures the number of positive results against the overall amount of tests administered. In Danville, 18.46% of COVID-19 tests return a positive result, and 28.47% in the county are positive, the Centers for Disease Control and Prevention reports.
Any figure above 5% indicates the virus is spreading uncontrolled in a community, according to the CDC. With the exception of Fairfax County, all of Virginia is considered at a high-risk for COVID-19 transmission, the top level on a 4-tier system used by the CDC.
Death
A Pittsylvania County woman in her 70s became the second death recorded this month. Although the fatality appeared Thursday morning, it likely happened weeks earlier. Health department officials wait for the official death certificate to determine if COVID-19 was a cause. That process can take at least two weeks in most cases.
Other than simple demographic details, very little is known when someone dies of COVID-19. The health department also doesn't discuss individual deaths.
A total of 245 residents of Danville and Pittsylvania County have lost their lives to the virus since the first death was recorded on March 25, 2020.
Testing
With a growing number of residents looking for COVID-19 testing, the state health department is expanding events around Virginia. Health officials blame the delta variant, a more contagious version of the coronavirus for the rise in infections.
"While our local health departments, pharmacies and hospitals are working to keep up with the demand for testing, we are providing additional testing locations to accommodate our residents and to help reserve our hospital emergency rooms and rescue squads for medical emergencies," Laurie Forlano, deputy director with the office of epidemiology, said in a news release.
So far this month, about 170 community testing events have been staged across the commonwealth, but no local events appear to be scheduled in the coming days.
Anyone with signs of COVID-19 should be tested, regardless of vaccination status, the news release stated. Specifically, the health department recommends fully vaccinated people be tested three to five days following a known exposure to someone with suspected or confirmed COVID-19, even if symptoms aren't present, and people who are not fully vaccinated should be tested immediately after an exposure and again at five to seven days following exposure if the first test is negative.
However, people who tested positive for COVID-19 within the past three months and recovered do not need to get tested after exposure as long as they do not have symptoms.
Those who travel, attend large events or are in a crowded indoor setting are at a higher risk for COVID-19 exposure, the release stated.
For more information about COVID-19 testing call 877-829-4682 from 8 a.m. to 6 p.m. Monday-Saturday.