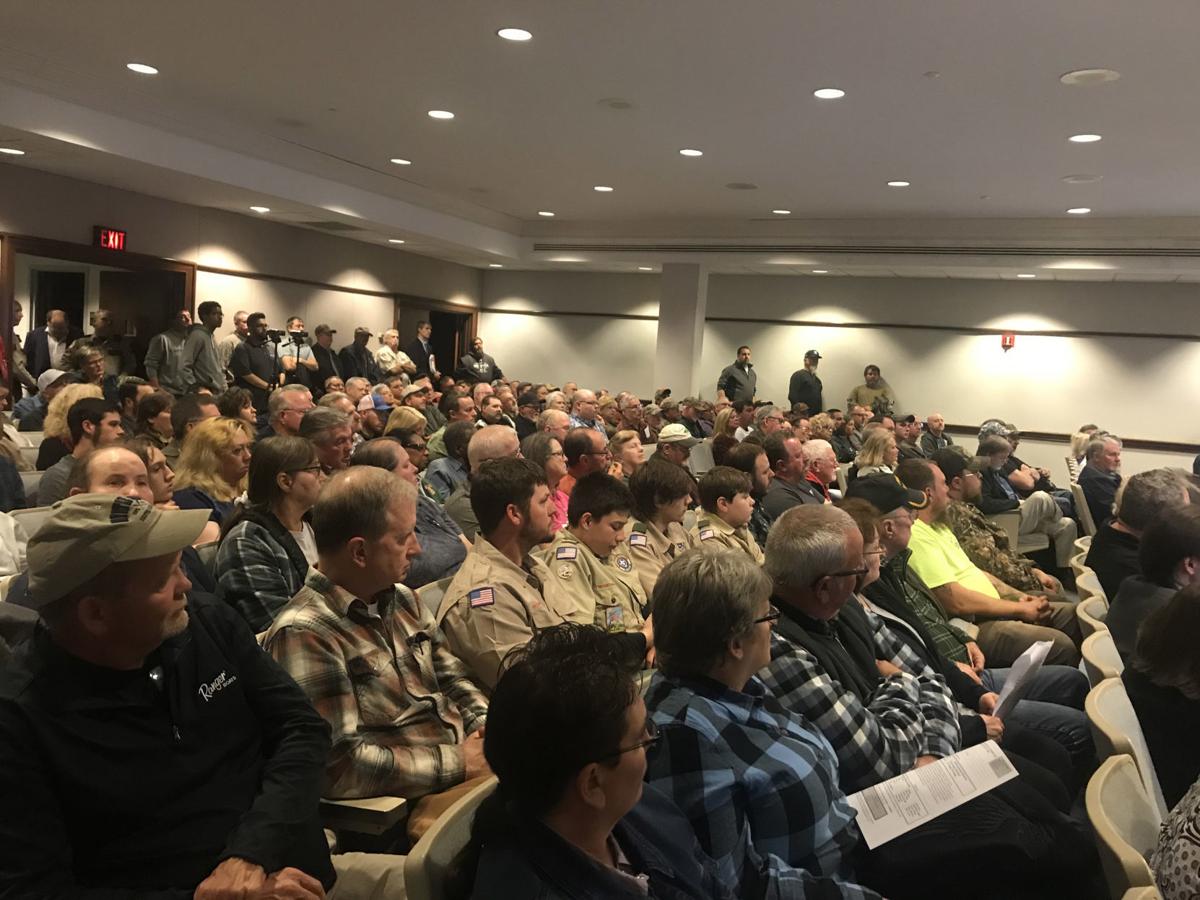 CHATHAM — Joshua Jennings, who runs a gun store in Cascade, is nervous about the prospect of additional gun regulation that has been proposed by Gov. Ralph Northam amid Democrats seizing control of the General Assembly next year.
"Gov. Northam has insisted on attacking our way of life here in Pittsylvania County," Jennings, the owner of Guns, Gear, and Ammo, said during the Pittsylvania County Board of Supervisors meeting Tuesday night.
After a discussion among board members during a work session and spirited input from 10 residents during the public comment part of the business meeting, the board unanimously voted to designate the county a "Second Amendment Sanctuary."
When the vote carried unanimously, nearly the entire audience of about 150 stood up with cheers and applause.
Mark Matthews, a retired firefighter and sheriff's deputy, expressed his support for the resolution, saying "we are at war for our values."
"It is time to stand up to tyrants who want to transform America into something that it wasn't meant to be," he said.
Several residents said they think of the many veterans who fought to protect freedoms as part of their motivation to support the Second Amendment rights.
Others expressed concern with the scope of proposed regulations.
"What guns is [Northam] going to take next? It will end up that we don't have any of them," said Bill Talley, referring to eight "common sense" gun regulation bills proposed for a quickly terminated special legislative session in July in the aftermath of a May mass shooting in Virginia Beach.
"It appears that the biggest threat we have to the constitution is coming from within," added Carroll Dodson.
Tunstall supervisor Tim Barber, who will be replaced by Vic Ingram in January, expressed concern about the precedent possible bills under Democrats' control of the Virginia General Assembly would set.
"This is just the beginning, this ain't the end," he said during the work session Tuesday.
The resolution is not legally binding, but it does express the county's "intent that public funds of the County not be used to restrict Second Amendment rights" and their intention "to oppose unconstitutional restrictions on the right to keep and bear arms through such legal means as may be expedient, including without limitation, court action."
Pittsylvania County Sheriff Mike Taylor expressed his support for the resolution, saying "this is why votes matter."
"My personal fear is that officers' lives are going to be at risk if they show up at someone's door unannounced and say give me all your guns," said Haskins, who repeatedly said he was speaking in his capacity as a resident, not the Pittsylvania County Commonwealth's Attorney.
Haskins and Staunton River supervisor Elton Blackstock also both expressed concern about Northam's support for allowing local governments to pass their own local gun regulation laws, overriding Dillon's Rule — a law that prevents localities from passing laws without the approval of the state legislature.
If passed, this could create a "balkinization" — or fragmentation into smaller, potentially even hostile regions — of gun laws, Haskins said.
Blackstock expressed concern about the precedent this would set, potentially allowing localities to create their own laws in areas like taxation.
"When you start tampering with the Dillon rule, you're tampering with something that affects us in a big way," he said.
Several other Virginia localities have already passed Second Amendment Sanctuary measures.
In front of a packed courtroom, the Appomattox County Board of Supervisors voted Monday night to declare the area a "Second Amendment Sanctuary."
"All I can say is we're just going to have to lock and load," said Joe Davis, Dan River supervisor.
Ayers reports for the Register & Bee. Reach him at (434) 791-7981.
Ayers reports for the Register & Bee. Reach him at (434) 791-7981.
Get local news delivered to your inbox!
Subscribe to our Daily Headlines newsletter.