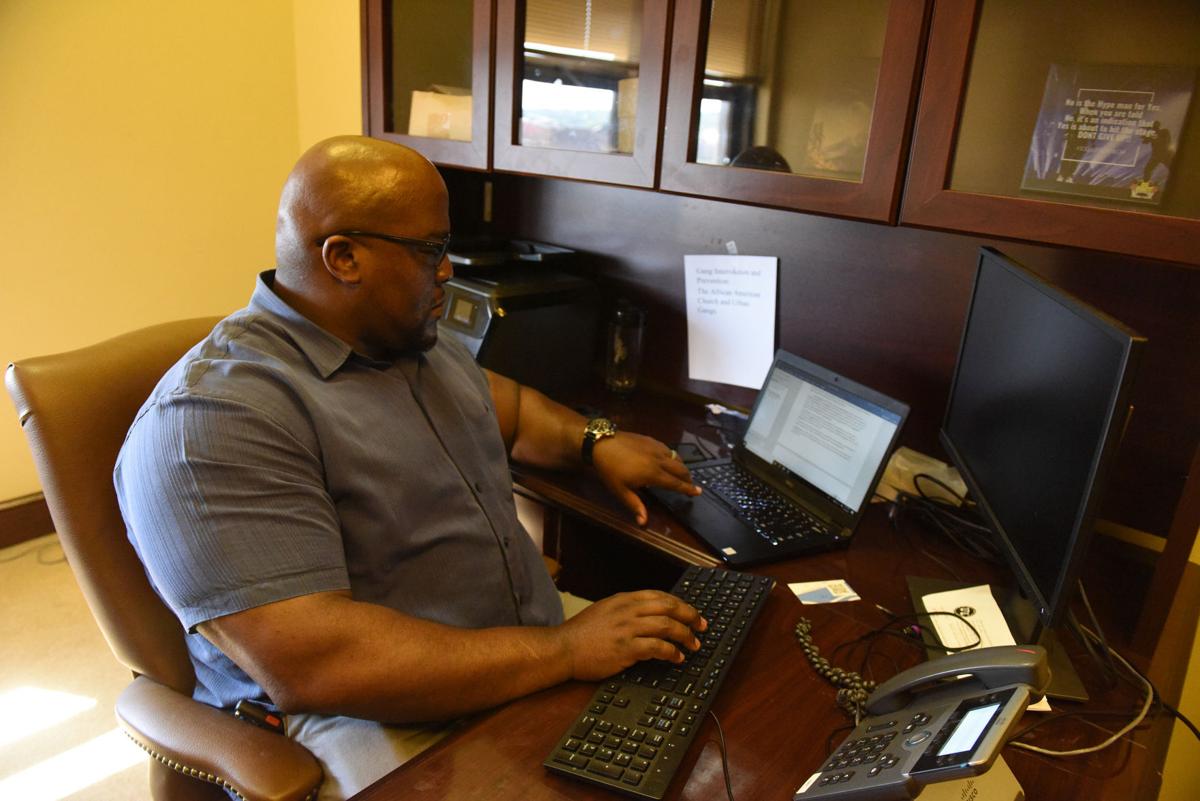 Nineteen-year-old Chaquon Wilson was involved in gang activity beginning at 13, getting into trouble at school and ending up charged at 16 after he and a group of others jumped someone.
But he's putting those days behind him while he works at the Ruby B. Archie Public Library. The 2019 George Washington High School graduate hopes to one day become a plumber. 
It's because of the city's Project Imagine program that he is able to dream of a better life outside of gangs. 
"Working in a quiet environment and getting paid, I'll take that over getting shot at any day," Wilson said during an interview inside the library Wednesday morning. 
"People are seeing the success through people that they know," said Robert David, the city's youth and gang violence prevention coordinator who started the program in October 2018.  
Project Imagine has received about twice the normal number of referrals to its program recently. In the past, he would get about eight to nine but that figure has gone up to 18, he said.  
Project Imagine is a workforce readiness program for gangs and at-risk youth ages 15-21. Project Imagine provides paid work experience, on-the-job mentoring, life skills instruction and resources that help them after they complete the nine-week program. 
The programs works in partnership with several agencies and organizations, including the Virginia Workforce Center and the Virginia Department of Juvenile Justice. 
"It provides the opportunity to to be connected to an entity to provide direction," David said during an interview at the library Wednesday. "It gets their foot in the door."
Despite misconceptions, Project Imagine is not connected with the Danville Police Department. David works under the city manager. 
However, the police department is one agency among others that refers youths to Project Imagine, David said.
He also receives referrals from other agencies, schools, community members, orders by the court and others, David said.
The program provides a means for the police department to deal with at-risk teens other than through the juvenile justice system, said Danville Police Department Capt. H.S. Richardson. 
"The youth being referred to Mr. David are given a new path, hope, as well as a mindset to be successful through these efforts," Richardson said. "Even if the at-risk youth have made criminal mistakes, this program greatly improves the chances for the participants to succeed and remove themselves from the gang lifestyle."
David pointed out that he is not the police. His job is not to punish those who have committed crimes. 
"I'm here to help," he said. "I'm not trying to lock you up, I'm trying to set you free."
Wilson is glad he is out of the gang lifestyle. 
"If I weren't working, I'd sitting somewhere doing I'm not supposed to be doing, getting in trouble," Wilson said.
Wilson, who did not want to reveal which gang he was with, said he ended up charged with assault and battery and disorderly conduct in the incident when he was 16. The did six months probation, 50 hours of community service and two weeks of anger management classes. 
He realized he no longer wanted the gang lifestyle after he turned 18. 
Wilson connected with the Project Imagine program after his father put him contact with David. 
"My reason to do this is to stay out of trouble and I thought it would be a good work experience," Wilson said.
His job at the library includes checking people into the computers and setting up programs and activities for kids. 
Project Imagine has not only become more popular locally. It has received national recognition, as well. 
David was recently named a winner of the Frederic Milton Thrasher Award by the National Gang Crime Research Center. The award recognizes his accomplishments in gang prevention and intervention. 
He will receive the award at the 23rd International Gang Specialist Training Conference that will be held next week in Chicago.
The program also received the President's Award from the Virginia Municipal League in October 2019. 
City officials have attributed a significant drop in crime, especially violent crime, to Project Imagine and other prevention efforts. 
"Project Imagine has really changed a lot of young people's lives," Mayor Alonzo Jones said. 
The program ties in to the city's goal of reducing violent crime — one of the city's three top priorities. The other two are improving education and growing Danville.
"We didn't want to just focus on incarceration," Jones said. "We wanted to focus on education and job training." 
"I'm very proud of this program," Jones added. 
Get local news delivered to your inbox!
Subscribe to our Daily Headlines newsletter.