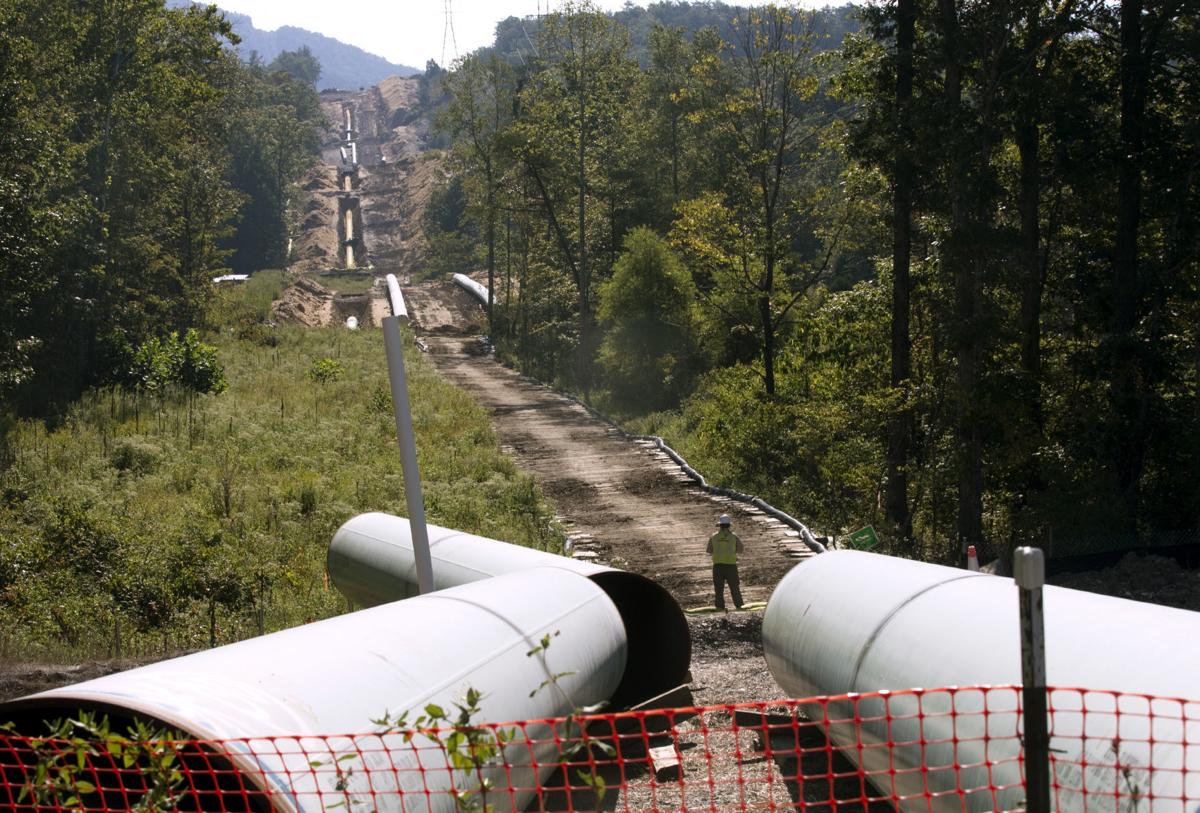 ROANOKE — Winter is coming early for the Mountain Valley Pipeline.
Although construction is winding down for the season, it's not just because of the coming freezing temperatures that will make it difficult to dig trenches along mountain slopes for the buried natural gas pipeline.
Even if it was being built in the tropics, this project would be stalled.
Mountain Valley has lost three sets of key permits — all suspended because of the pipeline's impact on the environment — that have fallen like slow-motion dominoes for a project that was supposed to be done by now.
The most recent blow came last week, when the Federal Energy Regulatory Commission ordered the company to "cease immediately" all work on the interstate pipeline, at least until questions raised by the latest legal challenge are resolved.
While the courts consider that case, the U.S. Army Corps of Engineers likely is months away from making a decision on whether to re-issue permits that allowed the pipeline to cross more than 1,000 streams and wetlands in Virginia and West Virginia.
Those permits were revoked or suspended a year ago, and Mountain Valley had hoped to have them restored by now — until a legal challenge, filed in August, took issue with a determination from the U.S. Fish and Wildlife Service the pipeline would not jeopardize endangered species of fish and bats.
And a decision on a third set of permits for the pipeline to pass through the Jefferson National Forest, thrown out in July 2018, remains in limbo while the U.S. Supreme Court considers a case that could impact the pipeline's crossing of the Appalachian Trail.
With three federal agencies — the Army Corps, the Fish and Wildlife Service and the U.S. Forest Service — all back at the drawing board to redo their respective permits, there's not a lot of work that can be done along the pipeline's 303-mile route from northern West Virginia to Chatham.
"I think what has caught up with MVP and the agencies is that none of them did their jobs right," said David Sligh, conservation director of Wild Virginia, one of about a dozen environmental groups that have challenged the permits in court.
"That is something they all have in common."
When Mountain Valley began work in February 2018, it said the project would be completed by the end of that year at a cost of $3.7 billion. Several delays and cost increases later, the most recent announced goal is to have the pipeline operational by mid-2020, at a cost of $5 billion.
Work crews have "completed pipeline installation in nearly all accessible areas," Mountain Valley's assistant general counsel, Matthew Eggerding, wrote in a letter to FERC on Thursday.
That leaves a 25-mile stretch around the national forest, about 90 miles of pipeline right of way where endangered species are found, and most of the stream and wetland crossings to be completed next year — assuming Mountain Valley gets its permits back.
Meanwhile, the company is on schedule to complete stabilization and restoration work, which includes seeding the denuded 125-foot wide construction zone to curb erosion, before cold weather sets in, Eggerding wrote.
But opponents worry FERC will allow the company to continue actual construction under the guise of stabilization, which they say has happened in the past.
"Letting MVP self-police on defining 'stabilization' and harming endangered species is like asking the fox to guard the henhouse — it's an abdication of FERC's responsibilities," Elly Benson, a senior attorney for the Sierra Club, said in a statement last week.
'May the 4th be with you'
Since a group of five energy companies proposed building a natural gas pipeline through Southwest Virginia more than five years ago, opponents have protested on various fronts.
They have climbed trees on the project's right of way in an attempt to block construction; packed countless meetings of regulatory bodies at the local, state and federal levels; and turned to the courts for relief.
Perhaps their greatest success has been found in a stone courthouse in downtown Richmond, where the 4th U.S. Circuit Court of Appeals has issued three major rulings.
In July 2018, the court remanded a permit for the pipeline to cross the Jefferson National Forest, ruling the U.S. Forest Service had failed to adequately plan for the erosion and sedimentation caused by digging trenches for the 42-inch diameter pipe.
Three months later, the court threw out a permit for stream crossings in West Virginia because the Army Corps improperly bypassed a requirement from state regulators, meant to limit water pollution, that major river crossings had to be completed within 72 hours. A similar permit for water crossings in Virginia was then suspended.
And most recently, the court issued a stay of two permits from the Fish and Wildlife Service while it reviews claims the service overlooked key information in 2017, when it determined building the pipeline would not significantly harm endangered or threatened species of fish, bats and plants. That stay in turn led FERC last week to order that construction be stopped.
The 4th Circuit's actions have prompted a saying by pipeline opponents: "May the 4th be with you."
In all three cases, Roger Gregory, the chief judge of the court, and Judge Stephanie Thacker have been members of three-judge panels that issued the opinions. Judge James Wynn joined the panel in two of the cases.
Although the 4th Circuit generally uses a computer program to randomly select its three-judge panels from the 15 members of the bench, Washington and Lee University law professor Brandon Hasbrouck said the makeup for the pipeline cases is not unusual.
The court's policy states "every effort is made to assign cases for oral argument to judges who have had previous involvement with the case."
And Gregory, Thacker and Wynn also have served on panels in at least three cases that went for the pipeline, two of them upholding its use of eminent domain to take property and a third that validated a clean water certification by Virginia's State Water Control Board.
Once considered one of the most conservative courts in the land, the 4th Circuit began to change under the administration of Democratic presidents Bill Clinton and then Barack Obama, who appointed about half of its judges during his two terms.
"That shifted the court from being very conservative to more moderate, progressive-leaning," Hasbrouck said.
A recess appointment by Clinton put Gregory on the court temporarily, but he was later nominated for the position by Republican President George W. Bush. Thacker and Wynn were nominated by Obama.
Sligh, a former environmental engineer for the Department of Environmental Quality and an attorney, said the judges seem to have read the lengthy briefs carefully and have kept an open mind in deciding the cases.
"I don't care if they are conservative or liberal. I don't care who appointed them," he said. "They are looking at the facts and the law very thoroughly."
Stabilization, or plowing ahead?
When the 4th Circuit issued its stay of the Fish and Wildlife Service permits on Oct. 11, it also put on hold all proceedings in the underlying case, which deals with whether the federal government is adequately protecting endangered species in the pipeline's path.
Led by the Sierra Club, a group of seven environmental groups said clearing trees has damaged the habitat of the Indiana and northern long-eared bats, and that erosion from land-clearing and ditch-digging has allowed sediment to clog rivers and streams inhabited by the Roanoke logperch and the candy darter.
Not long after the case was filed, the Fish and Wildlife Service and FERC decided to review a 2017 biological opinion and incidental take statement, which allowed limited harm to fish and bats.
What happens with that process likely is to influence the next step in the legal proceedings, which will resume in January.
In the meantime, FERC must decide how much work to allow on the pipeline. In an Oct. 15 letter ordering Mountain Valley to stop all construction, the agency made an exception for restoration and stabilization work.
"Commission staff believes this will be more protective of the environment, including listed species, than leaving these areas in an unstable condition," Terry Turpin, director of energy projects, wrote in the letter.
Since then, FERC has granted Mountain Valley's request to finish work — which includes welding plates onto open ends of pipes, coating welds and burying pipe that was lying in open trenches — at 12 sites, all of them in West Virginia.
Mountain Valley then asked for permission to complete work that was in progress at another nine sites. No decision had been made on those requests by Friday.
None of the work sites that the company has asked to complete are in the watersheds of the Roanoke logperch and the candy darter, which cover much of the pipeline's Virginia route through the counties of Giles, Craig, Montgomery, Roanoke, Franklin and Pittsylvania.
About 700 construction workers are still on the job in Virginia, down from a peak of 1,000 over the summer, Mountain Valley spokeswoman Natalie Cox said.
"MVP's total project work is approximately 90% complete, and the project team remains committed to building this important infrastructure project safely in order to meet the demand for affordable, domestic natural gas," Cox wrote in an email.
But there is too much work remaining — and too much uncertainly over whether the suspended permits will be restored — to give up now, opponents say.
"FERC should not trust MVP to interpret what is appropriate 'stabilization' for this unnecessary project," said Peter Anderson, Virginia program manager for Appalachian Voices, one of the groups fighting the pipeline.
"It is in the developer's interest to keep plowing ahead."
Get local news delivered to your inbox!
Subscribe to our Daily Headlines newsletter.