HONOLULU — A doctor and a team of neonatal medical professionals were in the right place at the right time, helping a Utah woman deliver her baby onboard an hours-long flight to Hawaii.
Lavinia "Lavi" Mounga was traveling from Salt Lake City to Hawaii on April 28 for a family vacation when she gave birth to her son, Raymond, at just 29 weeks gestation.
Dr. Dale Glenn, a Hawaii Pacific Health family medicine physician, and Lani Bamfield, Amanda Beeding and Mimi Ho, neonatal intensive care unit nurses from North Kansas City Hospital, were also on board.
"About halfway through the flight, there was an emergency call, and I've experienced this before and usually they're pretty clear asking if there is a doctor on board," Glenn said in a Hawaii Pacific Health press release. "This call was not like this and it was fairly urgent."
Bamfield said she heard someone call out for medical help and saw how little the baby was.
All three nurses and the doctor sprung into action. With no special equipment for the preemie, the group got creative: They used shoelaces to cut and tie the umbilical cord and used a smartwatch to measure the baby's heart rate.
"We're all trying to work in a very small, confined space in an airplane, which is pretty challenging. But the teamwork was great," Glenn said.
The delivery was also the subject of a viral TikTok, which racked up more than 11 million views as of Sunday night. The video shared by Julia Hansen shows the announcement of the birth on the flight, with the plane landing three hours later.
Hansen and a friend she was flying with, Siearra Rowlan, told The Washington Post the situation initially caused a commotion, but other passengers were pretty "casual" about it by the end of the flight.
"Everyone just kind of got up, got their carry-on and left," Hansen said of the scene after Mounga and her son were escorted off first.
Medical crews were waiting at the airport in Honolulu to help get the mom and baby to Kapiolani Medical Center for Women & Children.
The three nurses from the flight were able to visit Mounga and the baby on Friday and said it was an emotional reunion.
"We all just teared up. She called us family and said we're all his aunties, and it was so great to see them," Ho said.
Mounga has since been discharged, but baby Raymond will remain in the NICU until he's ready to go home.
"It has been very overwhelming," Mounga said. "I'm just so lucky that there were three NICU nurses and a doctor on the plane to help me and help stabilize him and make sure he was ok for the duration of the flight."
Man arrested at airport with 35 birds in his clothing, and more of this week's weirdest news
Police in Germany responded to a bomb alert -- and found a sex toy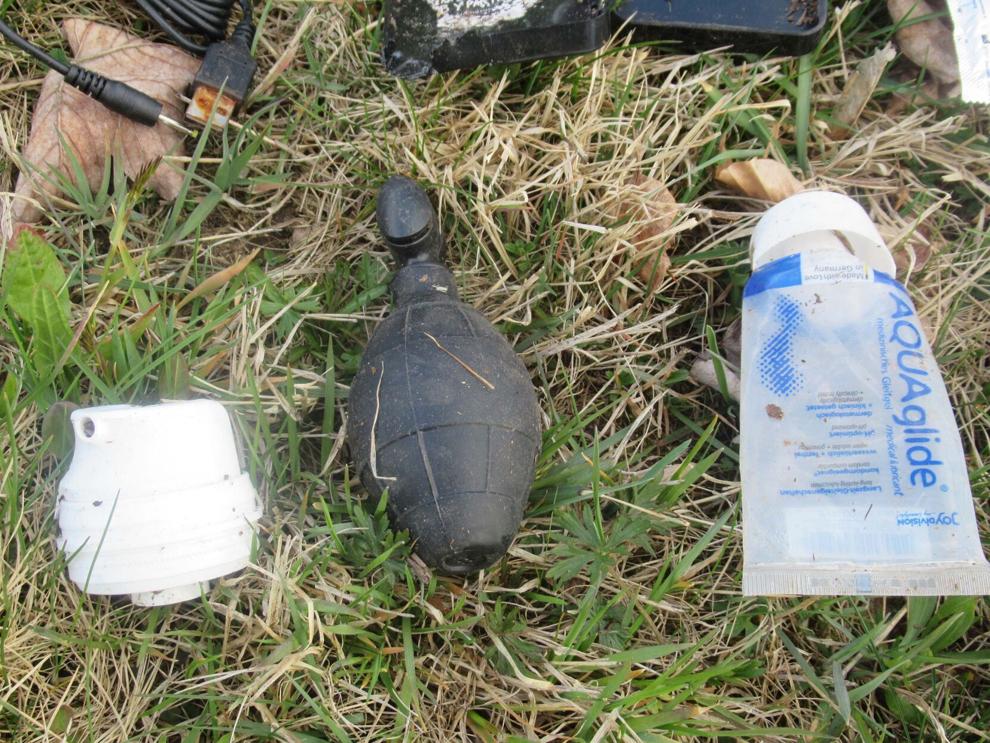 A bomb alert in southern Germany turned out to be a false alarm after a grenade-shaped object was found to be a sex toy.
A woman out jogging in the forest near Sonnen on Monday evening called the police after spotting what she thought was a hand grenade in a transparent plastic bag, according to a statement released by the local force Tuesday.
Officers from the Bavarian bomb unit were called in to assess the situation, and were fortunately able to give a swift all clear.
"After inspecting the plastic bag it became evident that it was only a fake plastic grenade," reads the statement, adding that two unused condoms, an empty bottle of lubricant and a USB cable were also found inside the bag.
"An internet search confirmed the suspicions, there are actually hand grenade sex toys," said police.
The bag had decomposed and must have been there for some time, according to the statement.
"How the items got there and why they stayed there are now the object of speculation," added police, who have since disposed of the items.
Old bombs are not uncommon finds in Germany.
In June 2019, residents of Ahlbach, southern Germany, were awoken early one morning by a sudden blast which left a crater 33 feet wide and 13 feet deep in a cornfield. Police later said it was "almost certainly" caused by a WWII bomb.
Police defused an unexploded World War II bomb weighing 1,100 pounds in Berlin in April 2018, and in September 2019 almost 60,000 people were evacuated in Frankfurt after a 3,000-pound bomb was found.
Man arrested at airport after 35 birds intended for singing contests found in his clothing, officials say
A man was arrested and charged with allegedly smuggling 35 live finches in hair curlers from Guyana for "singing contests" in New York City, according to a complaint from the US Attorney's Office for the Eastern District of New York.
Kevin Andre McKenzie, a 36-year-old Guyanese resident, flew to John F. Kennedy International Airport in New York on Monday, according to the complaint, where Customs and Border Protection officers pulled him aside for an examination and found the birds, authorities said. He was charged with unlawfully importing the finches.
Photographs show the tiny finches were stuffed inside hair rollers sealed with perforated netting. Authorities said they were attached to the inside of McKenzie's jacket as well as the top of his shoes.
The traveler was released on a $25,000 bond, the US Attorney's Office said.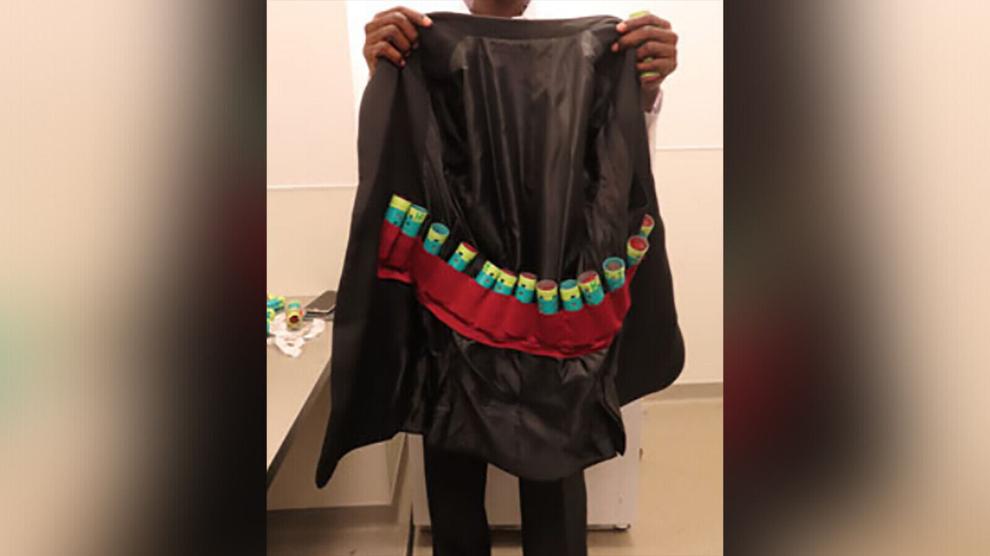 James Darrow, McKenzie's attorney, declined to comment.
The investigation found that these types of birds are often entered into "singing contests" in the Brooklyn and Queens neighborhoods of New York, according to Kathryn McCabe, a special agent for the US Fish and Wildlife Service.
"In such contests, often conducted in public areas like parks, two finches sing and a judge selects the bird determined to have the best voice," McCabe stated in the complaint. "Many who attend the singing contests wager on the birds. A finch who wins these competitions becomes valuable and can sell for more than $10,000. Although certain species of finch are available in the United States, species from Guyana are believed to sing better and are therefore more valuable."
McKenzie told officers that he had been offered $3,000 to smuggle the birds, the complaint says. He allegedly was paid $500 before his flight and was to receive the remaining $2,500 after he got through Customs. It is not immediately clear whether anyone else has been arrested.
Besides a valid import permit, birds are required to quarantine for 30 days to prevent the spread of contagious diseases, according to government regulations listed in the complaint.
Giant gold coin weighs 22 pounds and took 400 hours to create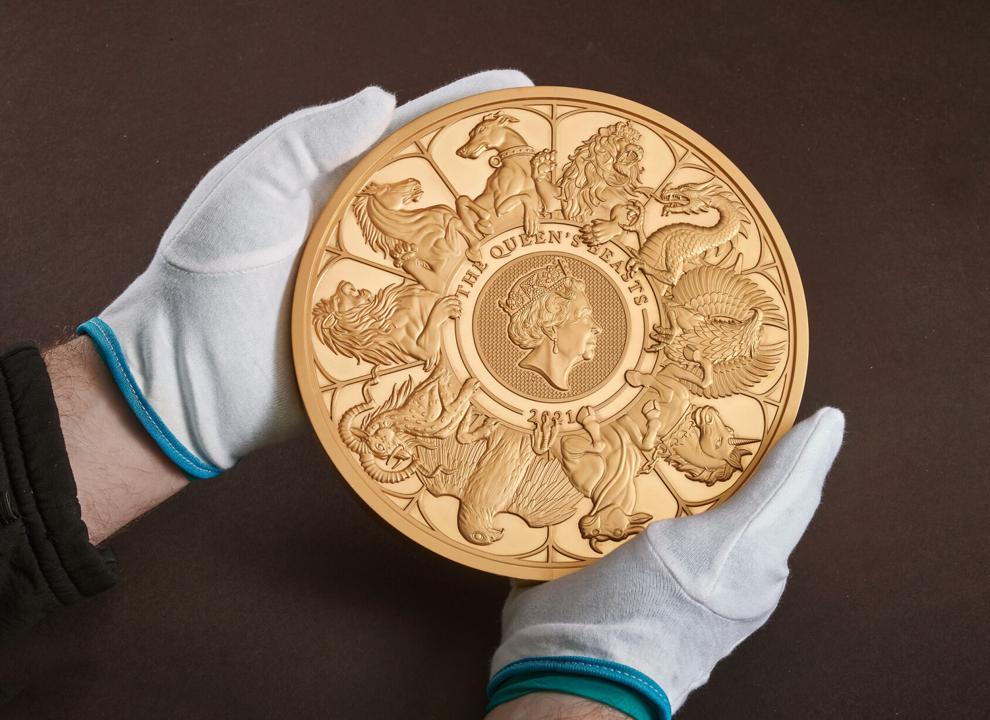 A huge £10,000 ($13,950) commemorative gold coin has been created in Britain that pays tribute to the "Queen's Beasts" -- 10 mythical creatures that represent her royal ancestry.
The coin, which weighs 10 kilograms (22 pounds), was made by the Royal Mint and is the largest ever created in its 1,100-year history.
The Royal Mint, which makes the nation's coinage, called it a "masterwork" that was handcrafted by a team using traditional minting skills and modern engraving technology.
It was polished for four days before being cut, lazer frosted, and completed with a matt finish. The whole design took 400 hours in total, the Royal Mint said.
It was created to mark the finale of the Royal Mint's "Queen's Beasts Collection," a series of collectible coin designs based on 10 statues created for the Queen as a guard of honor at her 1953 coronation.
The mythical beasts -- which include a white lion, bull, falcon, unicorn, dragon and griffin among others -- symbolize her ancestry and together form a "formidable phalanx of ancestral creatures drawn from centuries of royal history," according to the Royal Mint website.
The coin illustrates all 10 beasts side-by-side in one single design with an effigy of the Queen in the center.
The coin, which has a denomination of £10,000, has been sold for an undisclosed six figure sum, said a Royal Mint spokeswoman.
Those looking for a smaller, more affordable version of the giant gold coin can purchase a replica at the Royal Mint website, with prices starting from £13 ($18).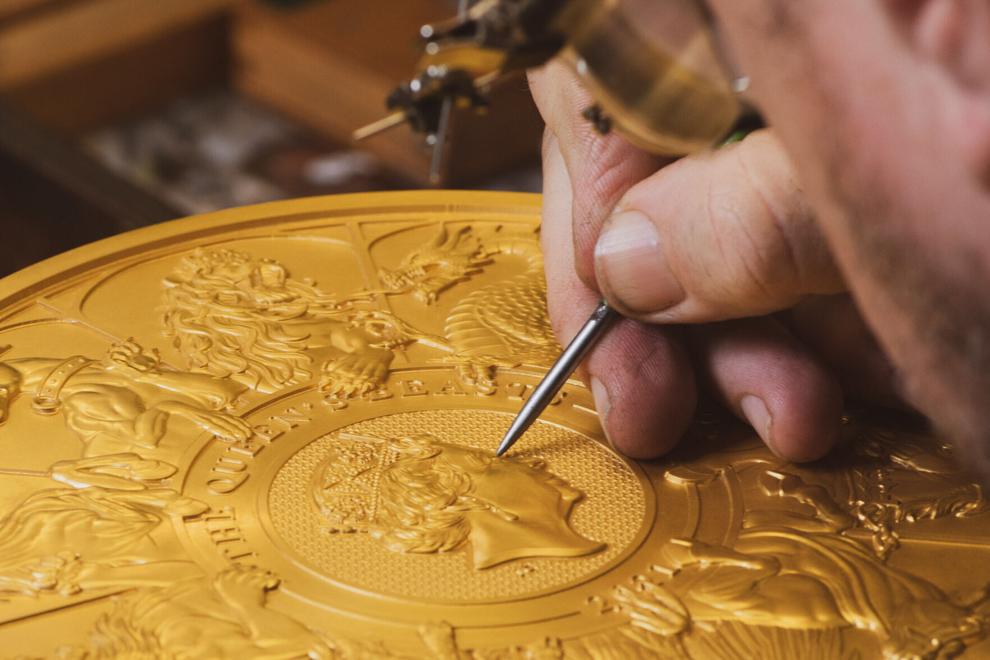 'A work of art'
The Royal Mint began producing the Queen's Beasts Collection in 2017, beginning with the "Lion of England" coin. The lion emblem has been used by the royal family for centuries as a symbol of bravery and strength.
The second coin released was of the Unicorn of Scotland -- a coat of arms representing the union of England and Scotland.
The commemorative collection includes a coin that celebrates the Red Dragon of Wales.
Clare Maclennan, divisional director of commemorative coin at the Royal Mint, said in a statement that the new coin set a "new standard" for minting, "combining centuries old techniques with innovative technology to create a unique and beautiful work of art."
"It is the largest coin ever created by the Royal Mint, and is testament to the expertise, craftsmanship and skill of our team," she added.