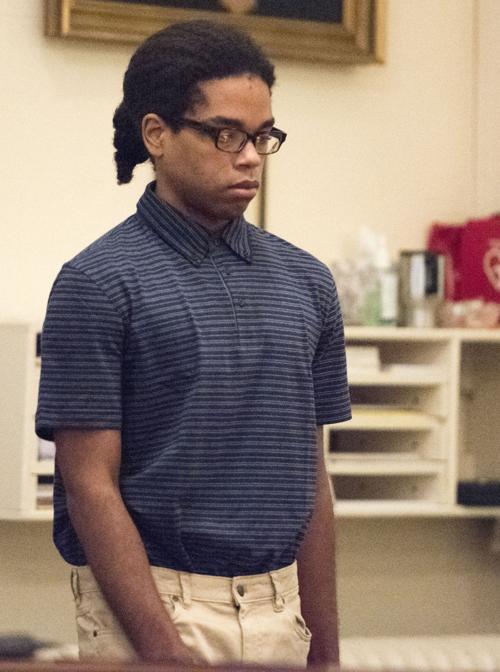 A Pittsylvania County jury found 17-year-old Jacob Gene Tharpe guilty of first-degree murder of his mother, Bernadette Nesbitt, and arson on Tuesday afternoon.
This story will be updated.
---
CHATHAM — The prosecution has rested after a day detailing evidence against 17-year-old Jacob Gene Tharpe on the charges of first-degree murder of his mother, Bernadette Nesbitt, and arson.
Tharpe sat behind the defense table in Pittsylvania County Circuit Court with his hands in the lap of his khaki pants and his head bowed slightly throughout the trial on Monday, occasionally removing his glasses to wipe his eyes.
Tunstall Fire & Rescue Capt. Spencer Nolan was the first to arrive at 4175 Sandy Creek Road in Dry Fork shortly after 4 a.m. on Dec. 21, 2016. He was also Pittsylvania County Commonwealth Attorney Bryan Haskins' first witness.
Nolan arrived in his personal car before any of the fire apparatuses had gotten there. He radioed back to dispatchers it was a working structure fire, and that he was entering to find Nesbitt, who was still inside.
He entered the home and found "flames at about belly level and a body 8 to 10 feet in," he testified.
Nolan said it "took a couple of tries" for him to get a good grip on the body and remove it from the home, before taking a few breaths of fresh air, and running back in to extinguish the fire.
The flames were coming from a pile of clothing in the middle of the living room floor. Nolan was able to extinguish the fire with several saucepans full of water, and secure the house until law enforcement arrived on the scene.
Once law enforcement got there, they treated Jacob Gene Tharpe for stab wounds to his hands, and he told them that an armed attacker had set the fire, woken him up and tried to stab him and his mother.
In an audio recording of an interview then, Tharpe told investigators at the scene that the attacker wore a hoodie, dark blue jeans, brown boots, gloves and a ski mask. He also reminded them that this wasn't the first time he'd been visited by an armed attacker.
He had reported an armed house invader to the sheriff's office earlier that month on Dec. 5, 2016, with a similar description.
There was only one problem with that — Tharpe had later admitted to those investigators that was a lie because he was angry with his father, a long-haul trucker.
Tharpe's court-appointed defense attorney, Michael J. McPheeters, asked very few questions during the day's cross-examination.
Two other issues arose with Tharpe's story, according to testimony from crime scene investigators.
The first was that Tharpe had said that the attacker ran away with the knife, which he described as a hunting knife.
But then investigators discovered a freshly cut hole in the wall covered in black duct tape.
"I noticed white marks on the wall — patched up holes with drywall," Anthony Rouse, with the Pittsylvania County Sheriff's Office, testified. "Then I saw the duct tape and it struck me as odd. Why patch up the others with drywall, and cover this with duct tape?"
When they peeled back the tape, they discovered a typical kitchen knife stuck in the drywall. That knife was consistent with the 71 different wounds on Nesbitt's head, arms and torso, according to medical examiner Eli Goodman's testimony.
The blood on that knife had a "one in greater than 7.2 billion" chance of matching an unrelated person, forensic scientist Patricia Taylor testified — and it was found to be a mixture of blood that would match Tharpe and Nesbitt.
The other issue was Tharpe told authorities he hadn't gone on the screened-in back porch, because he knew he couldn't get out easily that way. But investigators found an uncapped bottle of tiki torch fuel on its side, with blood all over the inside of the handle — and found the lid right next to the remains of the fire.
No DNA was found at the scene that did not match Tharpe or Nesbitt.
Tharpe still defends his innocence, and has entered a plea of not guilty.
"Unless the guy is right there looking at you, you want to say it was me," Tharpe said in the same audio recording with investigators at the scene.
The trial will continue Tuesday in Pittsylvania County Circuit Court.