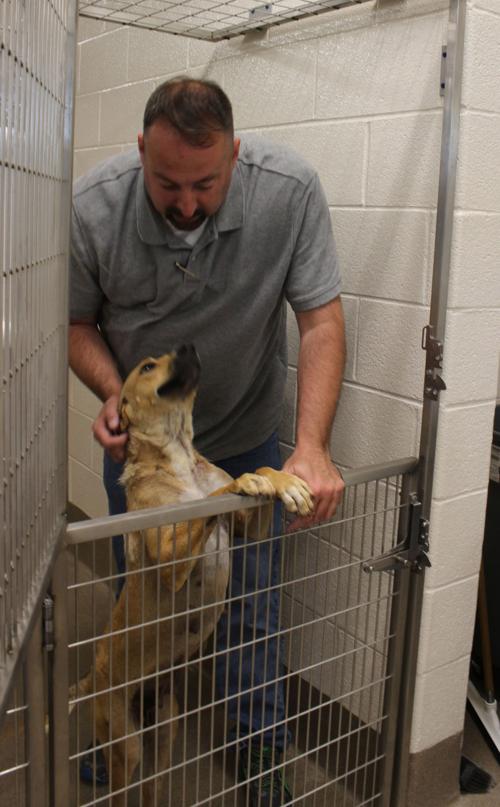 CHATHAM — After being open to the public for just one day, the new Pittsylvania Pet Center is already nearing capacity for dogs.
"People are already bringing in animal after animal," Manager Mark Narron said Monday afternoon. "We hit the ground running, and now we're trying to keep from tripping."
Staff, with the help of the Society for the Prevention of Cruelty to Animals of Pittsylvania County, brought animals from the old shelter at the landfill on Friday afternoon to the new facility on U.S. 29 near Chatham Middle School, to get them into the air conditioning as soon as possible.
While they are still learning the computer system and working out the kinks, staff members said they are ready for the grand opening.
Doors opened for animals and donations Monday morning. The official grand opening is planned from noon to 5 p.m. July 29, with tours and adoption specials that have not yet been announced, according to the Facebook page.
The shelter is still looking for volunteers willing to foster animals and volunteer in the shelter itself.
They also are looking for old comforters and sheets, litter pans and supplies for laundry. There is a fund to get net Kuranda beds, which are more comfortable than the steel beds currently in place.
No animals have been adopted yet, but Narron said he is sure that will soon change. Several potential adoptees have come in to meet with dogs already. Narron also is searching for homes for seven pot belly pigs that were surrendered to the shelter by their owner.
"We are so excited to be a part of a positive change for pets in Pittsylvania County", said Makena Yarbrough, Executive Director of the Lynchburg Humane Society in a news release last week.