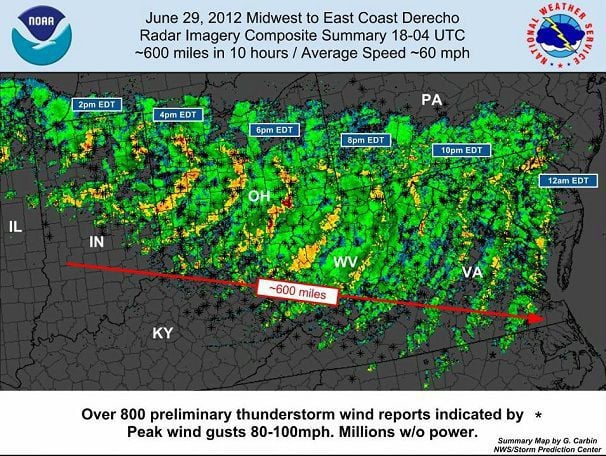 Eight years ago this evening, as the sun set on Roanoke's hottest day in almost 30 years, yet more weather history was hurtling toward us.
A vicious squall line fed by hundreds of miles of undisturbed extreme heat as it roared from its inception near the Chicago area across the Ohio Valley and West Virginia was about to wreck the region's power grid, inject a new word into the popular vocabulary and burn a deep imprint into our collective meteorological memory.
Derecho. Only weather geeks in our region batted it around before June 29, 2012. Now, eight years later, it is connected to a short season of misery and deep dread that any squall line could be the next one.
A half-million Appalachian Power customers in Virginia and West Virginia lost power, some for several hours, some for a couple days, some for more than a week. This coincided with the most extreme 12-day hot period since 1930, with highs in Roanoke reaching or exceeding 97 on all but one day from June 28 to July 8 and topping 100 four times.
The hottest temperature occurred about 5 hours before the derecho hit, when Roanoke's high of 104 was the hottest reading since 1983 and tied for hottest June temperature on record, previously set in the 1930s.
The squall line was unlike any other in Roanokers' memory. The storms arrived with clouds of blowing dust and almost no rainfall, as the storms were actually in a weakening phase crossing the mountains. The outflow winds did not ease, however, peaking with an 81-mph gust at the Roanoke airport shortly after 9 p.m. 
And it was not limited to our region. Damage and power outages stretched across the Ohio Valley all the way to the Atlantic Ocean, from the D.C. area to the North Carolina state line. At least 47 deaths were linked to the derecho, including four in and near the Roanoke and New River valleys.
Attached are a series of articles and photos from shortly after the derecho, and a year later, recapping the event. Feel free to share your memories in the comments below or on associated social media where this is posted.
Be the first to know
Get local news delivered to your inbox!