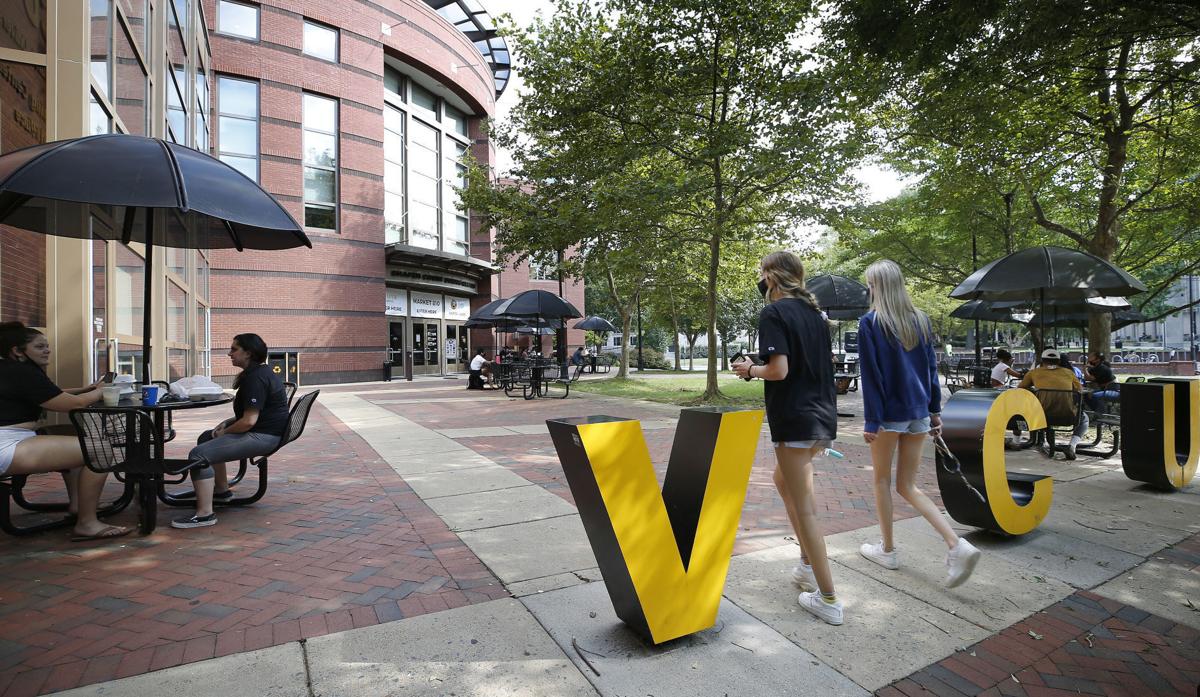 The number of students enrolled in colleges throughout Virginia has declined 1.3% this year, which amounts to a large sigh of relief for university and state leaders, who feared a drop of as much as 20% because of the coronavirus pandemic. Low-income students account for a large cross section of enrollment losses.
There are 6,658 fewer students at Virginia's public and private institutions of higher education this fall, according to colleges' estimated figures that the State Council of Higher Education for Virginia released Tuesday. The largest drop was at community colleges, where enrollment sank an unexpected 10%. Enrollment at public four-year schools was essentially flat, and private schools saw an increase thanks to large gains made by Liberty University. 
Colleges' ability to attract  almost as many students despite the pandemic that upended their educational and community models illustrates their durability in the face of many challenges. 
"It's still the best and most predictable pathway to a middle-class-or-above lifestyle," said Tod Massa, policy analytics director for SCHEV.
For many families, a teenager has two options following high school graduation: get a job or go to college. The unemployment rate nationally was 15% when students graduated last spring and was still 8.4% in August. Given the poor job market, teenagers on the fence may have opted for college instead, Massa said.
At Virginia Commonwealth University, administrators projected a 10% loss in enrollment this fall, so the school extended more offers to high school applicants. When VCU estimated the total number for this semester, its undergraduate and professional enrollment figures dropped, but its number seeking graduate degrees increased, and VCU reported a total of 29,478 students, a dip of only 2% from a year ago.
It's still hard to tell what kind of financial impact the coronavirus will have on state colleges, said Aubrey Layne, the state's secretary of finance. It's still possible that colleges will close their campuses this fall if they see an outbreak, and the spring semester is likely to resemble the fall semester with online classes and distancing measures. If a college must forfeit a chunk of housing revenue, it could be hit hard.
Before the semester began, Layne said, colleges in the state were expected to lose a combined $250 to $800 million. It's possible the final number will be closer to the lower end of that range.
"It's still a work in progress," he said. "We're encouraged and appreciate all the hard work colleges have done, but I don't think it's an all-clear by any stretch of the imagination."
VCU president Michael Rao, chairman of Virginia's council for college presidents, said in an interview Tuesday that the state's colleges will need assistance from the government because revenue loss extends beyond student enrollment. There are fewer students in dorms and fewer purchasing dining plans, which adds to the financial crunch.
Plus, universities are paying back bonds they've issued to build or renovate their dorms, dining facilities and gyms, and those bonds were issued with higher revenue targets in mind. Even though Virginia colleges received $134 million in CARES Act funding, Rao said, state universities are projecting a loss of $245 million in the first six months of fiscal 2021, which started July 1.
Compounding universities' concerns is the steep decline in the number of freshmen. VCU saw a 14% drop in its freshman class, and the rest of the public, four-year schools saw a 10% decline.
State leaders will have a clearer view of the financial burden in January or February when enrollment numbers are more firm. Governor Ralph Northam's administration will examine the impact and consider if there's anything the state can do to help colleges at that time, Layne said.
Northam has already extended support by proposing a restructuring of colleges' debt for capital projects. His proposal could save them $300 million.
It's hard to know for sure what drove students away from college, said Peter Blake, director of SCHEV. Higher unemployment, classes moving online and the need for internet access likely were factors. SCHEV believes low-income students account for the majority of enrollment losses. They have less often paid their deposits, according to the Education Advisory Board, and fewer applicants are completing the Free Application for Federal Student Aid.
Virginia State University in Ettrick reported the largest estimated decline in the state among public four-year schools, 21%. VSU decided not to offer in-person classes this semester, and many of its students may not have the technology at home to engage in remote education, according to SCHEV's report.
In an interview, VSU president Makola Abdullah said the university's enrollment decline this semester will be closer to 10%. (The numbers schools reported to SCHEV are early estimates.) When VSU announced it would not open its campus, droves of students withdrew. After a spring semester in which students took classes online, they were eager to get back on campus in the fall, Abdullah said. There was a good deal of disappointment in VSU's decision, he said.
"I imagine a lot of our students decided to take a semester off," Abdullah said.
Before VSU closed its campus, its enrollment was trending toward the same number as last year, 3,610. A loss of room and board revenue cost the school between $10 and $12 million, but VSU has avoided layoffs, cutting the budget elsewhere, Abdullah said.
At VCU, officials expected a 10% enrollment loss and a $55.8 million budget deficit, chief financial officer Karol Kain Gray told the board of visitors earlier this month. In response, the university froze spending and hiring, and it received $26 million in state and federal funds through the CARES Act. Its actual budget deficit, it turned out, was just $6.9 million.
The trends seen in Virginia, with four-year colleges essentially holding steady and community colleges declining in greater numbers, are being seen in other parts of the country, Blake said. Kentucky's report mirrors Virginia's.
Community colleges, which serve a large numbers of students in regions with poor access to broadband and enroll more students with fewer financial resources, were hit the hardest. Their collective enrollment diminished 11% to 142,000, which was unexpected, Massa said. 
In the past, during periods with poor economies, community college enrollment would swell as workers returned to school to update their certifications and strengthen their résumés. 
The trend of declining enrollment in community colleges isn't novel – their total enrollment has declined since 2011 when it saw a high of nearly 200,000 students.
Hampton University reported the largest decrease among four-year colleges - public or private - down 23% to 3,493.
The state's largest universities were the most insulated from drastic changes in enrollment. The University of Virginia, Virginia Tech and Old Dominion all reported small increases in enrollment. James Madison University, which plans to reopen campus next week, reported a drop of less than 1%.
No university posted a growth as large as Liberty, which increased its enrollment 11% to 95,661. All but 15,000 students take their classes online.
Enrollment among undergraduates at public four-year universities is down less than 1 percent. And while it might seem an insignificant difference, it does break a trend of nearly 25 years of small, steady growth, Massa said.
"Higher education in Virginia is in uncharted waters," SCHEV's statement read. "We see changes happening, but we have little solid data on these changes and urge readers not to leap to conclusions."
(804) 649-6109
Twitter: @EricKolenich
Be the first to know
Get local news delivered to your inbox!