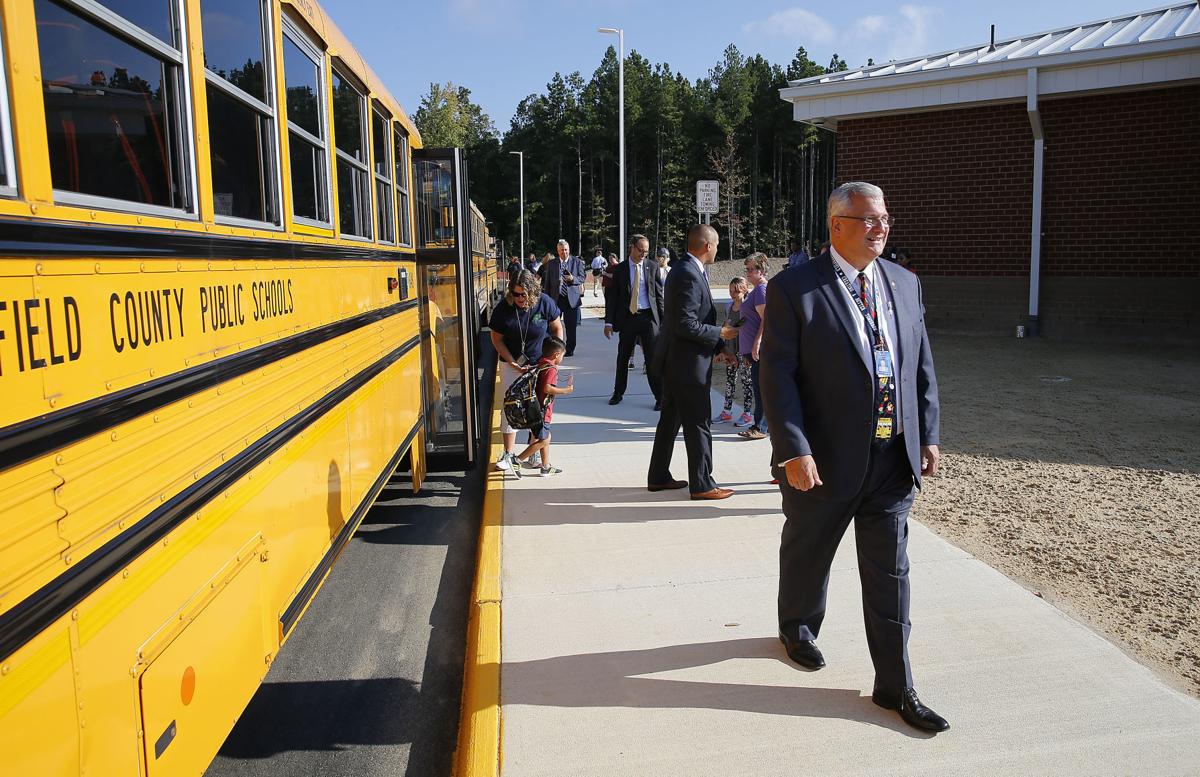 As Richmond-area public schools enter their fourth week of instruction, some districts that began virtually are inching toward bringing students back into the classroom even as COVID-19 school employee cases continue to tick up.
Officials grappling with these decisions must do so armed with fluctuating data and uncertainty, even as they learn to live with one truth: there will be spread.
"No matter what, coming back to school we are going to have cases and we are going to have transmission. I think we've got to start helping shape parents' expectations and teachers' as well," said Dr. Danny Avula, director of the Richmond and Henrico County health districts.
That reality has families and teachers on edge, even as many long for a return to in-person education. Chesterfield County is facing a teacher shortage as select K-12 students are slated to return Tuesday for a four-day week, Superintendent Merv Daugherty said last week.
"We have had over 400 resignations due to the COVID[-19] issue … and I'm sure we will continue to see that," Daugherty said at Wednesday's Board of Supervisors meeting.
Daugherty said the 400 resignations were "throughout the summer," and the school system saw "a large intake in August as people saw we were ready to come back."
The district had 4,651 teaching positions budgeted for the current fiscal year, according to data provided by spokesman Shawn Smith, and currently has 155 job openings, including nearly 50 open teaching positions, according to its job portal.
Chesterfield Education Association President Sonia Smith said many teachers were "overwhelmed" with the start of the school year.
"There is a lot of worry still about what is expected of them and how this [return to school] will come together," Smith said.
About 60% of Hanover students remain in classrooms. Henrico has begun individual in-person meetings with pre-k, kindergarten and special needs students and plans to expand in-person offerings through the fall. Richmond is opening some school building for emergency childcare.
A tally this week of disclosures provided by the school systems since March showed 106 confirmed COVID-19 cases across Richmond (22), Chesterfield (33), Hanover (21) and Henrico (30) school systems, most of which have occurred since the beginning of this academic year.
"Right now, the rise in cases is simply a reflection of transmission in the community, that transmission is by and large not happening in schools because people are not in the schools," Avula said.
Managing the isolated COVID-19 cases and ensuring there won't be a mass spread within schools or across a division "is a sign of success," he said.
Annette Anderson, deputy director of the Johns Hopkins University Center for Safe and Healthy Schools, said there's no real clear cut answer on whether it's safe for students to attend school due to the vague school guidance on state and federal levels.
"What you're seeing is superintendents, state board of education officials, and school administrators all trying to make their best guess as to whether or not it is physically safe," Anderson said.
However, she shares the sentiment that cases identified in school systems are not a reflection of how safe it is for students to attend school.
"What is most troubling of all is that we have not developed the capacity to get our arms around how much this [COVID-19] is affecting the kids in school and the spread that could take place if we put more kids in in early fall."
The Richmond School Board plans to reevaluate reopening later this year.
The Chesterfield students beginning this week are the first of four cohorts across the 63,000-student system to make the return to classrooms.
Chesterfield is welcoming back select K-12 special education students in the classroom Tuesday. These students will attend school in-person four days a week while future cohorts will be on a hybrid schedule.
Smith, the education association president, said that while she was unaware of the high number of resignations, she had communicated with a handful of teachers who have decided to leave the school system.
Most teachers no longer want to commute to Chesterfield after spending months at home working surrounded by families, Smith said.
"One of the things I have noticed is that because of the pandemic and because of the shorter commute time to work, there is more time to spend with family," Smith said. "Teachers are re-centering themselves and putting families first."
For the calendar year, 611 Chesterfield teachers have either resigned or retired as of Sept. 21, said schools spokesman Shawn Smith. The retirements "may or not be related to COVID," Smith said.
Besides hiring, the school system has 112 certified employees, including Daugherty, who are eligible to substitute into classrooms if needed. So far, 15 employees have teaching assignments.
The school system announced changes to its phased return to school plan this week. In an email to all district families Tuesday night, Daugherty said its second cohort of students, slated to potentially return to Oct. 12 for hybrid in-person instruction, will now also include all county third graders.
The rationale to expand the cohort to pre-kindergarten through third grade, instead of stopping at second grade is to better align with state health and education department recommendations, Daugherty wrote in his email.
Families have until Oct. 1 to "make a final decision" on having their students return for in-person or continue with virtual learning through the new year. Families who decide to remain virtual will do so until Jan. 29.
Henrico County Public Schools, which decided to start its first nine weeks online, will begin limited in-person instruction in October for select elementary and high school students.
Both Chesterfield and Henrico county school boards meet every two weeks to discuss whether to phase back into in-person instruction.
Henrico's timeline is further out from Chesterfield's, as the district will not decide on whether to allow more students into the classroom through a hybrid model until Oct. 22.
Melissa McKinney, a Henrico schools parent, is all for students going back into school buildings, but she has concerns.
"I love the idea of getting them [students] into the building even a couple days a week so they feel connected to the teachers and to the community. I am more concerned with families who have not taken the virus seriously," McKinney said.
Chesterfield school officials will meet on Tuesday to determine if the second cohort will return to school in the middle of October.
Be the first to know
Get local news delivered to your inbox!