The Isle of Wight County School Board last week narrowly passed a revised policy that, among other things, states that "there is no systemic racism or bigotry perpetuated by the United States or any governmental entity."
That principle is one of several that "establish a framework for teaching about controversial issues" in the division's schools. Other new principles outlined in the policy include that "parents or guardians have the sole responsibility for guiding their children's views on controversial topics" and that "no one is inherently a victim or oppressed due to their race (consciously or unconsciously), skin color, gender, religion, national origin, sex, medical condition, age, martial status, sexual orientation, gender identity, military status, or disability."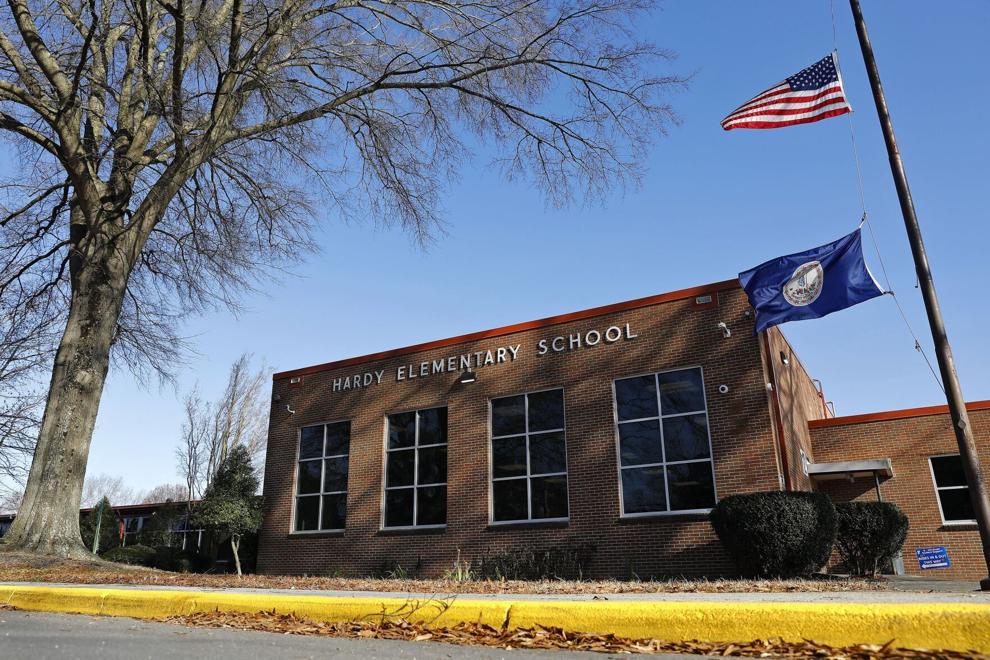 The previous version of the policy had been revised less than two years ago, and stated that the study of controversial issues would be "carried out in an atmosphere free from bias, prejudice, or coercion." It was based on the Virginia School Boards Association's model policy on the topic, said division spokeswoman Lynn Briggs.
The revisions were approved in a 3-2 vote on March 9, after multiple people spoke in opposition to them during nearly one hour of public comments. Board chair John Collick and members Jason Maresh and John "Mark" Wooster voted to approve the changes. Members Denise Tynes and Michael Cunningham voted in opposition.
The changes were reportedly brought forth by Maresh, whose campaign for school board in the fall focused on banning "divisive concepts" from school. In the last couple of years the issue has become a political talking point, with conservative politicians taking aim at critical race theory and other concepts. Gov. Glenn Youngkin last year issued an executive order banning these concepts from being taught in schools.
Maresh said he is aware of the "optics" of having so many people speak against the policy during public meetings. But he said he is also attuned to the position of all his constituents.
"As has been pointed out numerous times, I campaigned, in large part, for the premise behind this policy," he said. "It's no secret. And I was elected by 67 percent of the voters in my district."
Maresh notes that the policy does not "restrict or inhibit" teachers from teaching about controversial issues, but just directs them to do so in a way that does not promote or persuade students "to presume that controversial topics should be viewed through any particular lens."
Those criticizing the revised policy say it is unnecessary and "adversarial" toward teachers. They say the original policy was sufficient.
"The school system and parents should be partners, working together for our children's success," one parent said during the meeting. "As partners, that means that some minimum level of trust is required for the partnership to work…Absent any evidence of a problem, we're basically labeling teachers as untrustworthy and needing to be watched."
Maggie Halstead, a history teacher at Windsor High School, also spoke in opposition to the revisions during last week's meeting.
"I'm not guiding my students to follow my beliefs because I have to introduce both sides of an issue or teach the historical facts and how it affects people today," Halstead said. "Just because what I teach, per the (Virginia Department of Education) and College Board standards, does not align with the political or religious beliefs of certain individuals of this county, does not mean I'm indoctrinating my students."
Matthew Ployd, a history teacher at Smithfield High School and president of the Isle of Wight Education Association, said the revisions to the policy address a a problem that is "completely manufactured and inflated" by some board members in order to "make political points with their base."
Ployd said the policy also does not outline protocols about implementation.
"Who determines if there's a violation, who determines the consequences?" he said.
Ployd also said the principle in the policy denying that systemic racism exists is "erroneous and false."
"Where is your data-driven evidence that there are no ethnically-biased institutions in this country?" he said. "There is plenty of empirical data from a plethora of studies which states that there are are, intentional or otherwise."
Historical events like the subverting of desegregation orders, redlining practices, voter suppression and environmental and zoning decisions are often recognized as contributors to current racial inequalities, ranging from educational outcomes to health disparities to the wealth gap.
Ployd said the board's updated a "manifesto," and said that some teachers have quit because the "harassment they feel coming from this board just isn't worth it."
Maresh said he agrees that most teachers in the division are already in alignment with the policy.
"As such, an implementation of this policy should have very little to any impact on the great work that Isle of Wight County Schools accomplishes every day," he said.
Ahead of the vote, Tynes and Cunningham both indicated they would vote against the revisions because of the number of people who spoke against them. Tynes noted that students were among those criticizing the revisions.
"I hear them and I listened and I will continue to advocate for them because that is the reason why we're here," she said.