A Franklin County family's libel lawsuit, which claimed ABC News defamed them by including a four-second video of their home in a story about politics and race, was dismissed Friday by a federal judge.
Crystal Minnix and her father Eugene Muse Jr. had alleged that an online story about local reactions to the riots at the U.S. Capitol — and the arrests of two off-duty officers of the Rocky Mount Police Department who participated in the insurrection — branded them as racists who support violence.
The allegations by Minnix and Muse, who did not appear and were not named in the story, "find no footing in defamation law," Judge Michael Urbanski wrote in throwing out the lawsuit.
Rather than recovering any of the $67 million in damages they sought, the family members will be required to pay the attorney fees for two other defendants they named in the lawsuit: Bridgette Craighead and the local chapter of Black Lives Matter that she founded.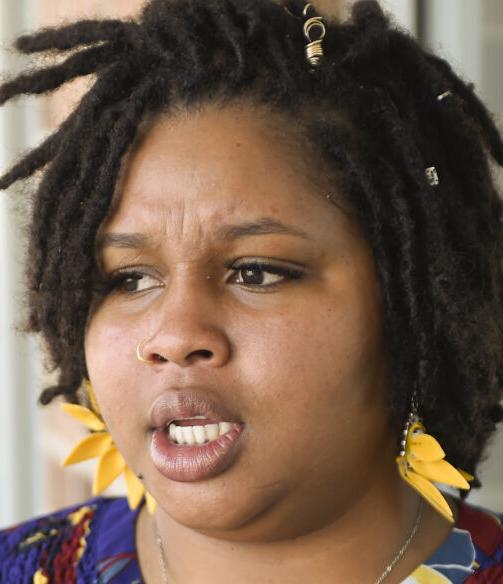 Craighead was interviewed by an ABC News reporter immediately before a video of a home co-owned by Minnix and Muse — which is painted red, white and blue — is shown. During the footage, a voiceover describes Rocky Mount as "predominantly white and politically conservative."
Urbanski found no evidence to support claims from the home's occupants, who include three other adults and seven children, that the story "by clear implication" portrays them "as violent insurrectionists, as rebelling Confederacy supporters, as supporters of President Donald John Trump, and as individuals and businesses who stand against or discriminate against people of color."
Because the lawsuit falsely accused Craighead of defamation, she is entitled to collect her attorney fees from Minnix and Muse, the judge found.
Urbanski based that part of his ruling on a Virginia law aimed at deterring SLAPP lawsuits, which stands for strategic lawsuits against public participation, that are filed with the intent to chill speech about matters of public concern.
After reading an article in the Cardinal News that mentioned Craighead's concerns about the high cost of litigation, attorneys from the Roanoke law firm of Woods Rogers Vandeventer Black volunteered to represent her for free.
With Craighead's permission, the firm will donate any award it receives to the Franklin County chapter of the National Association for the Advancement of Colored People, according to King Tower, one of three lawyers for the firm who worked on the case.
In his Friday opinion, Urbanski gave the attorneys 14 days to file briefs outlining what their fees amount to.
Lance Hale, a Roanoke attorney who represents Minnix and Muse, could not be reached Monday.
The lawsuit took issue with a 7 minute, 30-second news report, titled "Cops' role in Jan. 6 attack divides Virginia town with ties to Confederacy," that aired in January 2022.
The report includes discussions from several Rocky Mount residents on their perceptions of racism in the town as well the role of two police officers — Thomas "T.J." Robertson and Jacob Fracker — who joined the hundreds of Trump supporters who stormed the U.S. Capitol over the then-president's false claims of a stolen election. Robertson and Fracker were fired and later convicted.
Statements made by reporter Devin Dwyer and Craighead implicitly disparaged the occupants of the Boones Mill home just before its image appears in the story, the lawsuit claimed.
The four-second video shows a child who is barely visible standing outside of the house. That gave rise to allegations, which Urbanski also ruled were groundless, that the story made the child a possible victim of sex offenders.
As for Craighead's comments, they included: "This is their land. This is their county and we are just living in it." The lawsuit claimed that was "a clear reference that white people control the land."
But as Urbanski noted in his 19-page opinion, "Craighead's interview is utterly unconnected to the Minnix family, its members, or their home." Craighead was not near the home when she made the comments, and never mentioned its occupants.
The claims against ABC news were equally weak, its attorney argued when making a motion to dismiss the case earlier this year. "With respect, it doesn't pass the basic common sense test," Nathan Siegel told the judge.