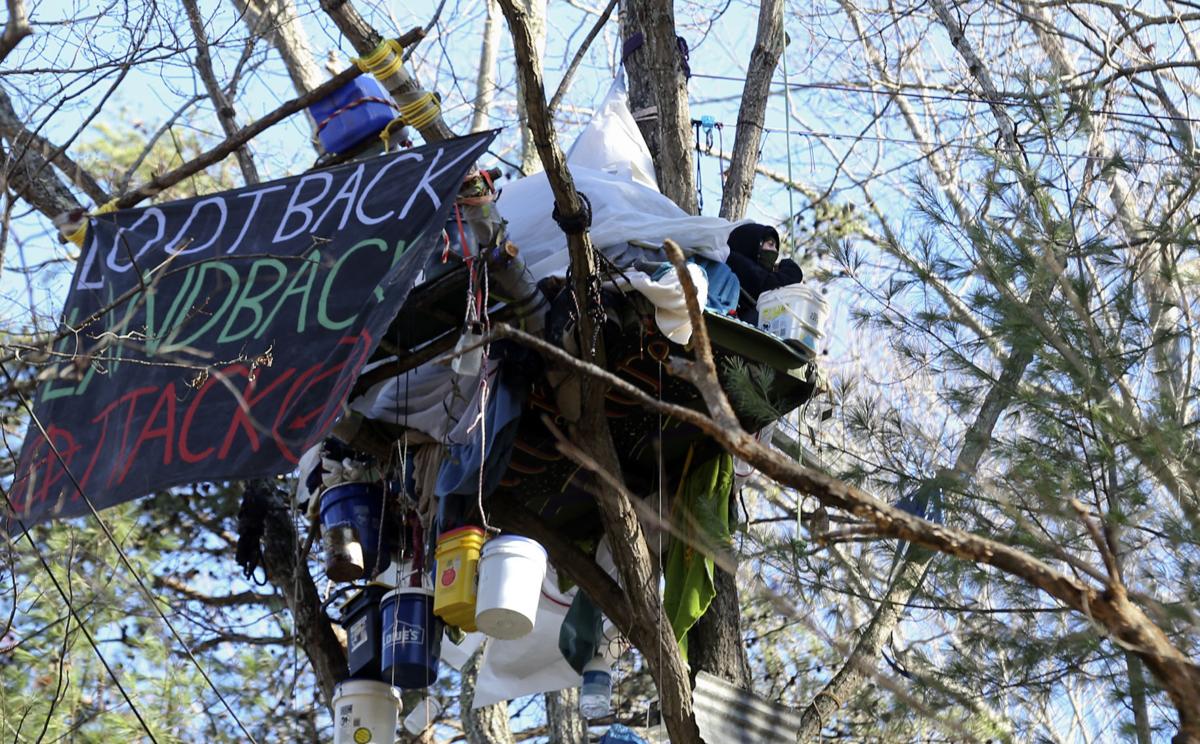 CHRISTIANSBURG — Two unidentified activists blocking construction of a natural gas pipeline from high in a white pine and chestnut oak tree were found in contempt of court Thursday.
Montgomery County Circuit Court Judge Robert Turk imposed a fine of $500 a day against each tree-sitter for as long as they remain on the tarp-covered wooden platforms that went up more than two years ago.
Officials with Mountain Valley Pipeline hope the tree-sitters will come down voluntarily to avoid the penalty.
"Because these fines are prospective, Tree-sitter 1 and Tree-sitter 2 may avoid any liability for the fines by immediately vacating the MVP easements," an order entered by Turk read.
Last week, Turk issued a temporary injunction ordering three tree-sitters to leave their stands, which are about 50 feet off the ground on a steep, wooded slope near Elliston. The tree-sits have prevented Mountain Valley from cutting trees for a small section of its 303-mile pipeline.
One of the tree stands is currently unoccupied, according to testimony Thursday during a court hearing that was not attended by the tree-sitters or anyone associated with them.
Under the injunction, the protesters remain subject to removal by sheriff's deputies, Turk noted. The order does not say when, or if, that may happen.
The tree-sit is the longest continuing blockade of a natural gas pipeline on the East Coast, according to Appalachians Against Pipelines. Tree-sitters and other pipeline opponents say the project is scarring scenic mountains, clogging streams with sediment and contributing to climate change.
Mountain Valley says that it has a legal right to the land — which it acquired through the process of eminent domain — and that the tree-sitters are delaying a project that will provide needed natural gas to markets in the Mid-Atlantic and Southeastern regions of the country.
Be the first to know
Get local news delivered to your inbox!