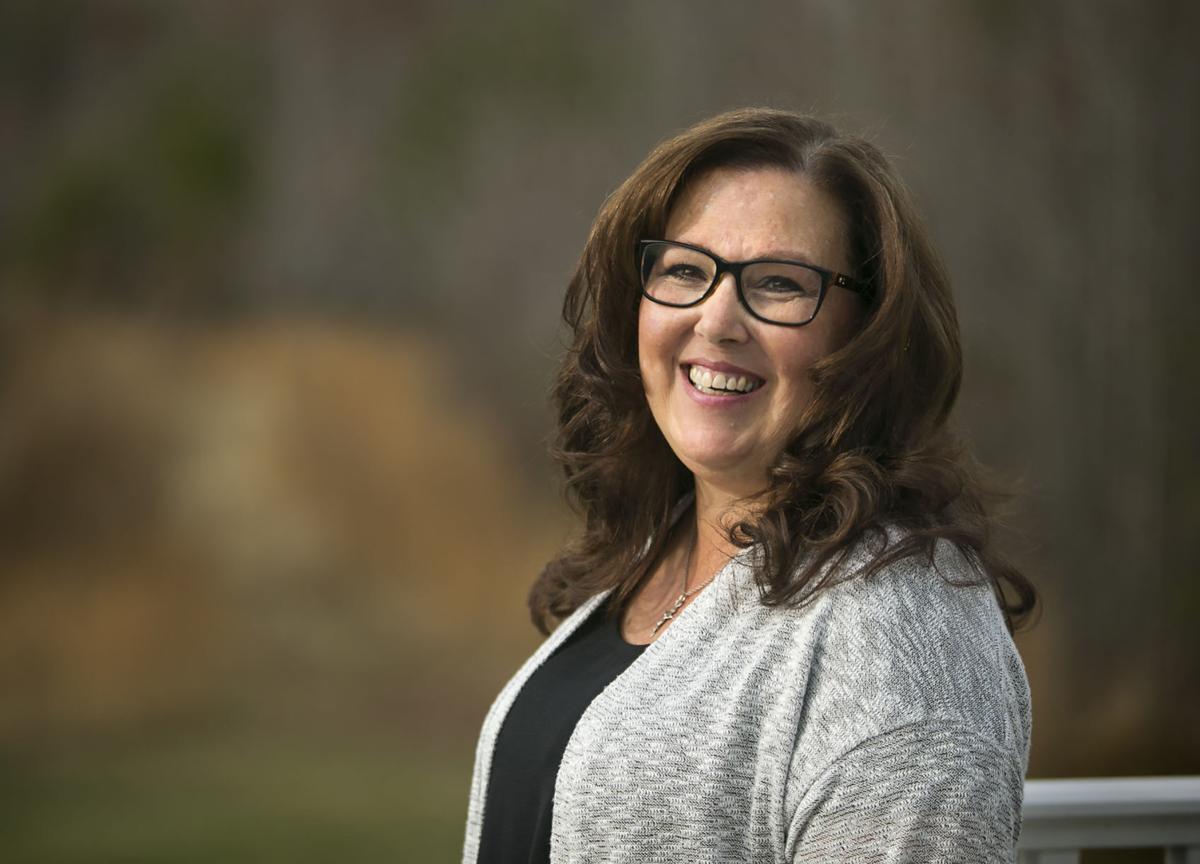 As both a lifelong asthmatic and a former intensive care unit nurse, Missi Cunningham recognizes the impact respiratory ailments have on her body, so when COVID-19 took hold, she knew she was in a bad way.
"I've gotten pneumonia in the past and been hospitalized and I had breast cancer 15 years ago, and I will tell you this was the sickest I've ever been in my life," the Spotsylvania County woman said. "I know lung disease very well, and I knew which direction I was heading. I was going to end up in the hospital and probably on a ventilator."
The same day Cunningham got a positive test result, she contacted her pulmonologist, Dr. Jorge Dolojan, who reached out to Mary Washington Healthcare for a new treatment called monoclonal antibody therapy. It's the same treatment given to President Donald Trump.
Designed for at-risk patients and given in the early stages of the disease, the treatment boosts the body's immune system. Patients are given an infusion of laboratory-made proteins that mimic the immune system's ability to fight off harmful invaders such as the novel coronavirus.
The Food and Drug Administration authorized the use of bamlanivimab and a cocktail of drugs manufactured by Regeneron in November, and Mary Washington Healthcare has given the treatment to more than 100 patients, said Dr. Christopher Newman, chief medical officer of MWHC. He said it's been "the most successful health care system in the state" to use the treatment with high-risk patients.
However, a report from the U.S. Department of Health and Human Services issued last month said that only 5 percent to 20 percent of the available supply of monoclonal antibodies was being used. While national health officials wondered if the stringent screening process was keeping people away—or if patients even knew it was available—Newman at Mary Washington Healthcare praised its results.
"The program is a great success," he said.
Cunningham could be its poster child.
At 65, and with respiratory problems that quickly have gone south in the past, she was at risk of having a serious case of COVID-19. She felt it coming on in the days after she and her husband, Eric, presumably were exposed during Thanksgiving dinner with their grown children.
"The minute I let my guard down, I got sick, and I cannot preach enough to people: Don't let your guard down, even if it's to be with a family member you haven't seen," she said. "It's not worth it."
Eric Cunningham is a retired firefighter from Northern Virginia. He also developed COVID-19 and had a fever, aches and pains for a few days, but recovered quickly.
His wife was not so fortunate.
Soon after Missi Cunningham had her first symptoms, things worsened to the point she couldn't take a deep breath. Inhaling, to any degree, hurt, and so did her joints. She could barely grasp a coffee cup, and she took medicine round the clock to fight her fever.
She couldn't muster enough breath to inhale her daily steroid treatment. She used a bronchodilator, which got some medicine into her lungs, but it wasn't enough.
"When my oxygen level was dropping to 86 percent, I knew I was definitely heading in the wrong direction," she said.
Normal oxygen rates are between 95 and 100 percent.
Cunningham knew the monoclonal antibodies have been used to keep COVID-19 from progressing to the point oxygen is needed or the patient has to be put on a ventilator. She spent 28 years with Mary Washington Healthcare, both as an ICU nurse and later as patient navigator for those with Chronic Obstructive Pulmonary Disease, or COPD. She retired June 1.
Hours after getting her positive test result, Cunningham called her doctor, who made arrangements for the monoclonal antibody treatment at Mary Washington Hospital. She went in through the emergency room, but appointments also can be scheduled through the infusion center.
The infusion itself, given intravenously, takes about an hour, but patients are monitored for any reaction. Cunningham also had various tests, including a chest X-ray and heart function test, before getting the intravenous infusion.
Doctors have to refer patients for the treatments, which should be given within three days of a positive test, Newman said. Those eligible are 65 and over or those with various high risks, such as lung problems, diabetes or obesity.
Various medical officials, such as primary care doctors, lung specialists or physicians at urgent-care centers, can recommend patients for the treatment, and MWHC notified offices throughout the region to let them know about the program, Newman said. It's also offered at Stafford Hospital, and Spotsylvania Regional Medical Center is working with sister hospitals owned by HCA Virginia to administer its limited supplies of the treatment, said Jael Cooper, Spotsylvania's marketing director.
"This medication could prevent somebody from having to be hospitalized," Newman said during a virtual town hall last month, "and that not only helps the one individual, but it takes a strain off the health care system."
The state has provided the treatments, and MWHC is distributing them for free, except for administration costs. Those without insurance won't be billed at all, said Lisa Henry, MWHC's marketing director.
Cunningham also was given IV fluids, steroids and antibiotics while in the emergency room. A crowd of people there needed help, so she ended up staying for hours—and driving herself home at 3 in the morning.
She slept until almost noon the next day, and when she came woke up—after sleeping in the prone position on her stomach to help her lungs function better—she was shocked by how good she felt.
"My fever had broken, and I felt better, like I could actually breathe," she said. "I still couldn't take a real deep breath yet, but I could actually breathe to where it wasn't hurting."
Her husband asked if she was imagining the improvement, but within days, she was up and walking the property again with the couple's puppy, a German shepherd/yellow Lab mix named Cooper.
Within a week, she was back to her 2-mile daily walk. "Knowing how things were in the past when I had pneumonia, that was a huge turnaround for me," she said.
Cunningham's message to those who are at risk of developing severe cases of COVID-19 is to take action quickly.
"Call your primary care provider and get the treatment early. Don't sit back and say, I'm going to treat this as the flu, because it's not the flu," she said. "The treatment works. And, if we can stop the progression of the disease and get people the antibodies and the medicines they need, then it's a win."
Cathy Dyson: 540/374-5425