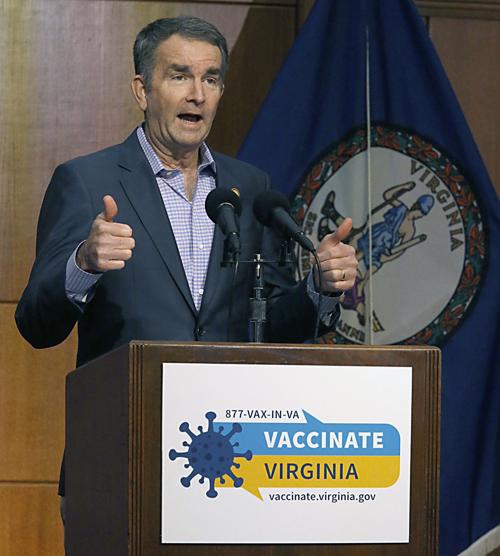 Gov. Ralph Northam is urging state budget negotiators to use additional revenues to raise pay for teachers by 5% and state employees and state-supported local employees by 3.5%
In a letter Friday to newly appointed members of a conference committee to negotiate changes to the budget, Northam praised the House of Delegates and Senate for converting one-time bonuses in his budget "into a permanent increase."
The Senate included raises of 3% for teachers and 3% for state employees and others in its version of the budget. But the governor sided with the House on how much to increase pay, especially with an additional $730.2 million in revenue he identified for the General Assembly at the beginning of this week.
"With the additional general fund revenue available, I ask you to adopt the larger permanent pay increases proposed for teachers, state employees, and state-supported local employees," he said in a four-page letter to House Appropriations Committee Chairman Luke Torian, D-Prince William, and Senate Finance Committee Chair Janet Howell, D-Fairfax.
Torian and Howell will lead a committee of seven delegates and seven senators, as well as two senior senators as advisers, to begin negotiating differences in the revised budgets the House and Senate adopted last week for the current fiscal year and the one that will begin on July 1.
The committee will not include former House Speaker Kirk Cox, R-Colonial Heights, a Republican gubernatorial candidate who was left off after voting against the House budget. He was replaced by Del. Terry Austin, R-Botetourt.
The assembly rounded out the committee late Friday, as it raced to meet a midnight deadline to act on all revenue bills that could affect the final budget.
For example, Howell and House Finance Committee Chair Vivian Watts, D-Fairfax, will lead a conference committee over competing approaches to letting Virginians and businesses deduct some of their expenses that had been paid by tax-exempt, forgivable federal loans under emergency relief packages Congress passed last year.
Northam's administration considers the deductions a double tax benefit, allowed for the first time under a relief package that Congress adopted on Dec. 27. The Senate wants to allow all businesses that received the forgivable loans to deduct up to $100,000 in expenses from their state income taxes, while the House would allow only unincorporated entities to deduct up to $25,000.
Other legislation with financial implications for the budget includes a health reinsurance program that would cost the state $40 million under the Senate's approach, while the House would pay for it with a 1% tax on some health insurance policies to lower monthly premiums for individuals and small businesses.
In addition to teacher and state employee pay, budget negotiators will wrangle over different ways to pay for a state police salary plan. The Senate passed legislation to add a $4 fee on vehicle registrations to pay for the public safety trust fund, but the bill was left to die in the House Appropriations Committee, which has preferred to use general tax funds for the expense.
Northam, who also addressed his letter to House Speaker Eileen Filler-Corn, D-Fairfax, urged budget negotiators to restore money he had included, but the Senate reduced, for Massey Cancer Center at Virginia Commonwealth University and expanded passenger rail service in western Virginia.
He also asked them to restore money he had proposed and both chambers cut for addressing the harm done by slavery and racial discrimination.
That includes a plan to transform Monument Avenue in Richmond after removal of monuments to the Confederacy that had lined the scenic street for more than a century. Only the monument to Gen. Robert E. Lee on state-owned land remains, but the governor is asking the Virginia Supreme Court to allow him to remove it.
"This is a long-term project, and decisions we make now will shape its success over the years ahead," Northam said. "I urge you to demonstrate the commonwealth's long-term commitment by including a down payment to eventually transform the avenue."