Get ready for a tropical soaking throughout Virginia on Tuesday.
As Hurricane Isaias whirled into range of Miami's weather radar on Saturday afternoon, it had the ragged look of a storm that was struggling against the dry winds that surrounded it. By 5 p.m., it was back down to a tropical storm with 70 mph sustained winds.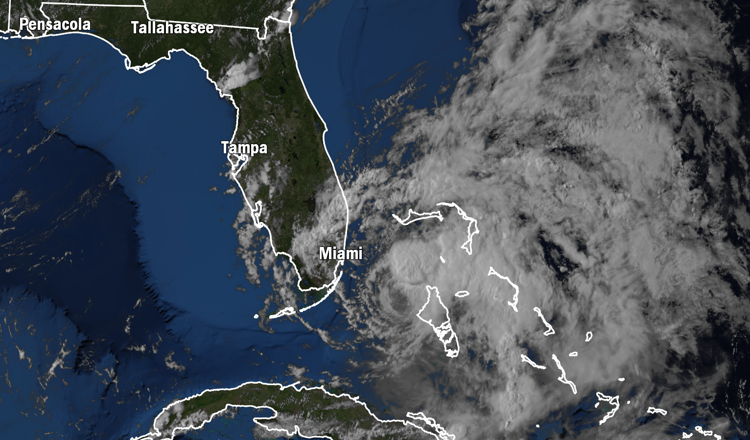 But that weakening wind trend near Florida actually plays into a wetter outlook for central Virginia, once the storm curves northeast on Monday night and Tuesday.
Three trends are coming into view:
• A now-weaker Isaias is more likely to favor the western side of the forecast paths we've seen recently. The center is most likely to remain inland as it parallels the coastline of North Carolina and Virginia, rather than going right over the beaches or staying offshore. A more powerful hurricane might have trended farther east.
• The storm's center will take longer to reach our region than it first appeared, likely crossing eastern Virginia on Tuesday morning and afternoon. But the moist air surging northward ahead of it will meet an approaching front and wring out precursor rains as early as Monday.
• The combination of those trends means a wetter outlook for much of the state and a risk of flash flooding. Many areas will see a few inches of rain during a 6 to 12 hour window, and some could see several inches.
There isn't a great deal of east-west wiggle room in Isaias' future path now. After hugging the Florida coast on Sunday, it will accelerate northeastward between the clockwise winds of a ridge over the western Atlantic, and the counter-clockwise flow around a trough over the Midwest.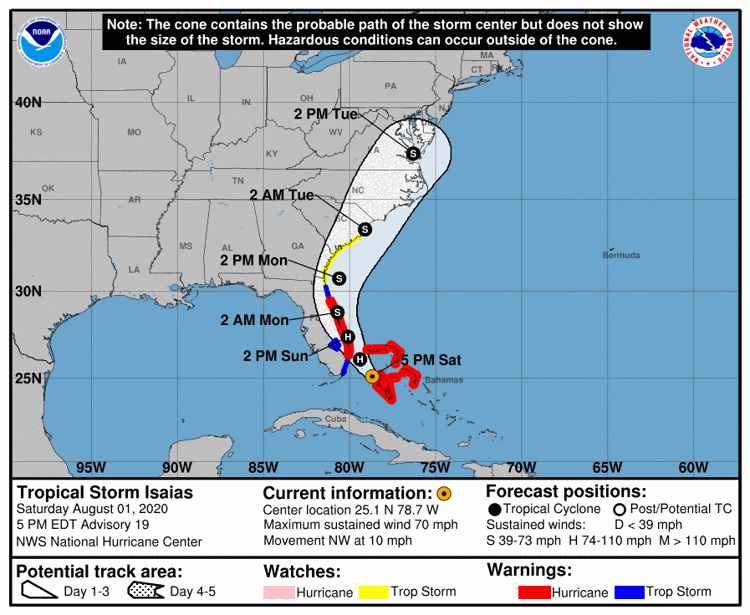 But some uncertainty about its pace along that track has made the arrival time hard to pin down. Now, most computer models bring Isaias' center, and most of its rain, across our region between late Monday night at the earliest and Tuesday evening at the latest.
By Tuesday night, Isaias will race up the Mid-Atlantic coastline and wind up in New England on Wednesday.
Though the waters between Miami and Myrtle Beach are warm enough to fuel a hurricane, the system is more likely to be a tropical storm by the time it affects Virginia. Hostile shearing winds and the interaction with land are the main factors that would keep its intensity in check.
Typically, the higher winds are on the right side of a storm's path. So if Isaias' center travels northeast across the coastal plain, the tropical storm-force winds are most likely to be felt around the Chesapeake Bay and the Eastern Shore.
Richmond should be in line for a breezy Tuesday at the very least, but some higher gusts to 40 or 45 mph can't yet be ruled out. Given the track, the gusty wind potential is much lower for areas west of Interstate 95.
Heavy rainfall is the key thing to watch for inland parts of Virginia.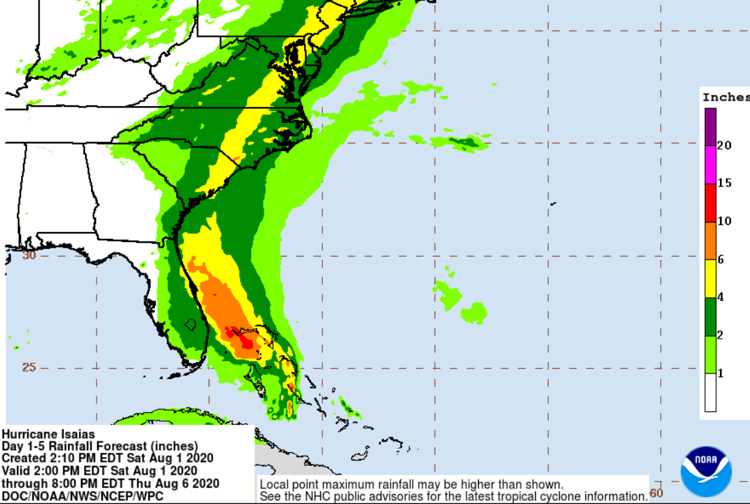 Even though it's been relatively dry across our area lately, tropical rainfall rates of 1 to 2 inches per hour could prove excessive and lead to flash flooding.
Given the storm's size and speed, most of the rain would fall in a window of 6 to 12 hours sometime on Tuesday. The peak rainfall may occur in the morning or midday hours, but that can be better narrowed down by Monday.
Generally, we can expect totals of at least 2 inches on Tuesday throughout central Virginia, with 3 to 4 inches of rain a realistic outcome.
Potentially, that's more rain than Richmond has seen in the past six weeks combined.
In a high-end scenario, a narrow corridor near or just west of the storm's track could see double those amounts. That several-inch rain zone might line up near Richmond, the Tri-Cities, Fredericksburg or Williamsburg if the storm stays on track.
Those heavier amounts are less likely to set up near Charlottesville, Lynchburg and the western Piedmont, but a steady rain of a lower magnitude is still a good bet for most corners of the commonwealth.
The storm's thick clouds and rain could also keep Tuesday's highs down into the mid or lower 80s, something Richmond hasn't seen since mid-to-late June.
It's not uncommon for tropical storms to spawn brief tornadoes. Though specifics are impossible to predict this far in advance, the eastern third of the state may see more of the spin-up tornado ingredients in place on Tuesday.
For Tidewater, the storm's fast movement may keep coastal flooding concerns to a relative minimum, but beaches will see higher surf and rip current danger starting Sunday and the waters will likely be dangerous for small craft by Monday night.
By midweek, the rainfall runoff would lead to higher river levels across the Piedmont. Major river flooding appears unlikely because it's a fast-moving storm, but the pattern of the rainfall will determine which rivers may go into minor flooding.
Hurricane Isaias is now projected to make an even closer pass at Florida on Sunday before veering up the Eastern Seaboard.
Central Virginia looks to be in path of the storm's soaking rain by late Monday and Tuesday, but the windy conditions are most likely to hug the immediate coastline.
In Florida, hurricane warnings are now in effect from Boca Raton to Brevard County.
On Friday afternoon, Isaias had peak sustained winds of 75 mph as its developing eye churned just south of the Bahamas. The National Hurricane Center forecast shows an increase to 85 mph by late Saturday as it continues heading to the northwest.
Its future intensity is still the main source of uncertainty in the forecast, and some new signs point to a lower chance of a full-blown hurricane encounter as it approaches the Outer Banks.
A slight nudge to the west in the latest track means more of a chance it will come ashore in Florida and interact with land, then weaken to tropical storm status as it slides across eastern North Carolina.
In any event, a few inches of rain could soak central Virginia from late Monday into Tuesday, with heavier amounts and flash flooding risks possible across eastern Virginia.
The range of rain possibilities for our area — and scope of other hazards for our neighbors in Tidewater — ought to come into better focus over the weekend.
But Isaias will make its presence felt at the coast even before the breezes pick up. Higher swells and rip current risks would reach our nearby beaches over the weekend in advance of the storm, according to the National Weather Service.
Otherwise, fairly typical summertime conditions can be expected here over the weekend: lower 90s and scattered thundershowers.
Look for more updates throughout the weekend.
Be the first to know
Get local news delivered to your inbox!