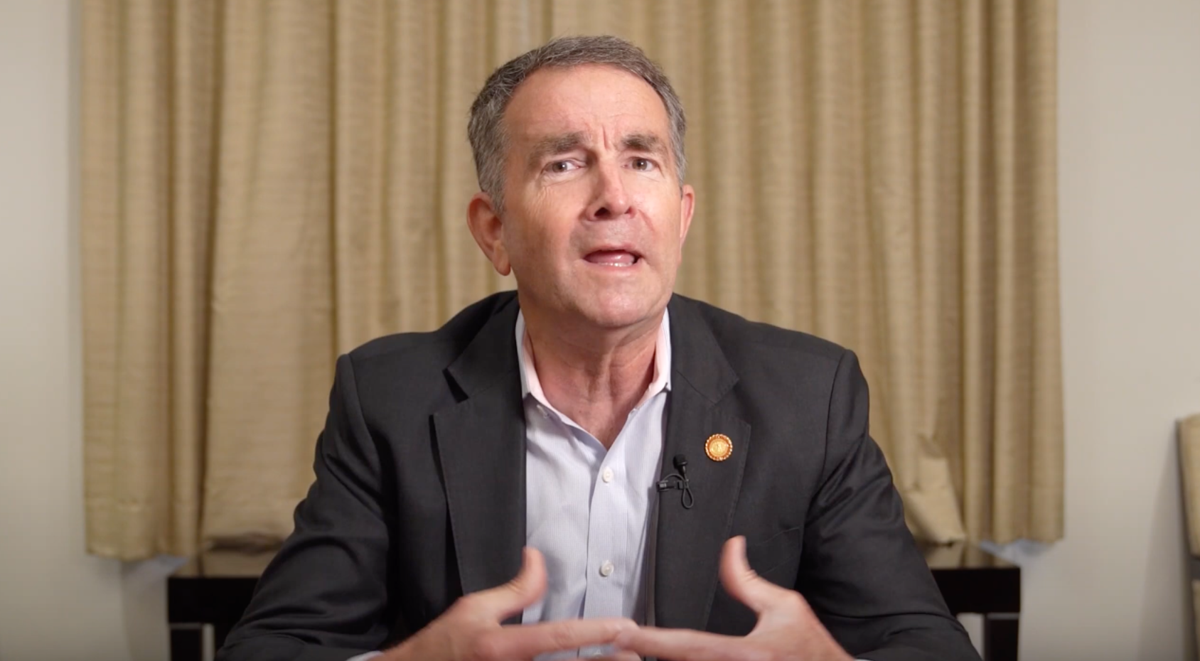 Virginia is officially removing the mask mandate for people who are fully vaccinated following federal guidance released Thursday afternoon. Gov. Ralph Northam also plans to end all COVID-19 gathering and capacity limits in two weeks on May 28.
The change in the state's mask policy will go into effect at midnight on Friday, along with the easing of restrictions on restaurants, entertainment venues and indoor social gatherings already scheduled to occur.
This includes removing the curfew on alcohol sales at restaurants, capping indoor gatherings to 100 people and 250 people outdoors and allowing dining rooms to remain open past midnight.
The criminal misdemeanor attached to the existing mandate will also be lifted, but workers in essential industries - restaurants, retail, fitness, personal care and grooming - are still required to wear face coverings unless they've received the last required shot.
Per CDC guidance, fully vaccinated people also have to wear masks on public transit and in health care facilities.
Masks will continue to be required in K-12 public schools since children under the age of 12 are not yet approved for vaccinations and the 12-to-15 age group became eligible only this week.
Northam spokeswoman Alena Yarmosky said Friday that the decision follows health metrics showing case and hospitalizations counts hitting pandemic lows and vaccinations increasing after a steep decline in demand this past month.
Friday's positivity rate, or the percentage of people testing positive for the virus, reached 3.5% for the first time since the pandemic began.
"Virginians have been working hard, and we are seeing the results in our strong vaccine numbers and dramatically lowered case counts. That's why we can safely move up the timeline for lifting mitigation measures in Virginia," said Gov. Ralph Northam in a Friday statement.
Last week, Northam had indicated June 15 would be the date Virginia would lift all of its restrictions. North Carolina Gov. Roy Cooper rid the state of its mandatory mask requirements Friday afternoon with the exceptions outlined in the Centers for Disease Control and Prevention guidance. All capacity and gathering requirements were also lifted. The CDC advises unvaccinated people to continue wearing masks.
Maryland Gov. Larry Hogan announced Thursday that once 70% of the state's adult population has received at least one shot, his administration will remove the requirement to wear masks indoors.
"I strongly urge any Virginian who is not yet vaccinated to do so—the vaccines are the best way to protect yourself and your community from COVID-19," Northam said. "The message is clear: vaccinations are how we put this pandemic in the rearview mirror and get back to being with the people we love and doing the things we have missed."
Businesses will have the ability to require masks in their establishments and refuse service to those who don't comply but Yarmosky said Virginia will not be requiring a vaccine passport to show documentation of receiving a dose on a statewide level.
Yarmosky emphasized that businesses have the right to ask individuals if they've been vaccinated - a contentious matter among employers and workers in essential industries who have struggled with the complications of being an enforcement arm, which is not a role they signed up for.
One of the best ways to avoid confusion is for Virginians to "go out and get a shot," Yarmosky added, prompting the administration to focus heavily the next two weeks on improving access in populations reporting lower vaccination rates.
The state of emergency - an order allowing residents to wear masks in public, which is banned by Virginia code - remains in place until June 30. Yarmosky said the Northam administration is working to ensure people have the option to wear masks if they choose to do so, whether that be through executive action or another measure.
"We want to reassure folks if you want to wear a mask, you absolutely can and you will be able to do that throughout the summer," Yarmosky said. "It would be hard for me to imagine actively banning face coverings, given the fact that we haven't even approved vaccinations for children under 12."
As of Friday, 64% of the 18-plus age groups in Virginia have received at least one dose, inching toward President Joe Biden's goal of having 70% of adults in the U.S. vaccinated with at least one shot by Fourth of July. But the percentages differ among racial and ethnic groups and localities.
Of the 3.1 million people fully vaccinated, 64% are white Virginians; 10% are Latino; 14% are Black. This figure is about 37% of the total population.
Across Richmond, Henrico, Chesterfield and Hanover County, the gap is even wider, with whites having more than 10 times as many vaccinations as Latinos. In nearly each locality, Black and Latino residents account for the majority of cases.
To address these disparities before the lifting of restrictions, Yarmosky said Virginia is launching a statewide day of action on Tuesday that will include connecting with faith leaders, organizations conducting work on the ground in communities, trusted leaders and more to share information and "push all of their people in a really coordinated fashion … with the goal of being able to lift restrictions in the weeks to come."