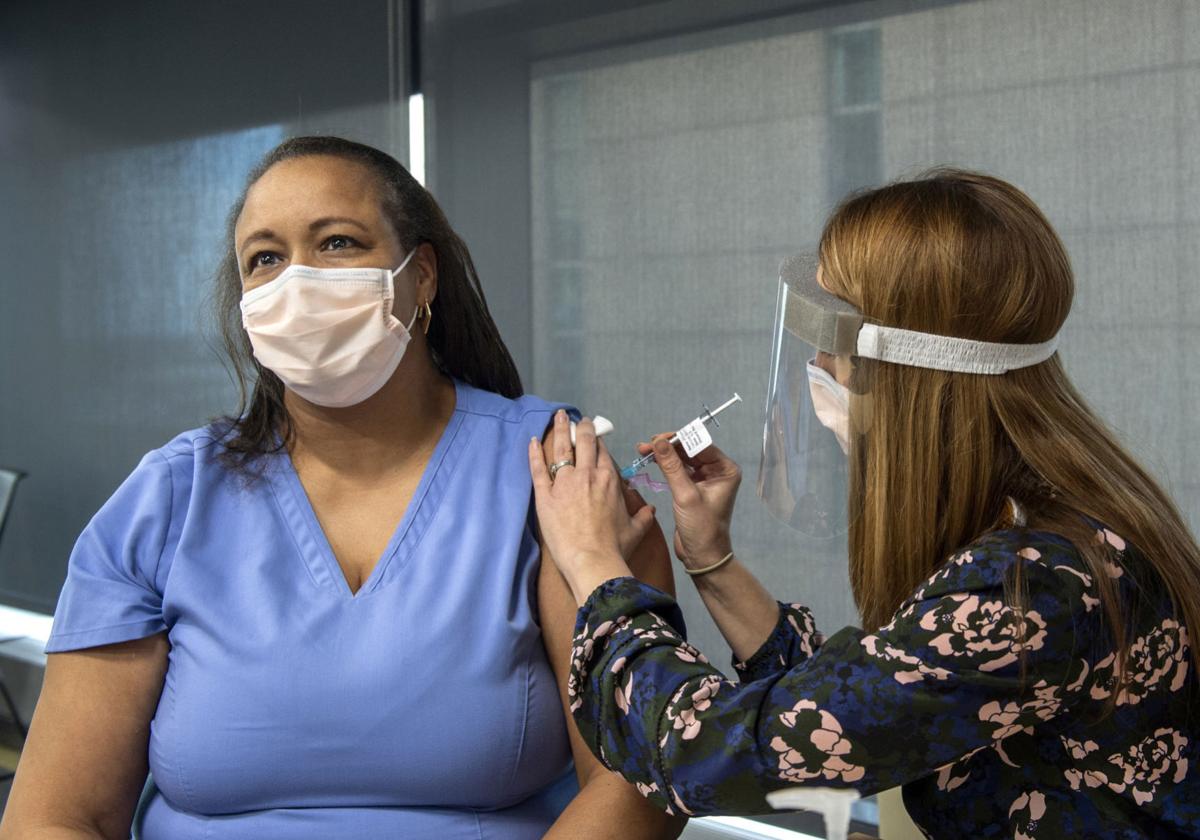 Virginia hospitals urged Gov. Ralph Northam on Monday to accelerate the vaccination of a broad swath of the state's population against COVID-19 and consider further restrictions on public and professional gatherings to relieve pressure on health care providers as a spike in cases threatens to overwhelm them and force limitations on medical care.
The Virginia Hospital & Healthcare Association, a politically powerful trade group for more than 100 hospitals and 125,000 employees, urged Northam to "aggressively" expand the state's vaccination campaign to include all workers deemed essential during the pandemic, people 65 and older, and anyone over 16 with a high-risk medical condition or disability.
In a letter from President/CEO Sean Connaughton, the hospital association also asked the governor to "consider temporarily implementing additional public health measures regarding limits on indoor dining, stricter occupancy limits, expanded use of telework, and requirements for non-essential businesses." It also pushed him to "redouble" efforts to persuade Virginians to follow public health precautions by wearing masks, maintaining social distance with others and washing their hands to control the spread of the highly contagious novel coronavirus.
The hospital association's push for further temporary restrictions comes as a coalition of Virginia business groups urge the state not to make its COVID-19 workplace safety rules permanent, citing distribution of vaccines.
The hospital association's letter arrived the same day that Virginia health officials begin vaccinating people over 75 years old and workers in essential jobs, such as police and other emergency workers, in 11 health districts in Northern and Southwest Virginia as part of Phase 1b of the vaccination priorities adopted in conjunction with the Centers for Disease Control and Prevention.
The proposed expansion of the vaccination campaign to include Phases 1b and 1c would force Virginia to accelerate efforts to immunize millions of people, in addition to health care workers, long-term care residents and the employees who care for them.
"Governor Northam values his partnership with Virginia hospitals and is continuing to work closely with them in responding to the COVID-19 pandemic," spokeswoman Alena Yarmosky said in response to the association letter.
"The Governor just announced new measures last week to increase flexibility in vaccine administration, and continues to actively consider additional measures to mitigate the spread of the virus and protect hospital capacity, as needed."
Northam already has acted to limit indoor dining at 50% of restaurant capacity and imposed a requirement that alcohol sales end at 10 p.m., as well as restricting seating or gathering next to restaurant bars. Virginia also limits public gatherings to no more than 10 people, requires masks to be worn in indoor public places, and limits capacity in other businesses deemed non-essential.
Hospitals suffered multibillion-dollar financial losses last year in part because Northam temporarily prohibited all elective, non-emergency medical procedures to prevent health care facilities from being overwhelmed by caring for patients infected with a virus that subsequently has killed more than 5,000 Virginians.
The association said its members, which encompass 26 health systems, lost $1.8 billion in the first six months of 2020 and estimated total losses up to $3 billion for the year.
Connaughton, who was transportation secretary under Gov. Bob McDonnell, said in the letter to Northam that Virginia "cannot again put our hospitals in the position of delaying care for other health care needs, as we all witnessed the negative impacts and, in some cases tragic outcomes, [which] delayed care had for many Virginians" last year.
"To be clear, Virginia hospitals have the capacity to continue caring for the health care needs of all Virginians, and hospital leadership must be allowed to continue to make facility-level, local, and regional decisions about their operations based on the evolving situation and the needs of their communities," Connaughton wrote.
Spokesman Julian Walker said that hospitals still could voluntarily suspend non-emergency procedures, as they did before the governor imposed restrictions by executive order on March 25 through the end of April. However, they want to forestall the need for more drastic measures taken in other states as the virus has surged since the holidays and coming of cold weather.
"It's the urgency of preventing Virginia hospitals from getting to the point that has been reached in other states," Walker said.