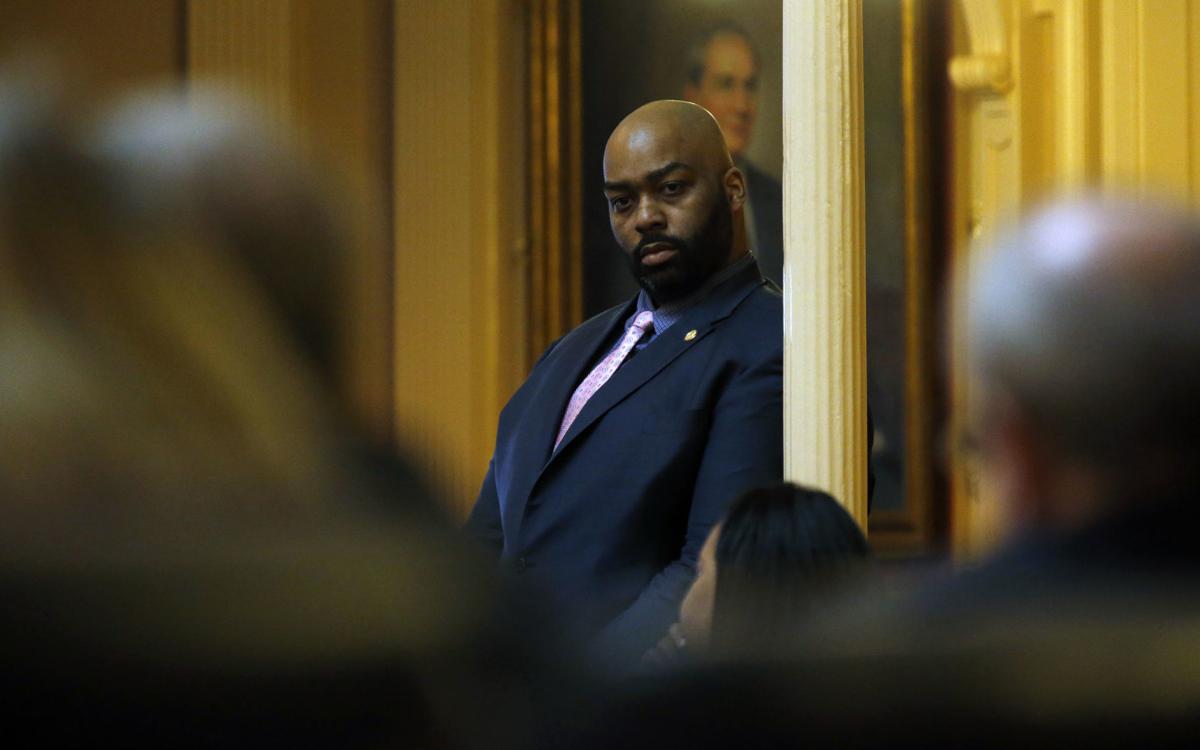 The Virginia Legislative Black Caucus on Wednesday released a wide-ranging list of legislative proposals to reform the state's law enforcement system, urging "a bold swing" towards racial equity and social justice in the state.
The proposals, which will be introduced during a special session this summer, include greater accountability and transparency from law enforcement agencies, and the reallocation of funding from law enforcement budgets to community services.
The 23-member caucus, chaired by Del. Lamont Bagby, D-Henrico, is also urging fellow lawmakers to amp up the legislature's approach to systemic racism in Virginia. The caucus is calling for a declaration of racism as a public health crisis in Virginia, and a plan to address racial disparities across policy areas.
"The Commonwealth is past the point for studies on policing and law enforcement — immediate action must be taken to eliminate law enforcement abuse, prevent and punish racist behaviors, weed out institutional discrimination, and increase accountability at all levels of law enforcement," caucus leaders wrote in a statement.
The country & the Commonwealth stand at the threshold of substantial & necessary social and political change. As leaders, the next steps are to ensure that there is a bold swing towards greater racial & social justice and change across VA.

VLBC Priorities for Special Session: pic.twitter.com/UixOJPyMyy

— VLBC (@VaBlackCaucus) June 24, 2020
The list of proposals comes amid heightened tensions between law enforcement and protesters in Richmond, where 26 consecutive days of demonstrations have occurred, some resulting in violent clashes.
On Tuesday, Gov. Ralph Northam signaled that he backed a stronger law enforcement response to protests that violate the law or police guidelines.
"After three weeks, it is no longer clear what the goals are or a path to achieve them," Northam said during a briefing with reporters. "Clearly, Richmond needs a different path forward. These nightly conflicts cannot continue indefinitely."
The ACLU of Virginia and a coalition of 14 local activist groups, however, this week issued lists of demands for both local and state officials. Many of those demands are included in the caucus' legislative plan.
The caucus is proposing to require that all police departments create civilian review boards to examine police misconduct, and that those boards have subpoena power, a key demand from both groups. The caucus is also proposing to require independent investigations for all police-involved shootings and deaths, a demand from the ACLU of Virginia.
The caucus is also backing legislation to limit the use of sovereign immunity, a part of state law, to shield individual police officers and their governing bodies from civil liability for violations of constitutional rights. The caucus also supports expanding the avenues by which police officers can lose their certifications to do hold their jobs, and expanding the use of body-worn cameras.
The caucus is backing legislation to end no-knock warrants, a proposal born out of the killing of Breonna Taylor by Louisville, Ky., police.
The caucus is broadly pitching a set of proposals to "replace law enforcement's role in certain areas with trained specialists." They include measures to implement the "Marcus Alert," which would require that mental health professionals be the first-responders in the case of a suspected or confirmed mental health crisis. Police would serve as their backup.
The caucus is also proposing to reduce the presence of law enforcement in schools by replacing them with mental health professionals.
Clashes in Richmond between police and protesters have seen the Richmond Police Department — working in conjunction with the Virginia State Police — deploy tear gas, pepper spray and rubber bullets to deter demonstrators or disperse crowds.
On Wednesday, the Black Caucus said it planned to introduce legislation to restrict "the use of tear gas and militarization tactics and weapons against civilians."
The caucus also plans to introduce legislation that would make it a hate crime to make a false 911 call based on a person's race.
On the topic of criminal justice reform, the caucus is planning to introduce legislation to reinstate parole in the state — the topic of an ongoing study the General Assembly sponsored earlier this year.
The caucus is also supporting the legalization of marijuana. During the regular 2020 session of the General Assembly, Democrats opted to decriminalize marijuana, declining to fully legalize the substance. In the House, that bill was introduced by Majority Leader Charniele Herring, D-Alexandria, who is a member of the Black Caucus.
"The people have taken to the streets for weeks to raise their voices in protest to demand drastic change," the caucus said in a statement. "This moment is calling on leaders to combat institutional racism and societal discrimination that exists in the criminal justice system, economic structures, housing, education, in health care, mental health, in environmental policy, and many other areas."
(804) 649-6254
Twitter: @MelLeonor_
Be the first to know
Get local news delivered to your inbox!