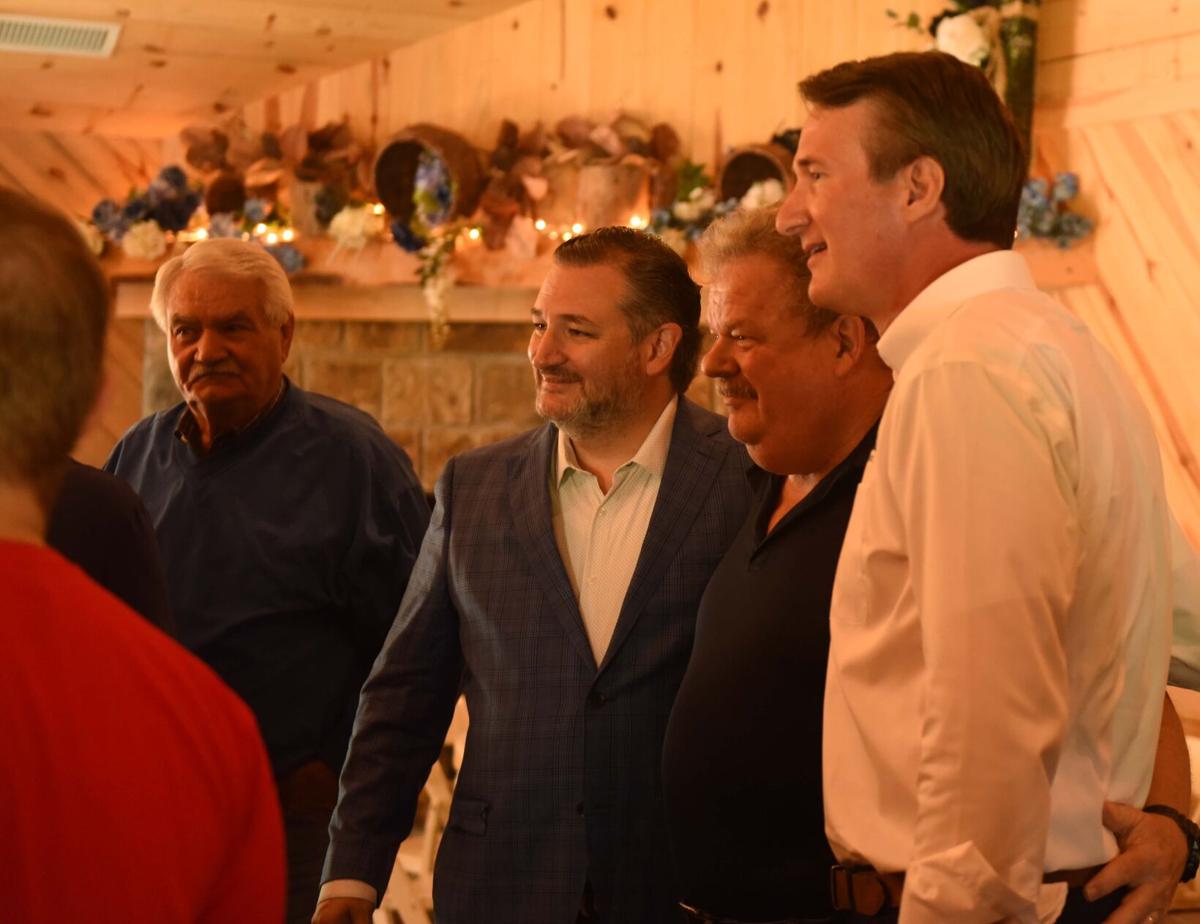 Former presidential candidate and Texas Sen. Ted Cruz came to Pittsylvania County on Thursday morning to put his weight behind a Republican gubernatorial contender.
Glenn Youngkin brought the political heavy-hitter with him to his campaign event at Owen Farm Loft, where about 100-150 people — with none of them wearing masks inside the event barn — attended at the idyllic location off Martinsville Highway.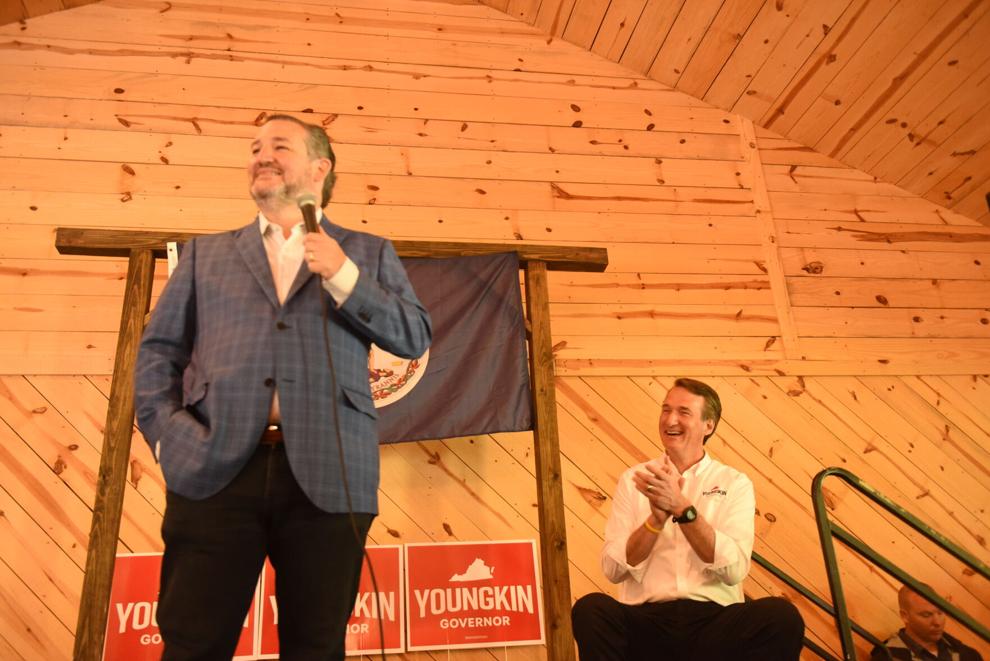 "In Virginia, you guys have an amazing candidate for governor," Cruz said. "He's a businessman. He's created jobs all over the country."
Calling the administration of Democratic Gov. Ralph Northam "a national disgrace," Cruz said Youngkin would protect free speech, religious freedom and Second Amendment rights.
"The reason he's doing this is because Virginia is in crisis," Cruz said of Youngkin's run for governor.
Cruz also took the opportunity to poke fun at dysfunction in Washington D.C. — "a city that combines Southern efficiency with Northern hospitality," he said — and blast President Joe Biden.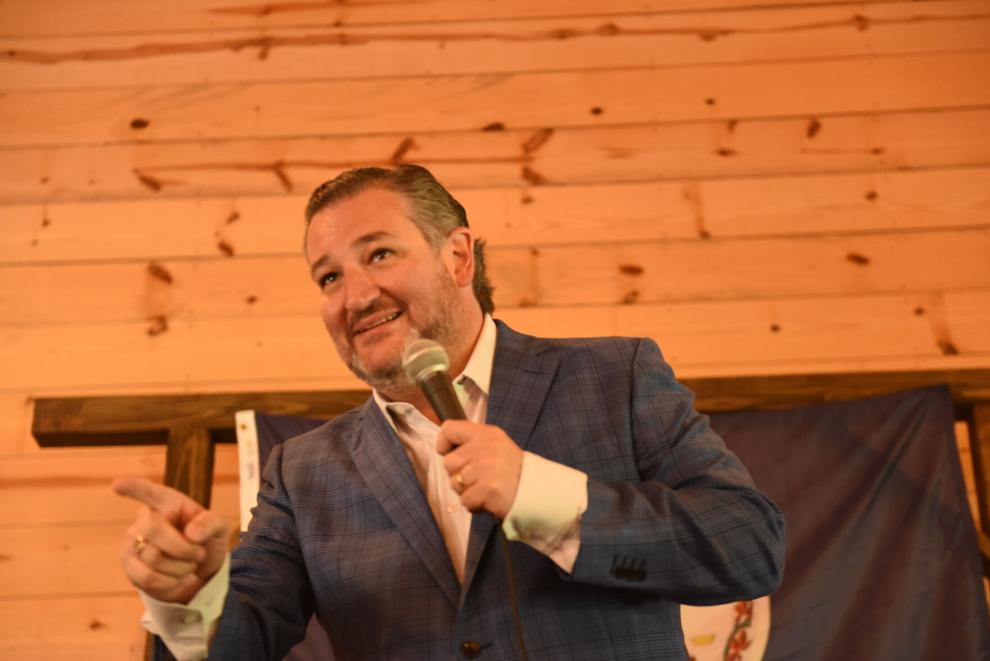 "Think how bad it's going to be in the next 100 days and the next 100 after that," Cruz said, alluding to Biden's first 100 days in office.
He didn't miss a chance to throw "red meat" statements to the eager crowd, saying the "inmates are running the asylum" in Washington, D.C. "Please don't tell the Democrats what comes after a trillion," he said. "There's a politically correct term for illegal aliens: It's called 'undocumented Democrat.'"
He took a jab at 78-year-old Biden's advanced age.
"Biden had brandy with Abraham Lincoln," he said, and the crowd erupted in laughter.
After taking the governorship in 2021, the Republicans will send Rep. Nancy Pelosi, D-California, back home in 2022 and Biden back to Delaware in 2024, Cruz said.
After Cruz's rousing remarks to the crowd, Youngkin said at the start of his speech, "In case you don't know, my name is Glenn Youngkin and I'm running for governor. I'm a home-grown Virginian."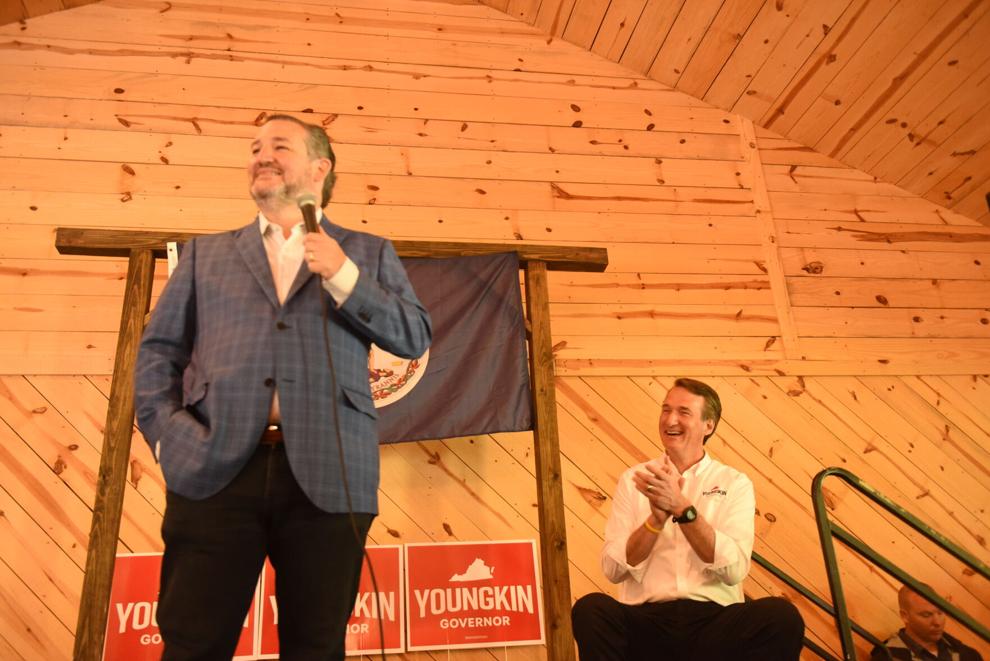 Youngkin, who grew up in Richmond and Virginia Beach, worked at The Carlyle Group for 25 years and played a role in making what the company's website says is one of the leading investment firms in the world.
He has 30 years of business experience.
"Our beloved commonwealth is in a ditch," Youngkin told the crowd, adding that he planned to beat former governor and Democratic candidate Terry McAuliffe in the general election.
McAuliffe, Del. Lee Carter, Lt. Gov. Justin Fairfax, state Sen. Jennifer McClellan and former Del. Jennifer Carroll Foy are all seeking the Democratic nomination for governor.
On the Republican side, state Sen. Amanda Chase, former Virginia House of Delegates Speaker Kirk Cox, U.S. Army Col. Sergio De La Pena, Peter Doran, Octavia Johnson, Pete Snyder and Youngkin are seeking the nomination at the state convention this Saturday.
Pointing out he has traveled 23,000 miles in 14 weeks during his campaign, Youngkin said elections have consequences and that the past eight years of the McAuliffe and Northam administrations "have been crushing."
"I'm going to work for you," Youngkin told attendees "Virginia will be open, businesses will be open, schools will be open."
He added that his administration would rebuild, revitalize and reinvigorate Virginia's economy.
Northam spokesperson Alena Yarmosky pushed back at statements made by Cruz and Youngkin.
"I hope Ted Cruz enjoyed Danville as much as he enjoyed Cancun," Yarmosky said via email Thursday, taking a jab at Cruz's trip to Mexico while there were power outages in his state following winter storms earlier this year. "I would note that Virginia is currently the number one state in the nation for business [over Texas], has the lowest unemployment rate in the mid-Atlantic, has vaccinated 60% of all adults [it's actually 46% of the population having at least one shot and 33.3% fully vaccinated], has among the lowest COVID-19 case and death rates in the nation, and has brought in over $10 billion in capital investment during 2020 — at the height of the pandemic. Like most Americans, I have no idea what Ted Cruz is talking about."
During his speech, Youngkin said he would stand up to "big tech," referring to complaints from Republicans over the refusal of social media giants to publish disinformation.
He also touted his "pro-life," or anti-abortion, views.
"We are going to stand up for the unborn because if we don't, who will?" he said.
Pledging to pass election reform in Virginia and to test and audit voting machines, Youngkin said, "If you're dead or you move away, you will not vote in Virginia."
Attendees interviewed by the Danville Register & Bee said they came to the event to better decide who to support for governor.
"I just need to know more and find out where he stands on things," said Renee Veasey, who lives in the Mount Hermon area and is a delegate to the Republican convention that takes place Saturday.
Of Cruz's visit for Youngkin, she said, "It's great. That does make me lean more towards him."
DeAnne Liberty, who is also a delegate to the convention, said, "Ted Cruz was a big pull for me."