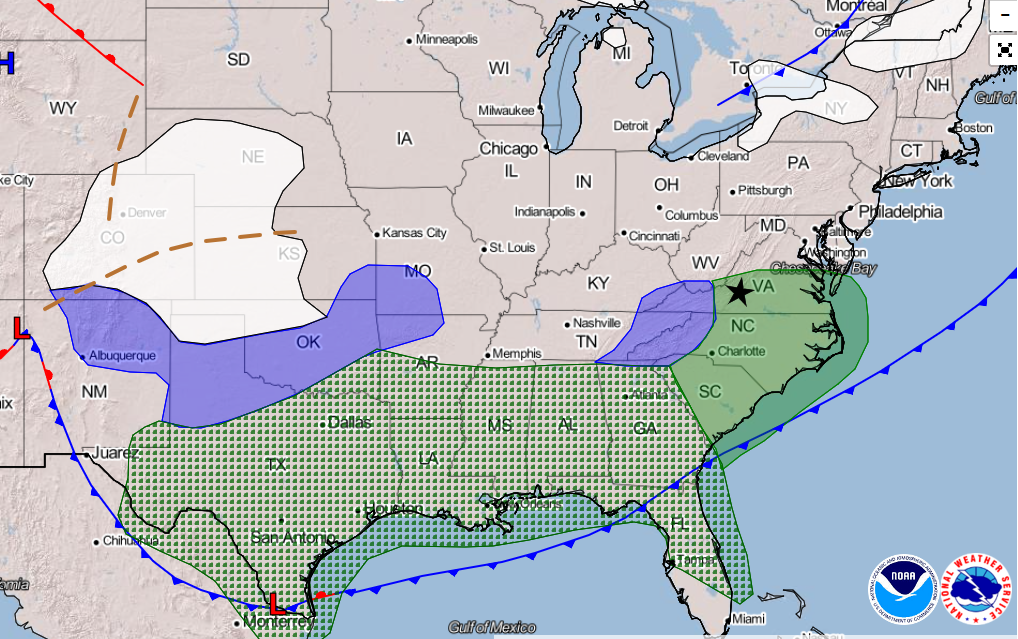 This week's order of atmospheric festivities will be similar to last week's, moved up by a day.
The early week will be mild, with 50s to lower 60s highs. Chances of rain pick up Tuesday into Tuesday night, lingering into Wednesday — not huge amounts, mostly under an inch. Then it will turn cold for late week. This kind of week actually isn't unusual for mid to late February. 
The most interesting feature of the week is some potential for a wave of low-pressure aloft to sweep some Gulf of Mexico moisture northward up and over the newly chilled air mass late Thursday. The forecast models have sortakinda been showing this for several days, mostly focused on states to our south, not getting this far north. Last night's European model, however, did brush some light snow across the southern half of Virginia on Thursday evening.
Overrunning moisture setups often tend to overperform their modeling in intensity and areal coverage, even pretty late in the game. Our last major snow event, Dec. 9, 2018, was an overrunning situation — don't get excited, 15 inches is NOT happening this week — and as you may recall, there was lots of forecast flipping among various entities until the last 24-36 hours before the storm, when everything was up, up, up and still didn't quite catch reality, which was heavier and farther north than almost any forecasts.
We're not quite yet at the point of confidence that this overrunning event will actually occur or, at least, reach our latitude. Your smartphone app or even the National Weather Service forecast may not even reflect any possibility of precipitation Thursday. But be aware there is a hint of something there that might grow in days ahead, or fade away entirely. Even if something does develop with this, we're probably talking light amounts and definitely marginal temperatures — like I said, NOT 15 inches, and maybe not sticking much at all. If it overperforms too much, the snow could end up north of us with our region in another cold rain. (Scraping south of us with rain/snow mix is the more likely scenario, as of this Monday AM writing.)
Long term, there are some growing indications the winterlong mild pattern is unraveling a bit, not yet to the point of a late-season all-out wintry snap, but at least to the point of occasional cold fronts with at least some Arctic input keeping warmth from running away with itself, and periodic precipitation chances.
Can at least one of the wet systems time with a cold period for a substantial snowfall? That is the lingering question as a mild, almost snowless 2019-20 winter begins moving toward spring.