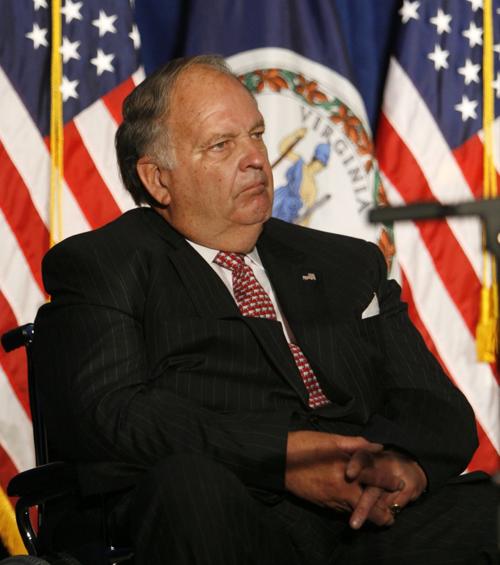 In May 1998, John Hager gave the commencement address at Southern Virginia Community College's Christanna Campus. Toward the end of his speech, he told the 286 graduates and their 1,000 guests that "The last four letters in American are i-c-a-n." He added, "That spells two words: I can. Do what you can."
Hager, 83, who passed away on Aug. 23, lived those words his entire life. Although confined to a wheelchair, Hager never let that slow him down.
He was born in Durham, North Carolina, but John Hager was a true son of Virginia. With his passing, the commonwealth has lost a devoted public servant; the Republican Party has lost a stalwart; and the Hager family has lost a beloved husband, father and grandfather.
In a statement released Aug. 23, Gov. Ralph Northam praised Hager, "Anyone who worked in Virginia politics quickly learned that John was everywhere, and no one outworked him. He earned victory and knew defeat, and he kept going. John held fast to his principles, and he knew when to reach across the aisle to compromise. Our country misses his example."
From his earliest days, John Hager was a dynamo of energy. He graduated from Purdue University in 1958. While there, he not only served with the school's Army ROTC unit but also was a member of the Sigma Alpha Epsilon fraternity and ran a vending machine business. Following his graduation, he later earned an M.B.A. at Harvard University and served in the U.S. Army, rising to the rank of captain.
In 1971, he married Margaret "Maggie" Chase. They had two sons: John and Henry, who is married to former President George W. Bush's daughter, Jenna. In 1973, Hager contracted polio and as a result was wheelchair-bound for the rest of his life. But he made the decision early on not to let the wheelchair define or limit him.
While working as an executive for the American Tobacco Company in Richmond, he became active with the Republican Party of Virginia. He was elected lieutenant governor in 1997 and later served as director of Virginia's homeland security under Democratic Gov. Mark Warner. Former Richmond Times-Dispatch reporter Tyler Whitley noted of him that "where one or more Republicans gather," Hager would likely be there.
In 2001, Hager ran for governor, but lost his bid to then-Attorney General Mark Earley. In 2004, Bush appointed him assistant secretary of the U.S. Department of Education's Office of Special Education and Rehabilitation Services. Hager resigned in August 2007 following his election as chairman of the Republican Party of Virginia. He served as party chairman for one year, but was forced from the seat in 2008 by a staunch conservative candidate when the state GOP began its hard turn to the right.
In 2016, Ross Mackenzie, editor of the Editorial Pages for the Richmond News Leader (1969-1992) and The Times-Dispatch (1992-2007), wrote a forward to Hager's memoir, "Best Seat in the House," that was published the following year.
In those introductory words, Mackenzie informs the reader, "One searches [John's book] almost in vain for the phrase 'why me?' His story provides compelling testimony to the virtue of 'press on.' He cleared each of the multitudinous, seemingly mountainous obstacles in his path to fashion perhaps the most affecting and consequential Virginia public/private/political career of his generation." As Mackenzie noted then, "[John lived a life] of grit, gallantry and grace."