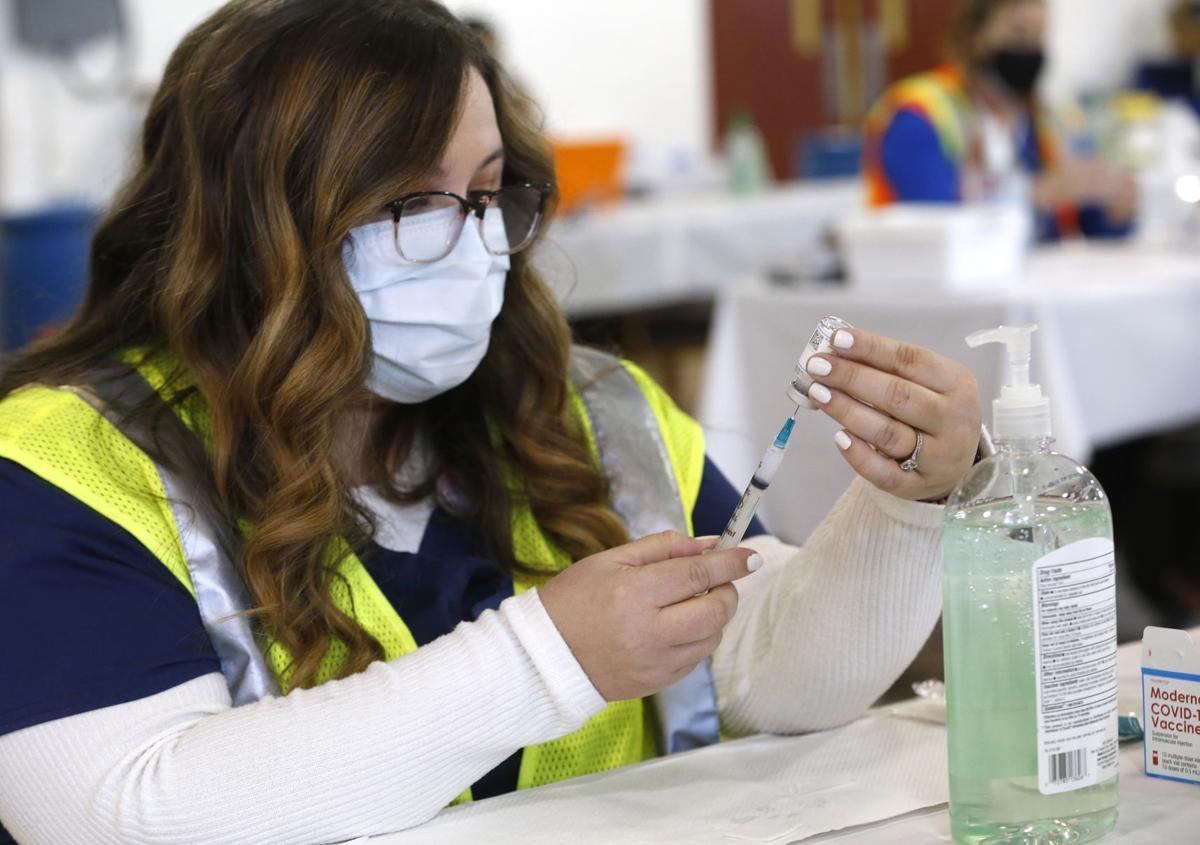 With March nearing a close, Virginia has reached another milestone in the race to get COVID-19 shots in arms.
As of Friday afternoon, the Virginia Department of Health (VDH) vaccine dashboard showed more than 1 in 4 people in the commonwealth (2.231 million) have received at least one vaccine dose. More than 260,000 of those people live in the city of Richmond, and the counties of Henrico, Chesterfield and Hanover.
But some of the stories behind where and how people are getting vaccinated continue to be beyond imagination. The state has to let localities lead and implement solutions — when and where they can.
Health care should be a local endeavor built on trusted relationships with community institutions. That notion came to life in January, when Henrico County Manager John Vithoulkas, Westwood Pharmacy and Richmond Raceway joined forces to turn the NASCAR track into a mass vaccination site.
At the time, state officials were reeling from a slow vaccination rollout. There were severe supply shortages and fragmented local health district efforts to gather interest in vaccines. In two months, the raceway has emerged as a truly successful case study of how to get shots in arms in warlike fashion — 700 per hour.
"As we have been reminded many times over the past year, this pandemic requires coordination and cooperation of every segment of our community," Vithoulkas said in a January county news release. "Local governments have accomplished more by working regionally with the support and assistance of state and federal agencies."
Recent events make us wonder: Could the state do more to accelerate that principle?
For some localities, state and federal aid — such as new Community Vaccination Centers (CVCs) in Danville, Petersburg, Portsmouth and Prince William County — might need to be the largest, steadiest hand steering the vaccines. But other localities appear hamstrung by the current system, especially ones living week to week with massive waitlists, greater capacity to deliver shots and yet supply levels that fall far short of what's possible. We need less software and bureaucracy, and more local relationships that maximize efficiency.
Some parts of Virginia have suffered unacceptable supply-and-demand imbalances. The Northern Virginia Regional Commission — a council of 13 local governments in the Washington, D.C. suburbs — recently issued a letter to Gov. Ralph Northam pleading for more doses to keep pace with swelling waitlists. As of March 19, more than 340,000 Virginians across the city of Alexandria, and the counties of Arlington, Fairfax, Prince William and Loudoun, were registered but still waiting.
Other parts of the commonwealth are seeing geographic mismatches. Henrico is paying for operations at Richmond Raceway, but serving people from across the commonwealth. And some Virginians who live minutes away from a suitable location have had to travel unnecessarily long distances.
"We've got people that live next to the raceway that have been told 'Go to Petersburg' to get your vaccine," Vithoulkas told RTD Opinions earlier this week.
"I was hearing from John Doe next to one pharmacy, which was within walking distance of his home," Joe Casey, Chesterfield County administrator, added in a recent interview. "His appointment with a pharmacy was on the complete other side of Chesterfield and vice versa."
Finally, there are areas where demand issues have disrupted the prioritization structure. Earlier this week, rumors floated across social media that the new Danville CVC had an oversupply of vaccines. To avoid expiring doses, the site reportedly began accepting walk-ins, with University of Virginia students among the beneficiaries.
The Blue Ridge Health District (BRHD), covering the city of Charlottesville, and Albemarle, Fluvanna, Greene, Louisa and Nelson counties, pleaded with Virginians to follow the eligibility parameters.
"We ask everyone to respect VA's guidelines for getting vaccinated," BRHD tweeted on Wednesday. "The wphases were created to ensure people at greatest risk of COVID-19 get a vaccine first."
That same day, the VDH and the Virginia Department of Emergency Management issued a joint statement, urging people not to travel to CVCs "without an official appointment or invitation."
"Fluctuating registration numbers in the initial stages of site operations have allowed for walk-ins in some isolated instances, but this is no longer the case," the release said. "Each clinic in Virginia has a plan for how to administer any unused doses at the end of the day, so that eligible individuals are prioritized."
Our questions are: Who is managing these plans and how well are they working?
Don't make seniors drive 40 miles. Call Chesterfield County Fire & EMS and ask how its Mobile Integrated Healthcare team is giving shots to people in the comfort of their homes.
Don't make people drive past their local community institution. Delegate some of the logistics, especially to localities like Henrico that made sound moves early on to help the state's broader cause.
Don't fail to learn from any mistakes that contributed to what happened in Danville, and then led to moral conflicts over wasted shots versus the ethics of going out of turn.
Getting vaccinated is the right thing to do. Throwing out a dose is the wrong thing to do. Letting localities lead and implement solutions — when and where they can — will help make the process more efficient.