The tones were somber but powerful, important and irrepressibly necessary.
If you haven't seen these 4 minutes of video from Dr. Sheranda Gunn-Nolan, please pause and watch them. Listen to what she is saying and heed her wisdom.
This is Sunday morning, and it's time for your sermon from the pulpit of the chief medical officer in Danville and Martinsville for Sovah Health. That's who Dr. Gunn-Nolan is.
But if it were up to us, we might add one more title: leader.
We don't know how Gunn-Nolan got the assignment of speaking for our best interests in our life-and-death struggle against the killer COVID-19. Yet this role seems to have been ceded to her, or perhaps assumed by her as if a directive from Hippocrates.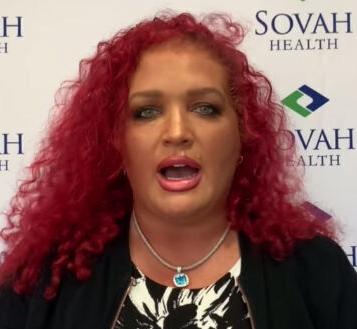 Someone needs to lead, and no one else is doing much of it.
We've cajoled the mayor of Danville and the chair of our boards of supervisors, and we've heard at least one council member plead with the community to get vaccinated — while sitting in a room of mostly unmasked onlookers.
We haven't heard any of our elected representatives in Richmond — and there are four of them in our fragmented electoral map — taking up this cause and inspiring action. They sometimes play the political windage, and in our neck of the woods, those winds are blowing us down that path of good intentions. We saw enough of that in 2020.
We don't even hear from district medical officers until we ask.
That's why we need Dr. Gunn-Nolan to prescribe just what we need to heal. She may disperse her words carefully and sensitively, but our community is sick with irresponsibility and impudence. And we won't help ourselves get better.
You can deduce that from Dr. Gunn-Nolan's video. She tells us that we are having sicker patients from COVID-19 these days.
That there are nearly 50 patients as of her report in those two hospitals is not overwhelmingly shocking. That a plurality are in intensive care is ever more frightening, but we've been there and seen that. Then she tells us that people in their 30s are dying.
Our Pittsylvania-Danville Health District is averaging about 64 new cases a day, but did you know nearly 15% of all cases have been children between birth and age 19? Have you seen the hundreds of cases and quarantines that are infecting our schools despite indoor mask mandates? We've had more deaths in the first half of this month than we had in the past nearly three combined.
We are moving in the wrong direction, and Dr. Gunn-Nolan stands before microphones and tells us why: We don't have enough people vaccinated, and we are being ridiculous and even irrational about it.
Some of that we embarrassingly knew. We are 18 months into the pandemic as of this week and nine months after vaccine started to be widely distributed, yet not even half our residents is fully vaccinated.
But then Dr. Gunn-Nolan added something new — actually our leader LED with these comments — that really put our poor performance into a pitifully poignant picture.
She said the biggest question that hospital was getting was about ivermectin, that drug used to treat infections in horses. Some have suggested it was remedy COVID-19.
As if something like that really needed to be asked of a medical professional.
Ivermectin will not be used by the hospital. It is not approved for treatment. You shouldn't take it. It has side effects. As if her having to say that weren't unbelievable on face value, Dr. Gunn-Nolan added this:
"We do have preventative measures for COVID-19, but taking ivermectin at high doses is not the answer. This itself can be fatal."
But then she came to a different issue, one that made us feel sick in a whole different way.
"In the last year we have had prayers and gratitude for those risking their lives to treat our community and fight this fight.
"But unfortunately something has changed. The threats. The lack of gratitude, just the nature of communication that is happening right now can't continue."
She said our "health care heroes" are tired, that they've been fighting this disease for almost two years and that "community plays a big part in how we accept that and continue to fight the fight."
We can't fathom she felt the need to say: "Be kind. Say thank you."
Gunn-Nolan asked that we realize workers in these hospitals are doing all they can to save our loved ones, "and they do that whether your loved ones are vaccinated or not. Care is not differentiated."
"My ask is … that if you are entering our building to visit a loved one, that you show a little thanks and gratitude for those who are caring for someone you care about."
That kindness would go a long way, but we can show our kindness in a different and more effective way.
"All it takes is rolling up a sleeve," she said. "If not for you, do it for those you love."
Our leader has spoken. Be kind. Get your shot. Live.
Steven Doyle is editor of the Martinsville Bulletin and the Danville Register & Bee. He can be reached at 276-638-8801, ext. 245.