You've probably heard about the lotteries and gift cards. Maybe you heard about free tickets and admissions to events. We bet you really paid attention when they mentioned free beer.
Governments all over the country — states, cities, towns, counties — are stepping up to get their citizens into clinics and inoculated against COVID-19.
In some cases, the event and the shot are one in the same: Get your shot and go right in.
We admire the ingenuity and the public commitment to doing the right thing.
And we think there should be more of that. Like right here in River City, as the Music Man once famously told us.
We are past time for Pittsylvania County Board of Supervisors Chair Bob Warren and Danville Mayor Alonzo Jones to stand up and lead the band and offer ideas and inspiration to keep our immunizations moving up with more urgency.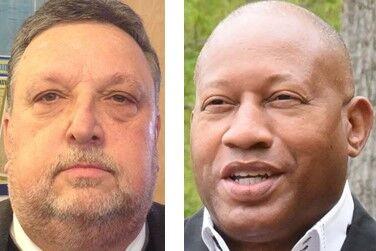 So, guys, what's in your pockets?
What incentives could you push from your governmental bodies to help spread the message that everyone 12 and older needs a couple of shots of Pfizer or Moderna or one of Johnson & Johnson?
That hasn't been happening, you know. In Danville there are about 24,500 who haven't had a shot, so 27,900 aren't fully vaccinated.
In the county those figures are, of course even higher: 36,835 and 40,847, respectively. That means the number of people in Pittsylvania County who have not been fully vaccinated is roughly equal to the entire population of Danville.
The city has about 41% to have had a shot vs. the county's 39%, and the percentage of fully vaccinated are about equal — just north of 32% — or 12 points below the state average.
Those are damning statistics, moral failures, unacceptable progress when compared to Virginia as a whole and the nation as a whole — that figure is 41%, BTW.
Think about that. Do you want those grades on your permanent records?
So what are we going to do about this?
So far, other than a comment here and there, we haven't seen you doing much of anything. And you should be doing all you can.
This is a matter of the greatest public good, and that's why you were elected: to make sure that you take care of your citizenry to the greatest public good.
Now we will give credit where credit is due: You've had your shot — at least we were told you have — and that's a great example. Such moments are important. We wish more of our state and national leaders and influencers — those who have a stage and a microphone — would exemplify and amplify that moral cause.
We also realize that you, as individuals, aren't really all that powerful. You were elected by your peers to lead them and run their meetings, not really by the public in the way that a governor or president is. You don't have authority, but you certainly have moral culpability.
We see leadership in many local communities emerging from medical groups, which is expected. How in the world would a medical employee not be vaccinated? That should be a term of employment.
We see nonprofit organizations taking charge. PATHS has been wonderfully strong in leading vaccine distribution across the region with both its mobile clinic and events. Others have staged drive-thru shots at churches, community centers and in plain old parking lots.
The school systems have staged clinics, helped share information with families about vaccinating their kids and, if the timing had been better in the expansion of the virus to more teens, they probably would've done even more.
We wish the schools would require all teachers to be vaccinated as a term of employment. We wish vaccination requirements for school districts would be amended beyond DPT etc. to include COVID-19 for students. Given your boards' oversight of schools, you could help with those, too.
We hear from ministers, from proactive business owners, from concerned citizens. What can they do to help get more people vaccinated and make our communities safer?
But only you can answer that. Will you?
Is it that you think this is a state matter and not your responsibility? Have you've ceded the responsibility to VDH or the health district?
You shouldn't. This is a defining moment for your leadership. You can use this as an opportunity to establish your imprint and create a legacy.
Lest we forget, today is the 77th anniversary of D-Day, when thousands of men manned landing craft and stormed the beaches of Normandy to turn back the infection of Nazi Germany and, ultimately, bring the end of World War II.
Load up, gang. It's time you stormed the beaches of COVID-19 and helped push the virus back into oblivion.
You have that power. Use it.