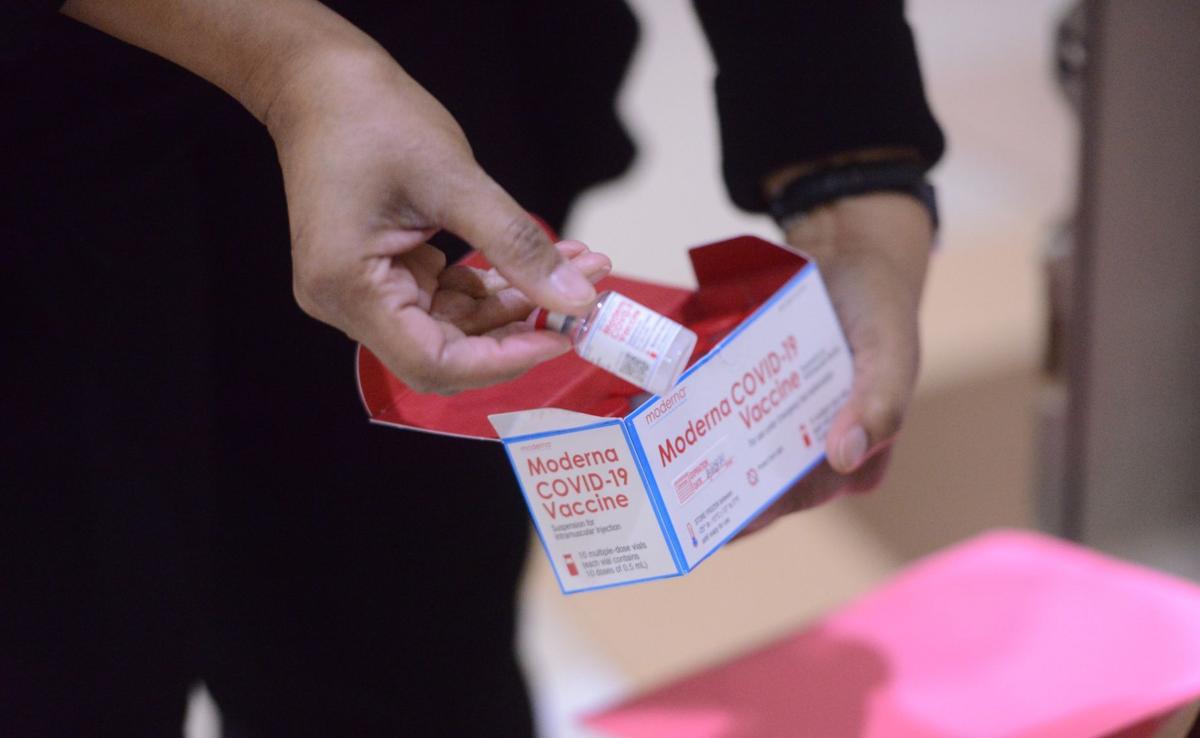 COVID-19 vaccines are available to anyone 16 and older these days. Soon that age will be lowered to, well, everyone. That's a really beautiful thing.
Doses are flowing into the region, and what we want to see is that our residents flowing to vaccination sites to get their shots and eradicate this blight of our lives.
But what are we seeing and hearing?
That in some areas vaccine is not being requested at the same rate that it was, that some are opting not to get vaccinated.
Surely we aren't hearing this correctly.
Because we can't really understand that thought process. Sure, there are a very, very few of us who have allergic issues that must be considered. Maybe you know someone. Maybe 1 in 100 of us.
But not the other 99, and right now, more than two thirds of us haven't gotten our first shots.
And we want to know why you are avoiding this. Your neighbors want to know why. Your elderly relatives want to know why.
Yes, for some there are post-second-shot hints at what COVID-19 can deliver. If you are among those of us who have suffered for 24 hours after the shot, blessings.
But think of how that would be if you had to endure those symptoms constantly and increasingly. We don't wish that sort of ailment on anyone.
Look, we hear some of you argue that whether to get vaccinated or not is a personal freedom.
We are 100% in support of freedom.
And, yes, you are free to make that choice.
But it's the wrong choice.
What are you doing? Practicing for a run for Congress?
The fact is that not getting vaccinated could affect our personal freedom far more negatively than getting one.
Think about, for instance, if the pandemic re-surges, as some scientists are suggesting it could, and then there are further restrictions on activities.
Loss of personal freedoms.
Side-eyes glances at those of us not wearing masks (even after the shots, we should do that, by the way).
Vaccination is our ultimate ticket to ensuring personal freedom. So we have to buy that ticket.
Look, this is simple. We celebrate our unencumbered freedom, but we have to pay our shares of the price of that freedom and accept the responsibility that goes with that.
Remember when our parents helped us get a driver's license. They gave us a few rules to follow. Like maintaining the vehicle, keeping it clean, ensuring our passengers were responsible and staying in touch about our whereabouts. There were tradeoffs for the freedom to drive.
But as we showed we could do those things, the restrictions loosened, and we were free to do as we pleased within reason.
Well our personal freedom in general requires similar agreements.
And, now, we have to get our shots.
Those are the price tags. The cost doesn't get any more basic.
Still we hear some loudly proclaiming that personal freedom is not to be diluted by anyone or anything.
That's why you wouldn't wear a mask when it was so clearly the adult thing to do.
Similarly – and topically — that's why you argue that there should be no restrictions on who can own what type of weapons. The Second Amendment is all-encompassing to your personal freedoms.
Well, we aren't talking about infringing on your rights to do anything.
But without being vaccinated you could be carrying a deadly and very concealed weapon, an assault weapon that can deliver deadly munitions to multiple people at once.
Have you thought about that? Your body could be a deadly weapon.
And no one has licensed you to do that.
And all you're being asked to do is act responsibly.
Here's where we stand as of Friday:
Across Virginia about 35% of us have received at least one shot of Pfizer, Moderna or Johnson & Johnson vaccines. Just less than 20% are fully vaccinated.
In the Pittsylvania-Danville Health District, though, the one-shot number is less than 31% of the population, and 18.2% are fully inoculated.
Oddly, a higher percentage of city residents have received their first shots, and a higher percentage of county residents have received both.
No matter, that's not good enough.
We've been doing this for nearly four months now. The daily average of vaccinations statewide actually DECLINED this week, even as the audience for those shots expanded dramatically with the move into Phase 2 (everyone 16 and older) in the health district.
Experts tell us that the goal is to have 70% of us fully vaccinated, which would get us to the so-called "herd immunity" and render the virus helpless and send it into the history books.
And doing so also would gird us for the next assault by some unknown agent that invades our populace and tries to steal our freedom.