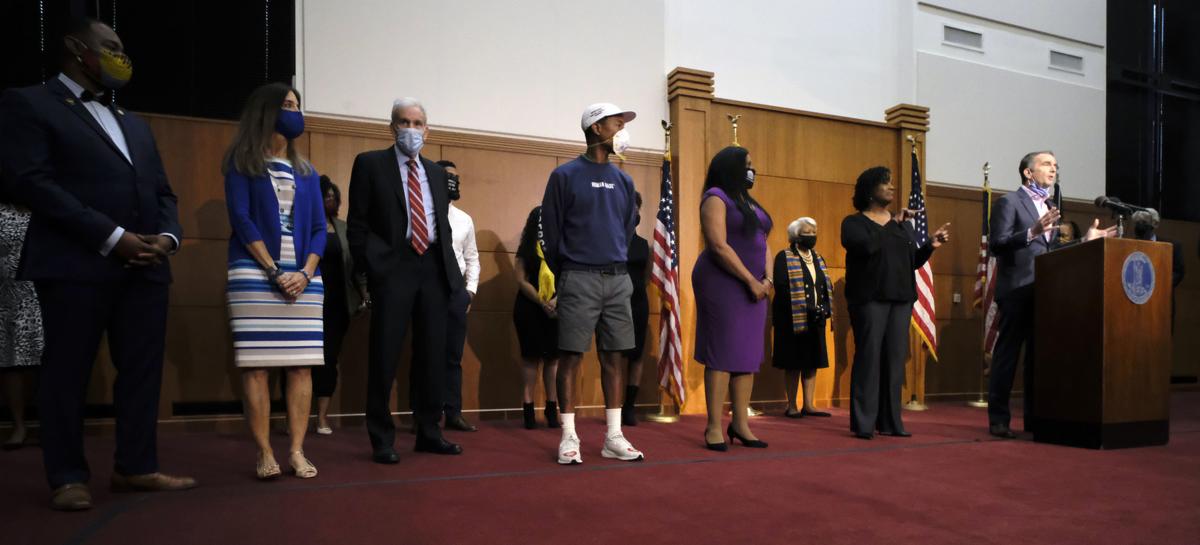 On Tuesday, Gov. Ralph Northam announced he was introducing legislation to make June 19 a state holiday. The date, colloquially called Juneteenth, observes the day in 1865 when federal troops arrived in Galveston, Texas, to seize control of the state and ensure all enslaved people were freed.
Juneteenth, also referred to as Black Independence Day and Emancipation Day, marks the end of slavery across the United States. It came two-and-a-half years after President Abraham Lincoln signed the Emancipation Proclamation and two months after Confederate Gen. Robert E. Lee surrendered at Appomattox Court House on April 9, 1865.
The fall of the Confederacy didn't end slavery in Texas. It wasn't until U.S. Army Gen. Gordon Granger stood on the steps of the Galveston County Courthouse on June 19, 1865, and read General Orders No. 3: "The people of Texas are informed that, in accordance with a proclamation from the Executive of the United States, all slaves are free."
As the news spread, joyful celebrations broke out among newly freed men and women. Although it wouldn't be until December 1865 that the 13th Amendment to the Constitution formally abolished slavery, Juneteenth is the day Americans observe as the end of the loathsome practice.
In previous years, the commonwealth observed Juneteenth with a gubernatorial proclamation. But on Tuesday, Northam said: "It's time we elevate this. It finally shut the door on the enslavement of African American people and while it did not end racism, black oppression or violence, it is an important symbol. By commemorating it, we push people to think about the significance of Juneteenth." We agree.
The Declaration of Independence proclaims: "We hold these truths to be self-evident, that all men are created equal, that they are endowed by their Creator with certain unalienable Rights, that among these are Life, Liberty and the pursuit of Happiness." Making Juneteenth a state holiday will help all Virginians understand the importance of making that a reality for every American.