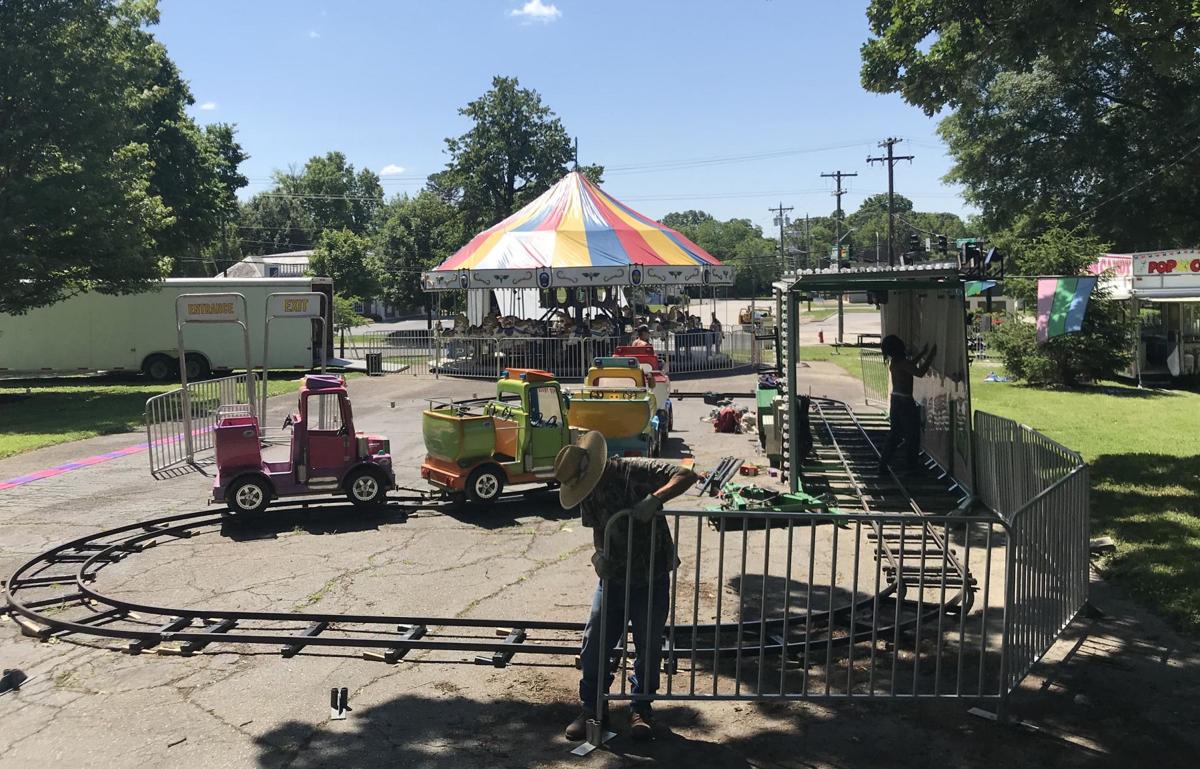 The Vikings are coming to Danville.
And they're bringing a really big ship.
Flames will fly through the air and medieval-clad contenders will battle in jousting tournaments.
But don't worry. It isn't an invasion. It's all part of this weekend's Festival in the Park lineup at Ballou Park in Danville.
"This year, we are extremely excited to offer a new theme," said Jason Bookheimer, president of the Festival in the Park board. It's a medieval one.
It's the first time the 44-year-old festival has had a theme.
"It is truly amazing the creativity that community members bring year to year," Bookheimer said of the board members who spend a full year planning Danville's Festival in the Park.
The nonprofit board operates separate of Danville Parks and Recreation and consists of department staff and community members.
"As soon as one year is done, we meet the following month to debrief and begin planning for the following year," he said.
Keeping a festival fresh — especially one that's spanned more than four decades — is no easy task.
"It is difficult, but the diversity of the board members and idea sharing that happens help to always think of alternative ideas," Bookheimer said.
Over the years, they've had a 300-foot slip-and-slide, barbecue competitions and sand art sculptors.
This year's medieval flair is courtesy of Vikings of the Valley, which will bring a life-sized ship as part of the festivities. In addition, there will be fire-throwing, dancing, blacksmiths, combat demonstrations and theatrical entertainment.
For those who may want to escape the antics of the Vikings, there will be plenty of shopping available with vendors showcasing hand-crafted home décor, paintings, trinkets and candles.
And of course, there's the food. "I mean, who doesn't like a deep-fried Oreo or a turkey leg?" Bookheimer said.
The three-day festival draws up to 15,000 people on average.
Of course, the weather plays a factor in the crowd. As local lore has it, Festival in the Park weekend generally brings its fair share of showers.
So, since the festival is this weekend, does that mean it will rain?
"That seems to be the question every year that is asked," Bookheimer said.
"We have seen our variety of weather in 44 years, but no matter what the forecast, participants are always excited to enjoy the blue bird sky days and take full advantage of all the activities."
Perhaps Mother Nature missed the memo that it's Festival in the Park weekend. As of this printing, there's no chance of rain in the forecast.
Even if there is a little rain, it's not enough to wash away the energy the weekend brings.
"We have some very dedicated vendors, volunteers and board members who work rain or shine to ensure every has a good experience," Bookheimer said.
Be the first to know
Get local news delivered to your inbox!